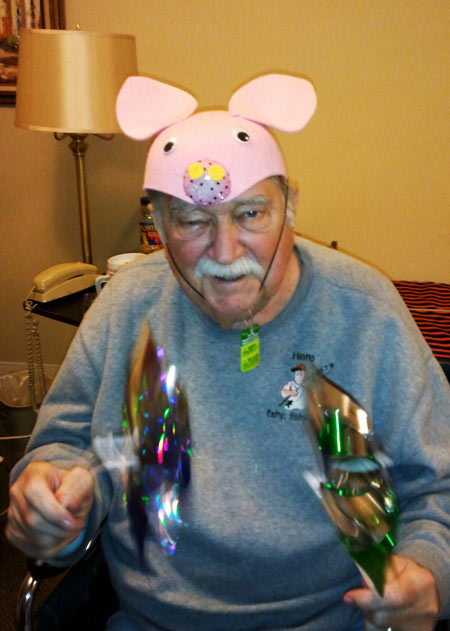 This picture was sent from Kim & Jason Nation member Jill Bodwin. She shared,
"I've attached a photo of my Dad, one of the biggest avengers against adulthood. He loves that insurance commercial with the pig and the pinwheels and recently had us push him in his wheelchair through the dining area at the facility that he's temporarily at to recover from some health issues. The whole time we pushed him around he was yelling "wee, wee, wee" and making the pinwheels spin. Unfortunately the older ladies in the dining room didn't even crack a smile so Dad decided to quit wasting his time around them and head to the nurses area instead. He said he would try it again in the dining room and hallways in a couple of days."
Jill's dad is a superhero. His playful efforts to bring smiles and laughter to his Adultitis-ridden "neighbors" is quite commendable. Adultitis is contagious! Being the light in the darkness can be hard, but the good news is that Adultitis-free living is quite contagious too. Keep shining your light. Most people are relieved when someone dares to brings some levity and lightheartedness to a hard situation.
Thanks for your example, little piggy!