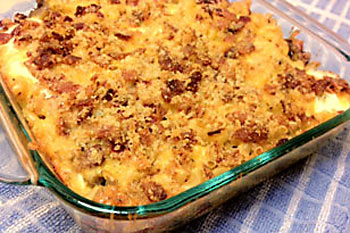 If you're like us, you've often thought, "Why can't you have macaroni and cheese for breakfast?" This certainly qualifies as a rule that doesn't exist, right? Well, I jumped up and down for joy when I saw this recipe on Grandparents.com, of which I am a frequent visitor (don't ask).
Granted, it's not as healthy as a bowl of strawberries, but hey, it's got noodles and cheese and — wait for it — BACON!
It's got bacon, people!
Plus it gives you a reason to break a stupid, stupid breakfast "rule."
Ingredients:
1/2 pound elbow macaroni
1 tablespoon cold butter
4 slices of bacon, chopped
1/4 cup finely chopped red onions
1/4 cup chopped sweet red peppers
1/4 cup chopped mushrooms
12-16 ounces breakfast sausage
2 cups shredded cheddar cheese
4 eggs
1/4 cup evaporated milk
1/2 teaspoon kosher salt
1/2 teaspoon fresh ground black pepper
2 tablespoons melted butter
1/4 cup panko or homemade bread crumbs
Directions:
1. Pre-heat oven to 350 degrees. Spray an 8×8 casserole dish with cooking spray.
2. Bring a pot of water to boil. Add 1 tablespoon of kosher salt and pasta. Let pasta boil for 6 minutes. (It will continue to cook in the oven.) Drain and place in bowl with 1 tablespoon of cold butter. Toss the pasta and butter until melted.
3. In a large skillet or pan, fry chopped bacon over medium-high heat until slightly crisp. Drain on paper towel. Pour out all but 2 tablespoons of bacon grease.
4. In the same pan, sauté chopped peppers, onions and mushrooms in remaining bacon grease until onions are softened. Remove sautéed vegetables with a slotted spoon.
5. In the same pan, brown sausage, making sure to crumble pieces. Drain on paper towel.
6. Combine cooked sausage and sauteed vegetables. Place half of the mixture on the bottom of prepared casserole pan. On top of that, add half of the cooked macaroni. Then, top that with half of the cheese. Repeat with sausage layer, then macaroni layer and then cheese layer.
7. In a small bowl, whisk eggs, milk, salt, and pepper until all combined. Pour egg mixture over the casserole.
8. In a small bowl or coffee cup, combine crumbled bacon, melted butter, and bread crumbs until thoroughly mixed. Add bacon/bread crumb topping as your last layer.
9. Bake for 35-40 minutes. Let sit for 15 minutes before serving.
Serves 4-6