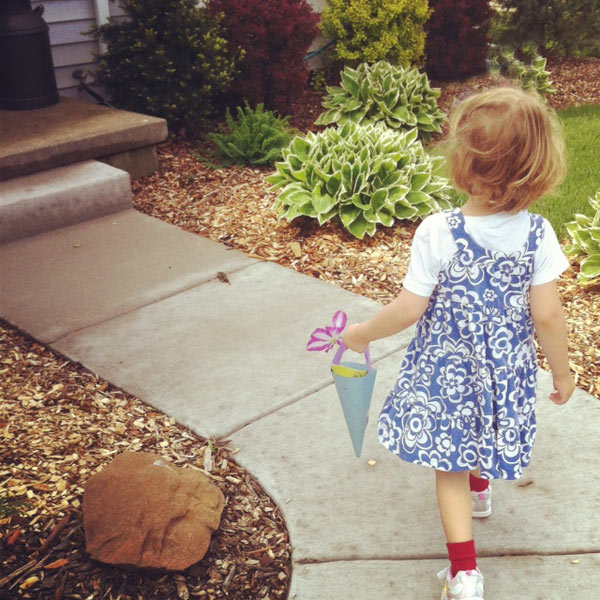 I have fond memories from childhood of May Day. We'd cut some of our beautiful irises and gently put them in homemade construction paper cones along with some candy and run giddily over to our neighbor Lois' house to surprise her. The best part was ringing the doorbell and running away. When else can you do this?!
Inevitably, she'd come by later that day with some sweets in hand to thank us for thinking of her. May Day always seemed to be a neat little "out of nowhere" holiday.
So, when May 1st came and went without any notice in our house last week, I felt bummed. The day had been busy, and although I had thought about the fun Lucy and I could have making and delivering May baskets, the timing just didn't work out.
The next day, May 2nd, I felt disappointed and regretful — two emotions that Adultitis thrives on. Then, I remembered the concept of "rules that don't exist." Was this an opportunity to exercise this perspective? You bet! Who says you can ONLY deliver May baskets on May 1st?
Lucy and I set out making construction paper cones, picking flowers from our yard and counting candy pieces for each neighbor. I'm not sure who enjoyed the anticipation more. We included "Happy Belated May Day" notes in each one. I strapped Ben on my back, piled the goodies and Lucy into the wagon and off we went, spreading joy from one house to the next — nine in all. (We are blessed with wonderful neighbors!!)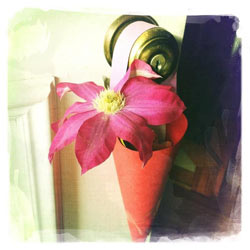 To Lucy's delight, one of the neighbors showed up just a few hours later with a bag of goodies as a thank you: a kite, sand toys, and some Hello Kitty chap stick that Lucy calls her lipstick. That was sure a neat surprise!
To my delight, I found this picture on Facebook the next day, along with a status update from our neighbor around the corner: "Woke up to find this beautiful little belated May Day bouquet hanging on our door. Thank you, Lucy!"
So, I learned a big lesson in all of this fun: never let a date on the calendar dictate that you missed out on a chance to make memories and spread a little joy.
Turns out, May 2nd is just as good as May 1st to share smiles and celebrate friendships.