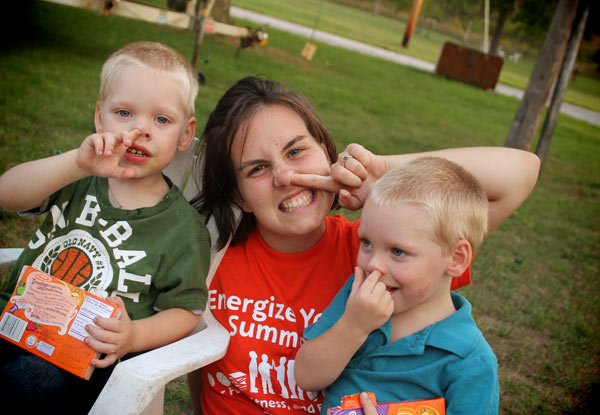 Kim & Jason Nation is a playful group of rebels who share a joyful, indomitable childlike spirit and are not afraid to let that spirit come out to play! They're united by a common goal of fighting Adultitisand the doo-doo heads who embrace its ideals. Quite frankly, they're pretty much the coolest people on the planet. Here's one right now…
• My name is… Angel Sessions
• My hometown is… Clare, MI
• My biggest dream…to be a teacher (and I did that, I am a teacher for three-year-old preschool).
• My inspiration… Before it didn't matter, now it's to be Adultitus free! To live a life where I don't worry about cleaning up immediatly after dinner, or catching up on laundry, or squeezing in a few extra unpaid hours of work. Now my inspiration is in having fun with my children, and being able to let go of the "adult stress."
• When I was a kid, I…wanted to stay young never grow up and to get away with stuff my parents always tried to tell me not to do!
• My favorite childhood toy was…a baby doll.
• One way I stay childlike is…by letting go of the word no for "mom" type reasons…example: Mom, can we have marshmallows and popcorn for dinner? YES
• What I know so far… I want to make my life Adultitus free for myself, my job (preschool teacher), and my children (three BOYS: 3-year-old twins and a one-year-old.)
• My favorite things about "Kim & Jason" is… Their ability to make me see my life with a different perspective.
We saved a space just for YOU in Kim & Jason Nation — join the small rebellion and sign up to become a K&J Insider today!