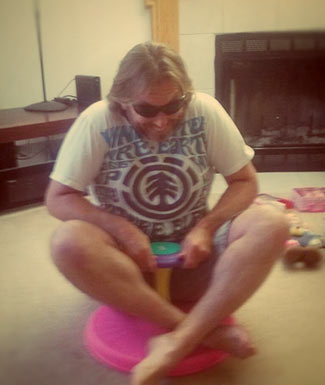 Kim & Jason Nation is a playful group of rebels who share a joyful, indomitable childlike spirit and are not afraid to let that spirit come out to play! They're united by a common goal of fighting Adultitisand the doo-doo heads who embrace its ideals. Quite frankly, they're pretty much the coolest people on the planet. Here's one right now…
• My name is… James Simmons. My friends call me Jim, or Jimejo, or Slimbob, Sally, Prince Charming, or hey you — but not James.
• My hometown is… Loves Park, IL – city with a heart… aka Lovesparkansas.
• My biggest dream…is to look back at every single day and remember the joys I have encountered, the growth I have experienced, the love that I have shared.
• My inspiration… so often are youngsters who are unaware of their own limitations and vulnerability — "they trust the hell out of the world".
• When I was a kid, I…climbed trees, rode bicycles, did chores, ate pbj, had water fights in the street, laughed, I didn't know any better.
• My favorite childhood toy was…any other person to share my imagination with.
• One way I stay childlike is…to be myself with not so much of a care how it may look.
• What I know so far… I now know more but not any better. I am good enough, grand even. Play is good. The simple is often still best.
• My favorite things about "Kim & Jason" is… that they inspire others living their passion, while making everyday count.
We saved a space just for YOU in Kim & Jason Nation — join the small rebellion and sign up to become a K&J Insider today!