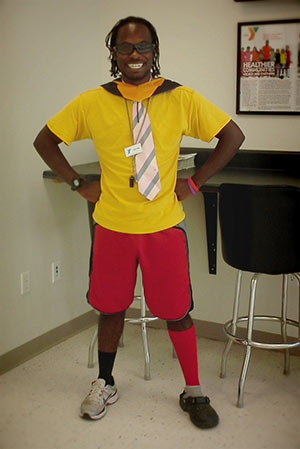 Kim & Jason Nation is a playful group of rebels who share a joyful, indomitable childlike spirit and are not afraid to let that spirit come out to play! They're united by a common goal of fighting Adultitisand the doo-doo heads who embrace its ideals. Quite frankly, they're pretty much the coolest people on the planet. Here's one right now…
• My name is… Clifton Wise.
• My hometown is… Warsaw, Virginia
• My biggest dream…Have the largest most popular Summer Camp in the state!
• My inspiration… My kids for sure…They keep me entertained and I love them!
• When I was a kid, I…loved Power Rangers and anything dealing with magic and I'm still convinced I can still become a Red Ranger!
• My favorite childhood toy was…Legos (I could build anything I wanted).
• One way I stay childlike is…Working with kids all day every day and acting silly!
• What I know so far… is that I am still learning everyday and I can never know it all.
• My favorite things about "Kim & Jason" is… their enthusiasm and commitment to help us all get cured of "Adultitis." They are AWESOME!
We saved a space just for YOU in Kim & Jason Nation — join the small rebellion and sign up to become a K&J Insider today!