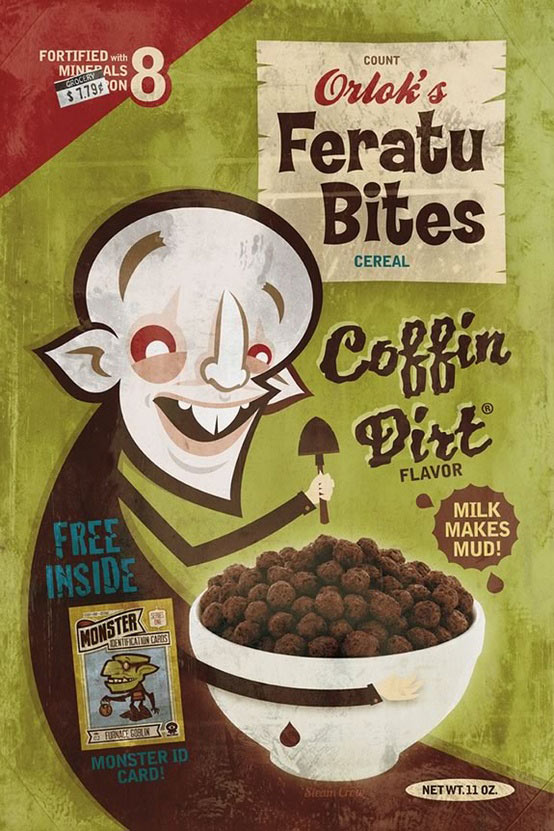 Feratu Bites Cereal Box Print by Daniel Davis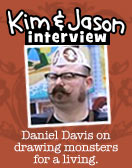 Daniel Davis makes monsters for a living. Daniel and his wife Dawna are the purveyors of Steam Crow, a neat little Arizona-based company that draws monsters, invents their stories, and makes products based on them. I stumbled across Steam Crow at the San Diego Comic Con last summer and was blown away by their colorful, whimsical booth. In a sea of licensed Star Wars and superhero memorabilia, here was someone successfully selling their own original creations (which is no easy feat!). And when I learned that this husband and wife team worked together and traveled to shows with their son — affectionately referred to as Goblin Boy — I knew I had to interview them.
In this chat, Daniel and I have a man-to-man talk (our wives were otherwise preoccupied during the interview) about how one gets started drawing monsters and, more importantly, how one gets to the point where he believes he can make a living doing it and quits his "safe" job at a credit union. We also talk about the importance of permission granters, the misperceptions of "overnight success," the realities of going into business with your spouse, and of course, why Halloween is so awesome. (Daniel and Dawna host an event called Keen Halloween with the goal of helping you make Halloween even better.)
I think you'll find this interview to be a real treat!
Run Time: 30 minutes, 06 seconds
Download MP3 (28.9 MB)
Links: