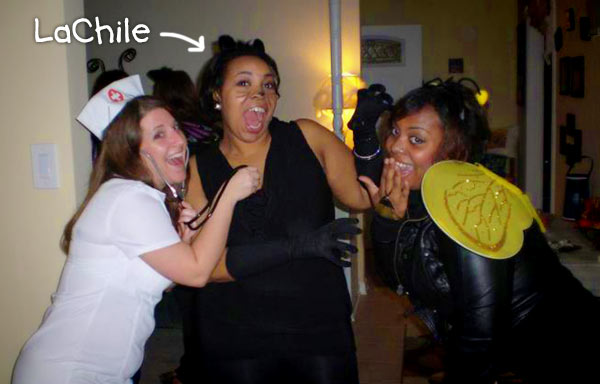 The Small Rebellion is a playful group of escape artists who share a joyful, indomitable childlike spirit and are not afraid to let that spirit come out to play! They're united by a common goal of fighting Adultitis and the doo-doo heads who embrace its ideals. Quite frankly, they're pretty much the coolest people on the planet. Here's one right now…
• My name is… LaChile Turner.
• My hometown is… Williamsburg,Virginia.
• My biggest dream…is to someday get to travel all over the WORLD!!!!!!
• My inspiration… People who are not afraid to laugh at themselves, and who just appreciate life.
• When I was a kid, I… loved playing with my dolls, I would create great adventures for them to go on.
• My favorite childhood toy was… A giant box, because you could make it anything you wanted!
• One way I stay childlike is… by trying new things whenever I can. I love new experiences, they always give you a new perspective on the world.
• What I know so far… Being a grown up is not always fun, but there are plenty of good things about it to. You just can't let yourself get bogged down with all the stress.
• My favorite things about "Kim & Jason" is… They give you that small much needed break from day-to-day adult life :-)
We saved a space just for YOU in The Small Rebellion — join the tribe of rule-breakers and sign up to become a K&J Insider today!