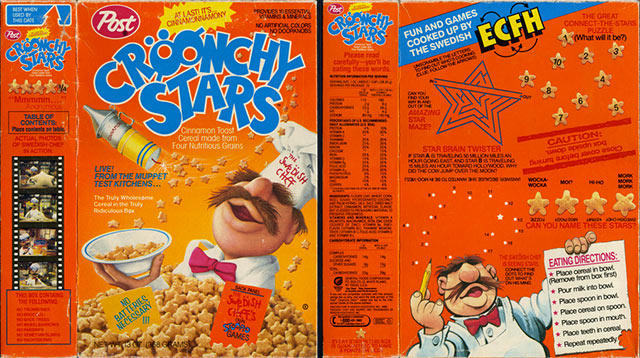 I have never once considered the sugar-laden cereals that warm my heart and gladden my belly to be laced with Adultitis. Not once.
That is, until I came across a cereal that was born in 1988 called Cröonchy Stars. Although 80s were my halcyon years of cereal eating, I'd never heard of them until my friend Lisa brought them to my attention a few weeks ago. The brainchild of Jim Henson and featuring his Muppet character The Swedish Chef, Cröonchy Stars was a cinnamon toast flavored cereal packaged in a box peppered with ridiculous, and sometimes unsolvable, games and puzzles. One time it included a contest to see how many times you could find the word "rutabaga" hidden on the box and how many times it was spelled correctly.
One of my favorite pastimes while eating cereal is reading the boxes. It's fun. Not fun enough for Jim Henson, apparently. Of the belief that cereal boxes were too boring, Henson set out to add two scoops of vitamin-fortified fun. According to Wired:
Cröonchy Stars was described as "a cinnamonnamony new cereal with 10 essential vitamins and minerals, no artificial coloring, and no doorknobs." Also mentioned on the box was the statement, "This product does not contain: (among other things) Venetian Blinds and Pachyderms."
It's hard to find any traces of Adultitis in a cereal that uses the front of its box to proudly exclaim, "No batteries necessary!" Plus, how many cereals do you know that feature a gratuitous umlaut?
Here is a TV commercial (Oh how wonderful thou art, YouTube!):
Sadly, Cröonchy Stars only lasted about a year. Pushed out by the Adultitis-ridden forces in control of the cereal aisle, no doubt.