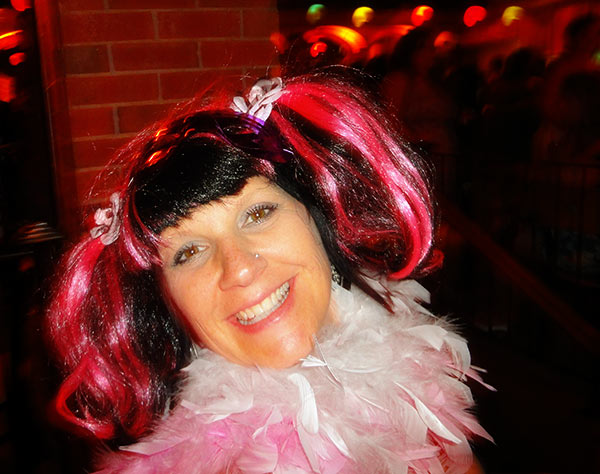 The Small Rebellion is a playful group of escape artists who share a joyful, indomitable childlike spirit and are not afraid to let that spirit come out to play! They're united by a common goal of fighting Adultitis and the doo-doo heads who embrace its ideals. Quite frankly, they're pretty much the coolest people on the planet. Here's one right now…
• My name is… T. Hamari.
• My hometown is… Marquette MI (adult hometown)
• My biggest dream…To meet every person on the earth or become a comedian!
• My inspiration… All the wonderful people I encounter along my life's journey. Oh shout out to my husband – he inspires everyday with his awesomeness!
• When I was a kid, I… was fabulous, fun and full of life! Wait for it………..I still am.
• My favorite childhood toy was… a chalkboard and chalk! I could entertain others, entertain myself and leave daily reminders to stay creative.
• One way I stay childlike is… I love to throw themed parties or random themed days – then I dress up for the event! I even do it on work days. I may wake up and say today is "rock star day" and I will an outfit that makes me feel like a rock star!
• What I know so far… Life is yours for the taking! You control your destiny so be responsible for it but never stop living it out loud.
• My favorite things about "Kim & Jason" is… the smiles you create daily!
We saved a space just for YOU in The Small Rebellion — join the tribe of rule-breakers and sign up to become a K&J Insider today!