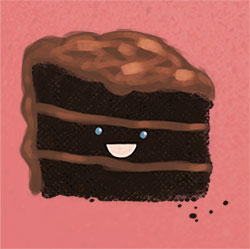 One day this past summer, Marcia Brown took her mom, aunt and great aunt out to lunch to celebrate her aunt's birthday. As they all sat down to eat, she announced, "Today, we are eating dessert first!"
The dinner guests were hesitant. But, after a bit of "encouragement," everyone ended up complying (and having a ball).
Marcia's great aunt called the next day and told her she had more fun that day than she'd had in a very, very long time…and was still smiling.
This stressed-out, burned-out world is in which we live is aching for silliness. Most of them time, people are just waiting for someone to give them permission to have fun.
Sometimes they are waiting for someone to force them to eat desert first.
---
A Champion of Childhood is someone instilled with the soaring spirit of childhood who rallies against rules that don't exist while engaging in ruthless, senseless acts of silliness that undermine the slavery of Adultitis and its unadventurous version of adulthood. We like shining a light upon the most remarkable among us, holding them up as a dazzling example of what we should strive for in this epic battle against Adultitis. See more here.