In honor of Father's Day, I thought it would be fun to re-post an old but useful article about things every dad can learn from Darth Vader: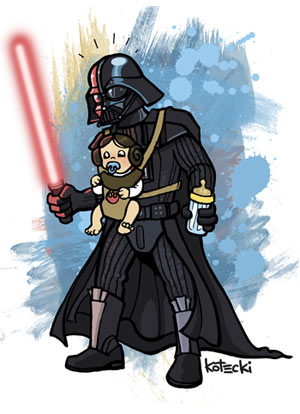 With the 1977 release of Star Wars, audiences were introduced to the baddest bad guy in the entire galaxy. As the story unfolded and the prequels arrived on the scene, many people were surprised to learn that Darth Vader was not always such a bad dude. It may be equally surprising to learn that Mr. Skywalker actually did a few things right in his role as dad. (But mostly wrong.)
If you are a father, here are a few things you can take away from Luke and Leia's dear old dad:
Do: Involve your kids in your work and invite them to become involved.
If you work outside the home, "Bring Your Kids to Work Day" is a great initiative. It allows your young padawans a look into your world, learn exactly where it is you go every day, and understand what you do to support your family.
Don't: Get all bent out of shape and threaten to kill them if they choose not to team up with you to take over the galaxy.
If your kids decide to follow in your footsteps, great. But they might not want to, for a variety of different reasons (none of them personal.) They may be gifted with skills and interests better suited to a different career. Even if they respect your success, they may want to carve out their own path. It's ok. Everybody has a different destiny. They're more likely to become successful if they receive your support in following their own dreams than if they are forced into something not meant for them.
* * * * *
Do: Stick up for your kids when they are under attack.
Darth Vader redeemed himself when he took The Emperor down to protect his son. As the leader of your family, it's your responsibility to look out for your brood. And I'm not just talking about obvious threats like kidnappers, pedophiles, and bounty hunters. What about the hidden influences in their lives? Who do they hang out with? What sorts of music do they listen to? What movies and television shows are they exposed to? What are they really doing online? These sorts of things are affecting your children more than you might like to believe, and it's your job to monitor these sorts of things.
Don't: Align yourself with bad people who are likely to attack your kids with Force lightning.
Kids don't listen to what we say as much as what we do. Who are YOU hanging out with? Are they good role models for your kids? (Note: Stay away from old politicians who promise you the galaxy.) What kind of language do they see you using? What kind of movies do they see you watching? For better or worse, the people and things that influence you will most certainly end up influencing your children.
* * * * *
Do: Discipline your kids in order to teach them right from wrong.
You are not here to be your kids' friend. A friendship may well emerge from your relationship as your child matures, but it's not your main job. Your job is to teach them right from wrong, to give them boundaries, and to tap into the wisdom and life experience they are lacking to look out for their best interests. It's not easy, but for the good of your kids, sometimes you have to be the bad guy. And they probably won't like it now, but they'll appreciate it later.
Don't: Strangle them by using the Force when they disobey.
Kids are kids. They're gonna mess up. While I personally am not against a swat on the bottom when they're really naughty, all discipline must be done in love. It's a fine line to walk, but when it comes to parenting, grace is more important than justice. Save your best Jedi tricks for the young man who brings your daughter home after curfew.
* * * * *
Do: Love your kids' Mom.
There is no doubt that Anakin was in love with Padme. They had a good thing going. One of the greatest gifts a father can give his children is to love their mother. If you are currently in relationship with her, make an extra effort to do something nice for her in front of them. If the two of you are no longer together, try your best to respect her and be kind to her, if nothing else than for the good of your children.
Don't: Strangle her.
Kind of goes without saying, I hope. (R.I.P., Padme.)
* * * * *
Do: Allow your kids to see your true feelings.
Traditionally, men are supposed to be tough guys who lack tear ducts and hate all things cute and fuzzy. While I don't think it serves anyone to abandon your masculinity and devolve into a namby pamby wimp, neither should you bottle up all your emotions and become an Adultitis-ridden stone-faced Sith lord. Your kids benefit from seeing your passion and enthusiasm. It's not a bad thing for them to see you tear up at the end of Field of Dreams.
Don't: Wait 'till it's too late to tell them how you really feel about them.
Our tough guy persona often gets the best of us here. We feel icky delving into the world of "love" and "feelings." We are creatures of action, and we think our actions speak loud and clear about how we feel about the people we love. They certainly are important. But sometimes our kids need to hear us actually say that we are proud of them and that we love them. Darth Vader almost missed out on the chance to tell his son how he really felt. He wasn't so fortunate with his daughter. Don't be afraid to remove your mask once in awhile to tell your kids how you really feel about them.
* * * * *
Do: Set an example of excellence for your kids to live up to.
Whatever you do, be really, really good at it. Work hard, pursue excellence, and do your best. Whether it's lightsaber skills or salesmanship, your kids will observe your commitment and be inspired by your example, making them much more likely to become successful themselves.
Don't: Get so wrapped up in ruling the galaxy that you lose perspective of what's really important.
No matter what you do for a living, or how successful you become, or how close you are to getting that promotion, or how many people are depending on you at work, remember this: family first. Nobody ever says on their deathbed, "I wish I would have spent more time at the office." We always wish we'd spent more time with the people we love. Don't let finishing the Death Star, taking over the galaxy, crushing rebellions (or other urgent things that keep you busy), distract you from the most important things.
Sometimes it feels like you need to be a full-fledged Jedi knight to effectively navigate the challenge that is Fatherhood. Hopefully these tips will help you fulfill your destiny as the World's Greatest Dad.
The Force is strong in you, I sense it.