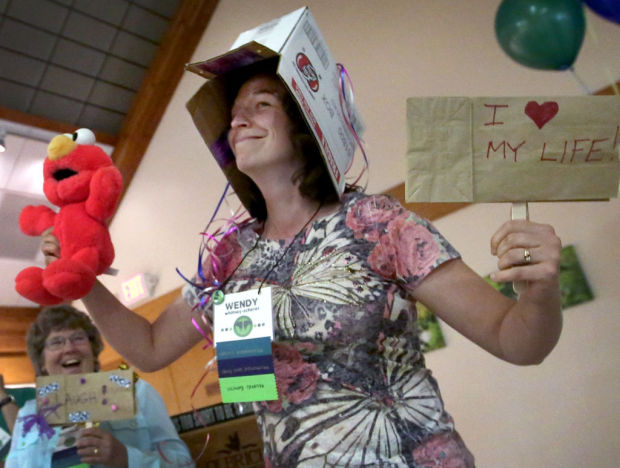 This article was originally published in the Wisconsin State Journal on 7/19/2014 and was written by Bailey Berg.
A flurry of ripped cardboard. Fat markers haphazardly scribbling on sheets of paper. Makeshift hats. Piles of candy. Kazoos.
The Friday gathering at Olbrich Botanical Gardens might sound like a children's birthday party. But the attendees at this weekend's sold-out "Escape Adulthood Summit" were all adults.
Bill Thom was one of them. His name tag identified him as a Lego builder, expert napper and Cap'n Crunch fan. What it didn't say is that he also is the co-creator of a "Device to Save the World" — made up of cardboard boxes — along with more than 60 people on the first day of the two-day event.
The event, created by Madisonians Kim and Jason Kotecki in 2012, is part conference, part retreat, part recess for adults.
"We like to have fun, but we also want to get them talking about what issues they have," Jason said.
The more than 60 attendees range in ages from 19 to 67 and come from 10 states. Many are married couples, siblings, friends or parents and children. Some are teachers or doctors, others are graphic designers or business owners. One is even a Catholic priest.
The prices for their "Golden Tickets" ranged from $209 to $289, the cheaper tickets for those who had participated before or brought a partner-in-crime.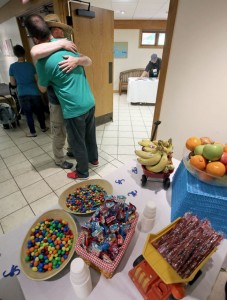 Thom, who is attending with his wife, said they were there to de-stress.
"Ultimately, I take things too seriously and I want to break out of that daily grind," Thom said.
It's probably hard to take yourself too seriously when you're eating dinner with a potato smasher or giant spatula (while watching cartoons) instead of forks and knives.
Thom said the couple takes what they think are the best nuggets from the event and incorporate them into their lives. Last year's event featured a sans-plates Italian dinner, where participants ate spaghetti and meatballs directly off a massive mound in the middle of a table. The Thoms recently recreated that dinner with friends at their home.
"We're in competition to be the more fun parent," Thom said.
The event marries whimsical childhood throwbacks — like show-and-tell, recess, and over-the-top themed meals like the seven-course dinner with an Olde Tyme motif in which participants wear top hats, feather boas and pearls and eat peanut butter and jelly sushi rolls — with weightier discussions and self-reflection, which the Koteckis say let attendees look at their problems through a new lens.
"A lot of insight and personal growth happens over the course of the two days," Kim Kotecki said.
Not all come for reflection, though.
Lea Rosenberg, who works in education, came to "rejuvenate" and get into a positive state of mind before the upcoming school year.
"It's an interesting environment," Rosenberg said. "But everyone really comes in with the same mentality."
Tara Ingalls and her husband came to the event to celebrate their anniversary.
"This is fun for us," Ingalls said. "We have three kids and always try to be goofy. This helps us develop new tools for that."
Each year, the event has a different theme. This year, it's transformation. It's fitting considering Olbrich is also opening it's "Blooming Butterflies" exhibit this weekend.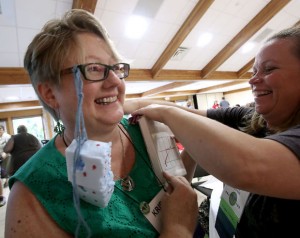 "In the real world, you can't just jump into a phone booth like Clark Kent — change doesn't happen that quickly," Jason Kotecki said.
"In the real world, you have to work on the changes you want to make. Transformation starts with small steps."
One of the heaviest topics he's focusing on is regret. Attendees are creating "regret-me-not" lists, a twist on the more traditionally titled bucket list.
"It gets a little deep, a little intense, but it's in a space where people are really open and honest with each other, and I think that's because we create a space that makes it fun," Jason said.
©2014 Wisconsin State Journal