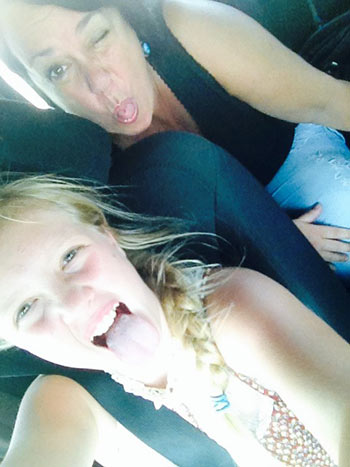 The Small Rebellion is a playful group of escape artists who share a joyful, indomitable childlike spirit and are not afraid to let that spirit come out to play! They're united by a common goal of fighting Adultitis and the doo-doo heads who embrace its ideals. Quite frankly, they're pretty much the coolest people on the planet. Here's one right now…
• My name is…Sheri Holton.
• My hometown is… Downers Grove, Illinois.
• My biggest dream…was to meet a partner for life & have a family – yay!
• My inspiration…is my hubby and our girls, along with God's beautiful sunrise kisses and sonnet sunset hugs each and every day! The photo above is the way the girls and I remember to BE in the moment and ensure silliness is a part of our hectic days!
• When I was a kid, I…always loved arts & crafts – I still draw today and crochet as well!
• One way I stay childlike is…by pulling out a NEW box of crayola crayons! Or just being silly and LOUD with my girls and nieces and nephews! Whenever I write a letter (or text ) I always add ☀️😊🌺🌿🍂👍🍁⭐️Colorful flair!! I will always break out in a dance move as well – to the alarming embarrassment and eye rollin' from my girls (but I know they secretly L💗VE it 😜!) I hug everyone who is open to it and laugh OUT LOUD!
• What I know so far…Is that I know nothing! BwaHaHa!! Life is precious and laughter is vital every day!
• My favorite thing about "Kim & Jason" is…that they are a wonderful reminder that JOY is breath 💙 God bless you !!
We saved a space just for YOU in The Small Rebellion — join the tribe of rule-breakers and sign up to become an Escape Adulthood Insider today!