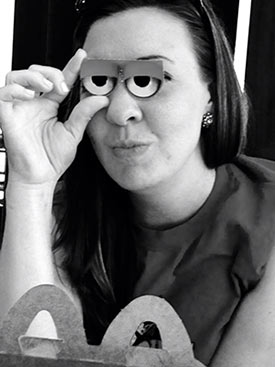 The Small Rebellion is a playful group of escape artists who share a joyful, indomitable childlike spirit and are not afraid to let that spirit come out to play! They're united by a common goal of fighting Adultitis and the doo-doo heads who embrace its ideals. Quite frankly, they're pretty much the coolest people on the planet. Here's one right now…
• My name is…Blessing Curtis…yes for real! Blessing is my REAL first name! lol I have four brothers so let's just say my parents were a little excited about a girl! :-)
• My hometown is…Texarkana Texas! WOOT WOOT yes I say y'all on a daily basis!
• My biggest dream…to conquer the world! Oh wait…that's pinky and the brain. My biggest dream is to inspire people in a way that it will change their lives.
• My inspiration…My kids! Hands down. They inspire everything I do or try to do.
• When I was a kid, I…played outside ALL the time. I always dreamed of places to travel to and adventures to be had!
• My favorite childhood toy was…Rainbow Brite doll
• One way I stay childlike is…to stay present… you know the song "don't' worry… be happy" as adults it is so easy to get caught up or distracted by ALL the thousands of things we have going on around us at work, at home, everywhere! But children know how to stay present. To them it's not about the future, it's about right now. Have fun today! Don't wait to play tomorrow.
• What I know so far…be thankful and celebrate the little things, makes each day something to live for!
• My favorite thing about "Kim & Jason" is…wow! That's a lot of pressure… we just met… :-) I haven't met Kim yet, but I heard Jason at a recent CUNA conference for trainers. So far one of my favorite things is the super hero family photo opt and the pokey game! LOVE!
We saved a space just for YOU in The Small Rebellion — join the tribe of rule-breakers and sign up to become an Escape Adulthood Insider today!