The Small Rebellion is a playful group of escape artists who share a joyful, indomitable childlike spirit and are not afraid to let that spirit come out to play! They're united by a common goal of fighting Adultitis and the doo-doo heads who embrace its ideals. Quite frankly, they're pretty much the coolest people on the planet. Here's one right now…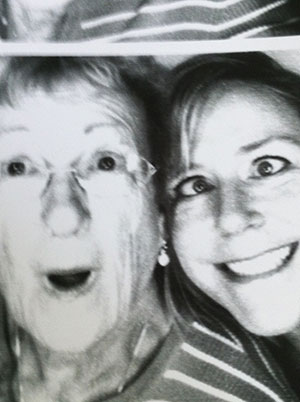 • My name is…Julie B. (folks at work have called me Julie-pedia, Encyclopedia Brown, J-Drive, and Joda –instead of Yoda) – suffice to say, I'm a good source of knowledge for most colleagues.
Mom and I went on a YOLO (you only live once) road trip a couple years ago. This was from the photo booth at Wall Drug in Wall, SD. Way cool place to check out a REALLY big jackalope you can even sit on. Seriously fun trip. Believe it or not–Mom was glued to Candy Crush and requesting help connecting to the motel Wi-Fi to check messages from her friends on her tablet! Role reversal anyone?
• My hometown is…Naperville, IL
• My biggest dream…is to be independently wealthy (for sure) where I can travel and spend time with my crazy active parents, all while reading romance and action novels to my heart's content and training dogs in my (not so copious) spare time and maybe join the speaker circuit or adjunct faculty (I'm in the outline phase of writing a book about note taking in business. I participate in career fairs for middle school and teach 5th Junior Achievement)
• My inspiration…my dogs – best home entertainment ever. If your mom curses you with the hope you have kids just like you—it applies to your fur babies, too. Don't let anyone tell you different. One of my dogs mocked me by mimicking the way I slept and exercised. While another dog laid like dead weight just like me when I was a kid and didn't want to do something (like go to bed) – no joke!
• When I was a kid, I…loved to run, roller skate in the basement and draw. Now, I only run when I'm being chased. I still love drawing, but rarely make the time.
• My favorite childhood toy was…An orange stuffed dog I named Henry. After watching the Elvis movie "Kissin' Cousins" in my youth, I renamed and labeled him "Jodie" for one of the characters.
• One way I stay childlike is…laughing every day with my husband and eating birthday cake whenever I want –usually about once a month. (I do it because I'm an adult, where I can buy it when I want and no one can tell I can't have it. So there!) Plus my husband keeps telling me I like candles around the house just so I can make birthday wishes (this is untrue), but I may start making them just because.
• What I know so far…you have to maintain your sense of humor. Find things to laugh about every day. A child's laugh is the most infectious thing –and it WILL make you smile.
We saved a space just for YOU in The Small Rebellion — join the tribe of rule-breakers and sign up to become an Escape Adulthood Insider today!