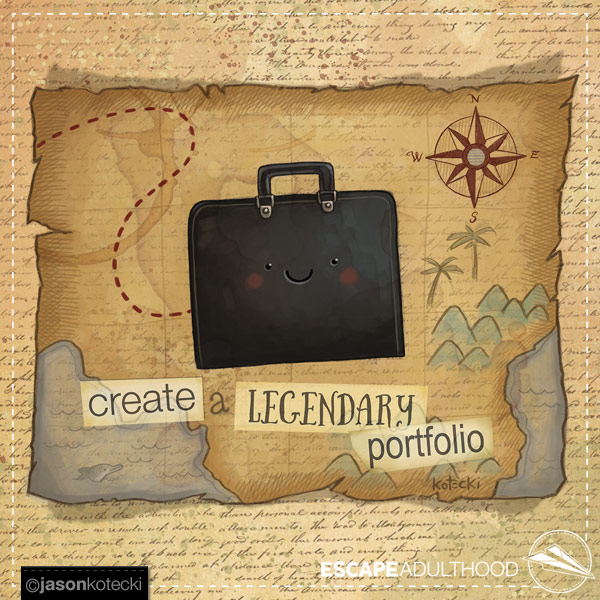 I studied illustration at Northern Illinois University. (Go Huskies!) I had some amazing teachers, but in that world, it really didn't matter where I went to school or who I studied under.
What mattered was the portfolio.
In the art world, a portfolio is the curated collection of your absolute best work. The year after I graduated, I bought my first suit and drove up to the big city of Chicago to show my portfolio to art directors at various advertising agencies, with the hope of getting freelance work.
In less than a minute, these busy art directors would flip through my portfolio and pass judgement on what represented years of training and toil (and sometimes tears). The fantasy was that he'd be absolutely destroyed by the depth of my daring and weep tears of joy and jealousy at the level of my talent. He'd immediately call his art director friends and brag, "I've found him. I found…the one."
Yeah…so that never happened. Instead, I heard things like, "Not bad, kid. We'll call you if something comes up."
Our lives our filled with days, and those days are filled with mostly ordinary moments. But you're also creating a portfolio. Your greatest hits. The summary of why you were here.
What's in your portfolio?
If someone took a few moments to flip through it, would they be blown away by your courage and curiosity and collection of unforgettable memories? Or would they say things like, "Meh" or "It's fine" or "It kind of looks like everybody else."
It's easy to make safe work that looks like everybody else's.
It's easy to keep busy on things that make us feel productive but don't really matter.
It's easy to settle for making stuff we're "supposed to" instead of creating the life we were made for.
An artist is someone busy building a legendary portfolio filled with laughter and adventures and extraordinary moments.
What's in your portfolio?