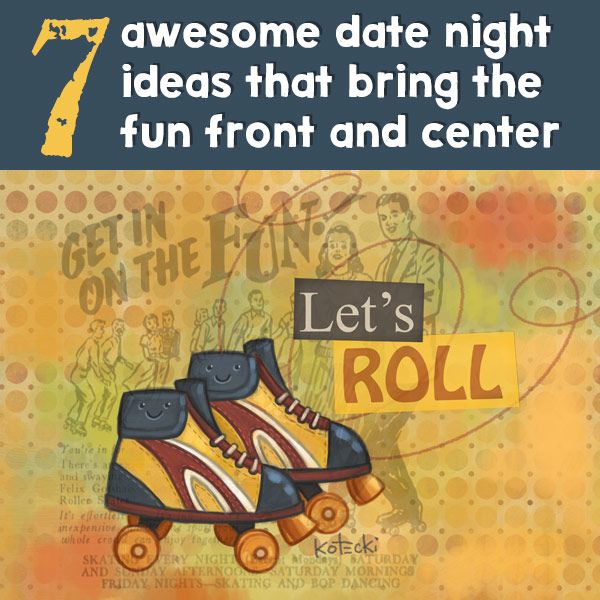 Want a relationship that not only lasts but gets better and better as you go along? Without a doubt, one important ingredient is regularly-scheduled date nights. Contrary to popular belief, date nights aren't just for people who are dating! What starts out as a normal and frequent part of every relationship becomes an endangered species once a few years and children and pile up.
It's worth pointing out the "scheduled" part of regularly-scheduled is key here. Don't expect to magically "find" time. You're more likely to have an errant asteroid hurtle through Earth's atmosphere and magically "find" your house. Think about it: if you need to have an important meeting with a client, you don't wait to magically bump into them at a coffee shop — you schedule it! We schedule all the important stuff in our lives, and this is as important as it gets.
Ok, now that we have that squared away, what are you going to do on this freshly scheduled date night? Dinner and a movie? Oh hells no. That's exactly what Adultitis will be expecting. And besides, you deserve better than that.
Here are some killer ideas to do instead:
1. Revert to Childhood. Go do something that kids like, but don't bring kids. Go to the zoo, feed the goats, and take in a sea lion show. Visit an amusement park or a video game arcade or a haunted house. Heck, even a park with good old fashioned human-powered swings will do the trick.
2. Go on a Penny Date. When you have a map to anywhere and GPS in your pocket, it's really hard to get lost. That's too bad, because sometimes getting lost can lead to great adventures. So get all gussied up and and grab a penny. Get in the car and let your partner choose a number between 10 and 20. This will be the number of times you flip the penny. Pull out of the driveway and begin your adventure. Heads is right, Tails is left. Every time you come to an intersection, flip the penny and turn the corresponding direction. Once you get to the number your partner picked at the beginning, stop. Look around. Make a date where you are.
3. Mystery Meal. Pick a random cookbook off the shelf. Flip to a page. Each person gets two "vetoes," but otherwise the random recipe becomes a grocery run and combo cooking adventure!
4. Pick a Fight. For some reason, playful fighting is a great way to flirt, which of course, often leads to other good things. So have a pillow fight. Or a popcorn fight. Or a water balloon fight. Or a snowball fight. You get the idea. (Just don't have a frozen water balloon fight.)
5. Learn Yourself Something. Take a fun class together. Something like glass blowing, painting, cooking, photography, ballroom dancing, underwater naked basketweaving (I'm not here to judge). Pick something neither of you has ever really done before. Perhaps you'll make something you can proudly show off in your home or learn a new skill that will lead to even more date nights!
6. Plan a Mystery Trip. A friend of mine likes planning what she calls "mystery trips" for her husband. She packs a bag for him and they start in the driveway with one envelope. It gives him a clue as to where they are headed (usually a breakfast stop) and then after breakfast he gets a new envelope with the next destination, and so on, until well into the night. One time it included a hockey game and a stay at a fancy hotel. The fun is in him not knowing what's coming next, and the anticipation of each step getting a little bigger than the activity before. Take things to the next level with a few token gifts along the way!
7. G'Day Mate. If you MUST go to a dinner and a movie, add this little wrinkle that's guaranteed to put Adultitis' panties in a bunch: Speak in a fake accent to every stranger you encounter. Your Uber driver. The hostess. The waiter. The ticket taker. It doesn't matter what accent it is, and it doesn't even have to be very good. You just have to own it like a boss. The good news is that doing it together can bolster your courage and makes it tons of fun!
Hopefully this list will get you off to a good start in keeping your relationship fresh, fun, and going strong forever. If you want to take things to the next level, click here to download a checklist of 52 date night ideas (one for every week of the year!)