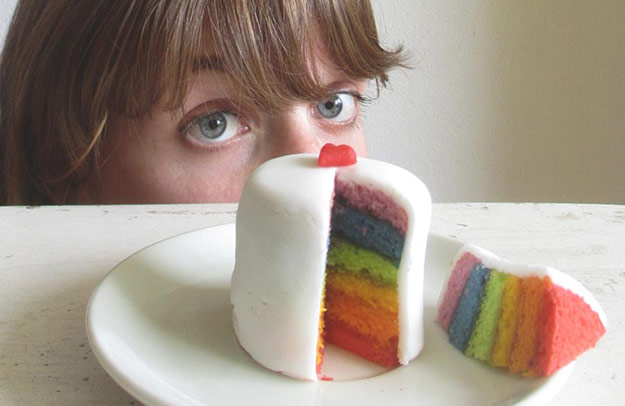 An Adultitis Fighter is someone who rallies against rules that don't exist and engages in ruthless, senseless acts of silliness that undermine Adultitis and its unadventurous version of adulthood. Once a month, we shine a light upon the most remarkable among us, holding them up as a dazzling example of what we should strive for in this epic battle against a formidable enemy.
It would appear that Mariëlle Coppes was born to fight Adultitis, and she does it in a most beautiful way. With an infectious curiosity, a bright smile, and a flair for tinkering, Mariëlle dreams up projects that turn ordinary life into a series of extraordinary rainbow-coloured moments. A few of her undertakings are highlighted below (find more on her website), and although we could go on and on about her, The Magical Daydream manifesto pretty much explains why we think she is awesome:
I believe…
You are never too old to play.
Happiness can be found in the small things.
In pursuing silly ideas to bring a spark to this world.
Life is as beautiful as you make it.
Anyone can be creative.
In courageous people who act on their dreams.
In learning new things daily.
In living a passionate life by doing what you love and creating your own magic.
In recognition of their efforts, Adultitis Fighters of the Month receive a special mini-canvas hand-painted by Jason, along with a certificate of honor, a sweet patch, and other Adultitis-Fighting tools. We asked Mariëlle some questions about how she fights the Big A and what advice she has for others…
What are some of your favorite ways to fight Adultitis?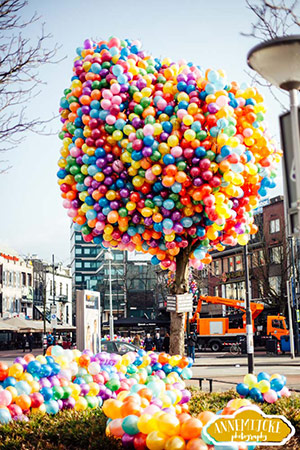 I love creating happy projects that break the everyday routine and make people smile. Recently I brightened my grey and still cold city with two colourful balloon trees. Other projects include folding 1000 origami paper cranes and giving them away to random strangers, dressing up in a hoop dress for Valentine's Day, doodling on bananas to sneak them back into the supermarket, or transforming ugly stains on the street into rainbow monsters.
My favourite ways to punch Adultitis in the face in my personal life, is to build blanket forts, cook with food colouring, go on tandem bike rides with my boyfriend, paint and organize theme dinner parties in which everyone dresses up and brings a dish in the theme (like a 'Black Light Science Fair' or 'Circus of Illusions' dinner).
Who or what has been the greatest influence in your own fight against Adultitis?
When I was still in university, one of my projects at Industrial Design was about how to create a design for the public space that invites playful behaviour. Ever since I have been intrigued by how to make people smile and play, and have started living my design vision actively myself too. Other than that, it definitely helped to have a mom who used to colour my milk green on St. Patrick's Day and to have an eccentric grandfather who doodled on his living room walls and grandchildren.
What is something you loved doing as a child that you still do in some form today?
Making things. I loved and still love to use my hands to create. It can be doodling or painting, sewing (for Barbie dolls when I was younger, now I occasionally sew my own dresses), woodwork (from tiny tree houses in plants to my own furniture), playing with my food (fun shaped cookies & food colouring are my go-to resources), reading, and the list goes on and on.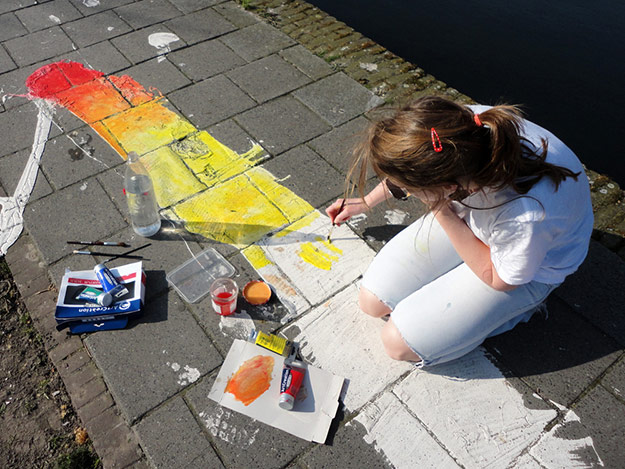 What is your strategy for dealing with people who are obviously infected with Adultitis?
Spend as little time as possible with them in case they're in the far stages and can't be helped. Other than that, try to inspire and lead by example. Show others how playful and fun life can be. In the end it's up to them whether they want that for themselves too or not.
Also I like to come up with absurd reasons for why something can be seen in a positive way and share those out loud. They will not always make the grumpy complaint go away, but usually do have the effect of breaking the negative vibe and creating space for a new conversation topic.
What advice do you have for someone who is feeling overwhelmed by Adultitis?
Play. Let go of your high expectations to be consistently useful in some way. Do something you love doing, even if it doesn't make sense. Watch less TV. Go for exploratory walks without a phone. Reread your favorite childhood books. Surround yourself with things and people who make you laugh. From a maker's perspective, I believe your best creations come from when you follow what you want to do, not what you have to do.
Anything else you'd like to share?
Even the most playful person can have an off day. People see my blog and think I always have fun and am happy all the time. But all dreams need hard work, dedication, and doing or overcoming things you would rather not do.
Be patient with yourself. A lot of conventions are hard-wired and take effort to break through.
To experience the world as a kid, you need to stop taking yourself so seriously. Make mistakes, have fun, make a fool out of yourself, learn, do, take baby-steps, laugh, create and daydream.
And lastly, Kim and Jason, thank you so much for having me.
* * * * *
Congrats to Mariëlle Coppes, March 2016 Adultitis Fighter of the Month. Thank you for making the world more awesome!