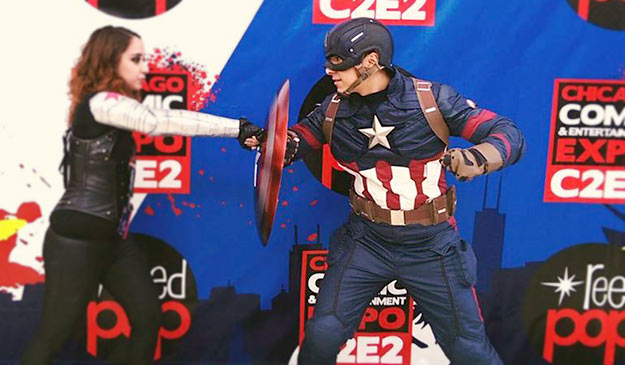 The Small Rebellion is a playful group of escape artists who share a joyful, indomitable childlike spirit and are not afraid to let that spirit come out to play! They're united by a common goal of fighting Adultitis and the doo-doo heads who embrace its ideals. Quite frankly, they're pretty much the coolest people on the planet. Here's one right now…
• My name is…Erick Perez.
• My hometown is…Chicago, IL.
• My biggest dream…is to stay young at heart while taking the world by storm with my engineering degree!
• My inspiration…are my parents whose biggest goal was to establish a home for my siblings and I in this country so that we can have better lives than they ever hoped for.
• When I was a kid, I…would always play out episodes of my favorite shows with my younger brother to the point where we knew the exact words to every episode!
• My favorite childhood toy was…this shiny dragon styled Hot Wheels car. It was awesome because it looked more like a scorpion where the tail was a dragon!
• One way I stay childlike is…doing cosplay and going to different conventions! I love the cosplay scene and although I may not have all the experience, as long as it's fun to me and the people I'm around, I'm ok with that!
• What I know so far…is that no one can tell you what it is you need to do to be happy. Sure expectations of you might be up there, but those expectations can't be set by anyone else but yourself.
• My favorite thing about Escape Adulthood is…it gives us subscribers the opportunity to know there are others out there who know Adultitis is a real thing. Too many times do I sit at my office desk, look at all my figures and posters, and turn around to other people's desks and see how simple and bland they are compared to mine wondering whether I'm the weirdo. Well, it's safe to say I'm not, and if I am, I don't find it to be a bad thing!
We saved a space just for YOU in The Small Rebellion — join the tribe of rule-breakers and sign up to become an Escape Adulthood Insider today!