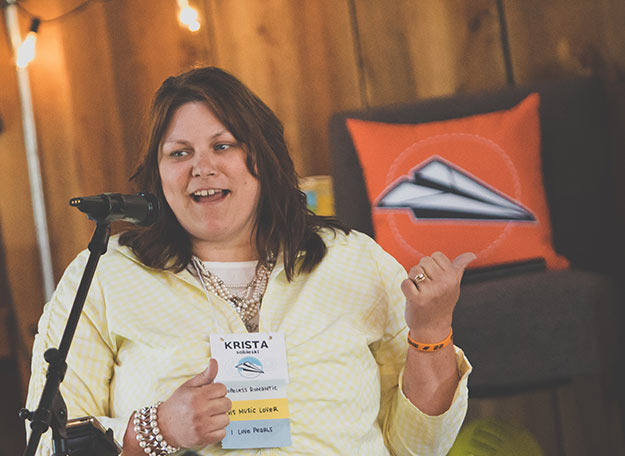 An Adultitis Fighter is someone who rallies against rules that don't exist and engages in ruthless, senseless acts of silliness that undermine Adultitis and its unadventurous version of adulthood. Once a month, we shine a light upon the most remarkable among us, holding them up as a dazzling example of what we should strive for in this epic battle against a formidable enemy.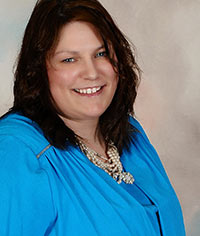 Krista Sobieski is always working to improve the lives of the children and families she works with, as well as making positive changes in her own, which is not something Adultitis takes kindly to. It would prefer that we accept the status quo, and just keep doing what we've always done.
Fortunately Krista is a woman of action. Adultitis-fighting action.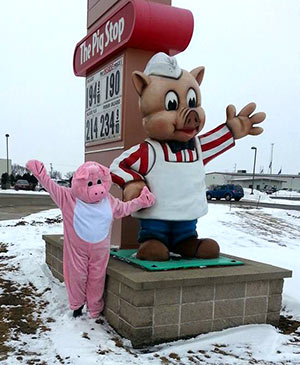 One of the things that first inspired us about Krista was the time she invented a mascot for her childcare center. His name is Petey the Pig, and he spreads fun and cheer wherever he goes (he even has his own Facebook page!). On top of that, she is one of those rare leaders who understands the the effectiveness that fun has in bringing teams together and melting away stress.
Krista is a wonderful, real-world example of how taking our work seriously doesn't mean we have to take ourselves seriously.
In recognition of their efforts, Adultitis Fighters of the Month receive a special mini-canvas hand-painted by Jason, along with a certificate of honor, a sweet patch, and other Adultitis-Fighting tools. We asked Krista some questions about how she fights the Big A and what advice she has for others…
* * * * *
What are some of your favorite ways to fight Adultitis?
My favorite ways to combat Adultitis is to let go of the things that I can't change and accept what is. I have learned to keep a sense of humor and remind myself that even during the worst of circumstances, I am still alive! To help keep it real, I try to find fun things to keep the people around me having fun too. Having four of my own children, it's easy to find fun things to do when life gets too heavy. For instance, we've eaten ice cream on waffles at breakfast, and did a "cheese curd" run to just order cheese curds at different locations to determine the family favorite.
One of my favorite things to do when there seems to be signs of anger, frustration, or sadness in my house is remind my family that I don't think there is enough hugging. There is a silly children's song by that goes, "12 hugs a day, 12 hugs a day…" and so on. I sing that and start hugging those who need it most and tell them maybe it will go to thirteen hugs or more if needed. It's become an easy way for me to lighten the mood and get extra hugs that sometimes I need too! It also turns a frown to a smile and reminds us our lives are very rich even during the down times, simply because he have each other.
Having worked the majority of my career in early childhood, it's an easy place to have fun in the workplace. We do all kinds of crazy things: themed staff lunches, wiggly eye appearances, and fun dress-up days.

Who or what has been the greatest influence in your own fight against Adultitis?
I've always been a people person, but yet very shy. I get lonely being alone but long for my own space. The majority of my career has been working in early childhood and community education. Working around children is very rewarding, but also a lot of work. I owned my own early childhood program at age 29 and then worked to transition to a non-profit organization. I had a belief that good quality early childhood programming was possible in rural areas of Wisconsin, despite that others told me it could not be done. The road has never been easy and along the way had many struggles.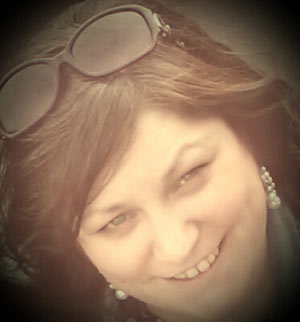 In 2012, I attended a conference at which Jason presented. I was in a bad place emotionally. I was overworked and tired. I owned a business, was trying to guide employees, and transitioning the business to non-profit. I was working way too many hours, and trying to be a wife and mom to four children. I was frustrated, mad, and on edge, looking for a sign of hope that things in my world could get better. I heard Jason speak and my life forever changed. That was in February. In March I won a vacation and later that summer I checked out for ten days with my family in the mountains of Montana. Going to that conference opened my eyes to make me realize that working sixty hours a week was not a healthy option for myself or my family. It also was not great for my business or the employees that I worked with. It was a turning point.
The message in Jason's keynote back in February was a strong one that I carried with me to remind me to have more fun, enjoy life, and travel when I can. It also gave me the courage to start my own speaking business (Thoughtful Seed Project) to encourage others to live life more positively and promote kindness for a healthier, happier life. For that reason, the message Escape Adulthood shares influenced me to live differently when I needed it most and gave me a new perspective on life.
What is something you loved doing as a child that you still do in some form today?
I love to swing on swings and color. What I remember most as a child is going to the fireworks on the 4th of July! My husband shares my excitement with fireworks and now we host a party with family and friends each year to celebrate our independence and share it with others. The night concludes with a great firework show that my husband and friends put on.
What is your strategy for dealing with people who are obviously infected with Adultitis?
I try to live by the statement, "kill them with kindness." When people are weighing me down, I try to be kind to them because they need it more than I do. Sometimes I try to do silly things to lighten the mood, and in some cases you simply have to learn to walk away. Life is too short to be anything but happy.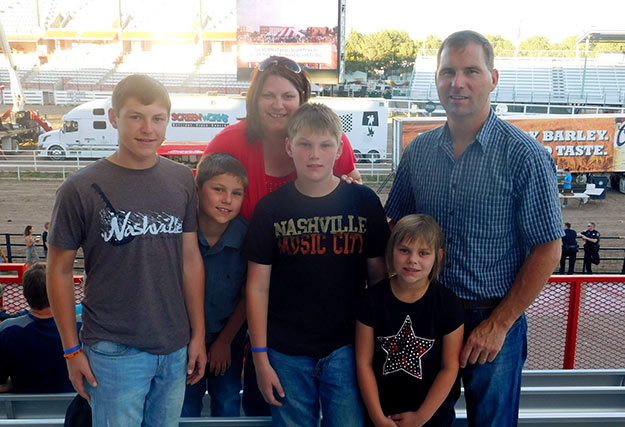 What advice do you have for someone who is feeling overwhelmed by Adultitis?
When I get overwhelmed, I try to think of the blessings in my life. There are others that have been in much more traumatic situations than me. I had a pretty normal childhood, with middle class working parents who met our needs. I am happily married with four children, I have a nice house to go home to, food to eat, and people who love me.
Sharing positive messages with others is something that makes me feel better, too. When I can help encourage someone, make them laugh, or have fun, I feel better. Silly things and laughter make life better.
Anything else you'd like to share?
My life has changed so much for the better the last four years, and a big part of enjoying life and not living with regrets is to create fun. I have worked hard to create fun in my workplace. Petey Pig the mascot was created out of pure fun to help promote the non-profit that I now oversee. Though being the executive director of the organization can be very stressful, I have learned to bring more fun with Petey to our center.
My co-workers and I have learned to have more fun. It is not unusual for my desk to be full of aluminum foil or streamers and balloons. At my office, I never know what to expect. My staff knows I love Elvis so it is not out of the ordinary to find a decorated Elvis cardboard cutout or experience a bucket of confetti dumping on my head on April Fools Day. Life is hard, and work can be stressful, so I appreciate the tricks and fun. (As long is no one is getting hurt or loses an eye!) In my work environment on serious days we wear mustaches (we are all women). When people are having fun, they are healthier, happier and are better employees. That is why I allow it and appreciate it.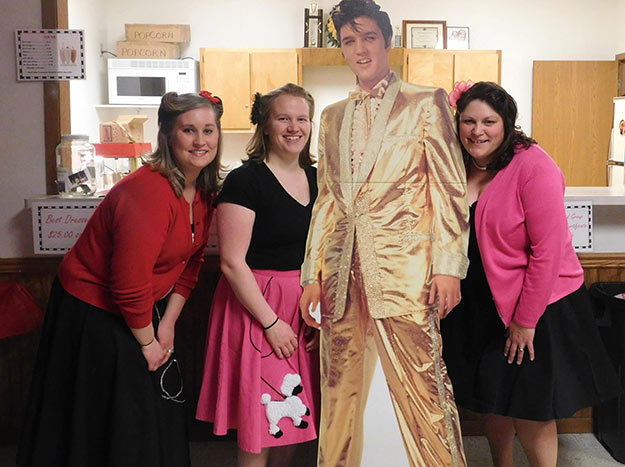 Life is extremely hard, but only as hard as we make it. Never in a million years would have I wanted to be on a stage or share a message, but the more I live, the more I want to give. In 2009 I had a realization and a huge scare after having sepsis bacterial pneumonia. I could have died but didn't. Though there was no side effects left after the brief illness, a doctor asked me if I believed in God and I told her yes. She told me it was miracle that I walked away without permanent damage, and that I should do something special because I obviously was saved to be on earth because I had a special gift waiting to be unlocked.
Though it took me several years to reduce my work hours and figure that piece out, the Thoughtful Seed Project was created and is slowly moving forward. I feel like that is my gift. I like to talk, I like to encourage others, and enjoy good company. My late grandpa once told me not to be afraid of the stage and just be myself. Once I figured out what direction I was going and could just accept me for me, my life became much more fun and relaxed.
I am healthy and I am loved and have lots of love to give. Life is short, but when I am gone I simply hope people will remember me as a good person who did good. My tag line for Thoughtful Seed Project is, "Live with Determination, Preserve Hope, Take Control, and Make Room for Growth." We are always growing and the only person we should ever be in competion with is ourselves to be happier than we were the day before.
I am ever grateful Escape Adulthood found me. My life is forever changed for the better.
* * * * *
Congrats to Krista Sobieski, June 2016 Adultitis Fighter of the Month. Thank you for making the world more awesome!