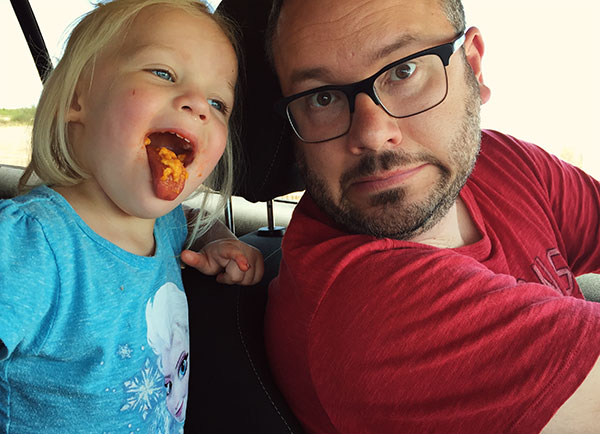 Our family just completed a 17-day road trip that spanned 11 states and 3,800 miles. We traveled with three kids, aged 7, 5, and 2. And we did it in a Ford Edge that was packed with just two suitcases, one cooler, a diaper bag, two computer backpacks, two strollers, one tote filled with food and another filled with swimming paraphernalia and sunscreen.
We did this because we are insane.
Actually, that's just a lie I repeated multiple times so people wouldn't feel bad. It makes it easier for folks to justify why they could never do such a thing, especially if a deep-down part of them yearns to do something similar. If I emphasize how hard it is, it keeps them from feeling jealous of how much fun we had.
There were so many highlights: We swooned over a baby gorilla, sampled the best of Kansas City barbecue, ascended 10,300 feet via the Sandia Peak Tramway, cooled off at Slide Rock State Park in Sedona, stood breathless at the Grand Canyon, marveled at the majesty of Arches National Park, drove through the Rocky Mountains, and swam in many, many hotel pools. Even better than those highlights might have been the memories that don't usually make for good postcards: trying new foods (rattlesnake!) for the first time, eating pizza in bed while watching America Ninja Warrior, and watching your kids get better at working together to solve problems.
The real reason we did it is because we crave adventure and memory-making. The best way we've found for doing those things is through travel, both to new destinations and past the boundaries of our comfort zone.
And yes, truth be told, it is hard. We had to endure high temperatures, long drives through barren lands, arguments over backseat boundary issues, and occasional tantrums from an overtired two-year-old.
Not every moment was magical, but the magical moments still existed.
Everyone wants six-pack abs. Unfortunately, it's not a one-day endeavor. It's a package deal. You can't get the magical moments without all the rest of it. Too many people give up on getting those moments and settle.
You can make amazing memories with your family. You can create a marriage that gets better with age. You can build a business that changes everything.
You just have to be a little crazy, that's all.