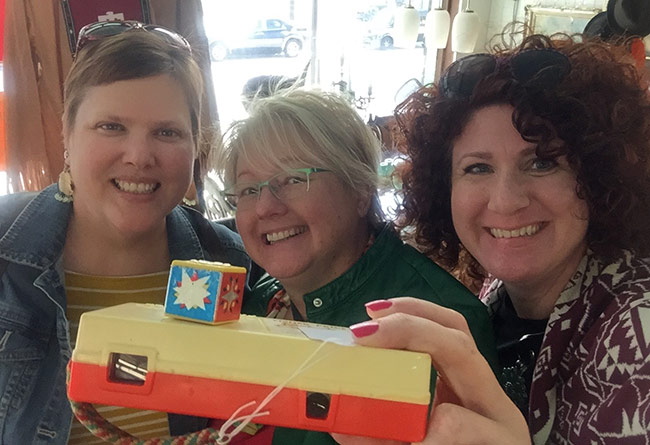 An Adultitis Fighter is someone who rallies against rules that don't exist and engages in ruthless, senseless acts of silliness that undermine Adultitis and its unadventurous version of adulthood. Once a month, we shine a light upon the most remarkable among us, holding them up as a dazzling example of what we should strive for in this epic battle against a formidable enemy.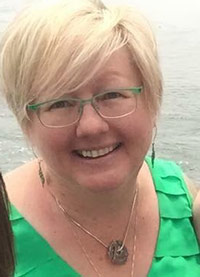 Kristin Hoenhe is a quintessential Adultitis Fighter. The best ones are skilled shenanigators, and Kristin is professional grade. What is a shenanigator, you might ask? Why, it's a person who instigates shenanigans, of course.
One of our favorite things about Kristin is her willingness to do silly things and bring other people into the adventure. And believe us, Adultitis hates when that happens. One person not taking themselves seriously is one thing, but inspiring others to join in is what makes Kristin an Adultitis Fighter worth emulating.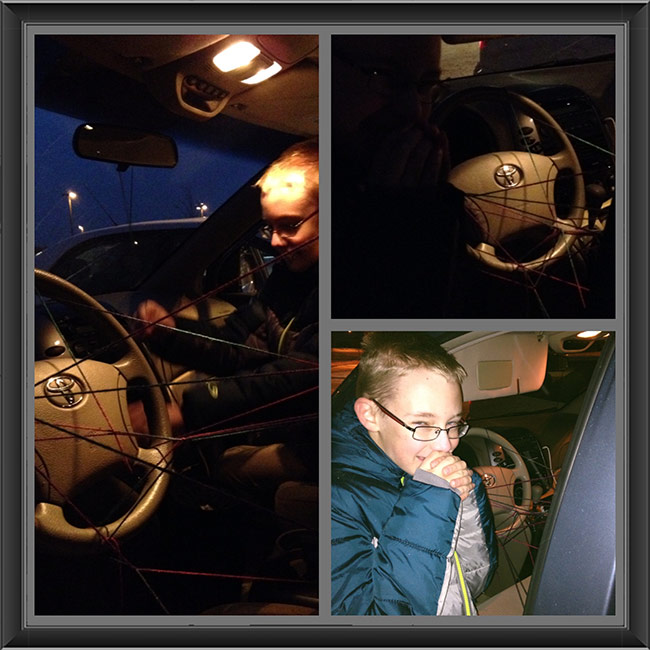 We can't say if all of this comes naturally to her, but we consider Kristin's superpower to be that she is consistently intentional. Whether she is riding around on her pink scooter (aka Pip), enlisting her nephew to help 'String' her brother's car, or going "pineappling" with her mother, Kristin always seems to be taking it to the Big A. And that's a big lesson we can all learn from her: Adultitis isn't going to beat itself. Being silly, finding ways to have fun, and enjoying life are choices that we all have the opportunity to make.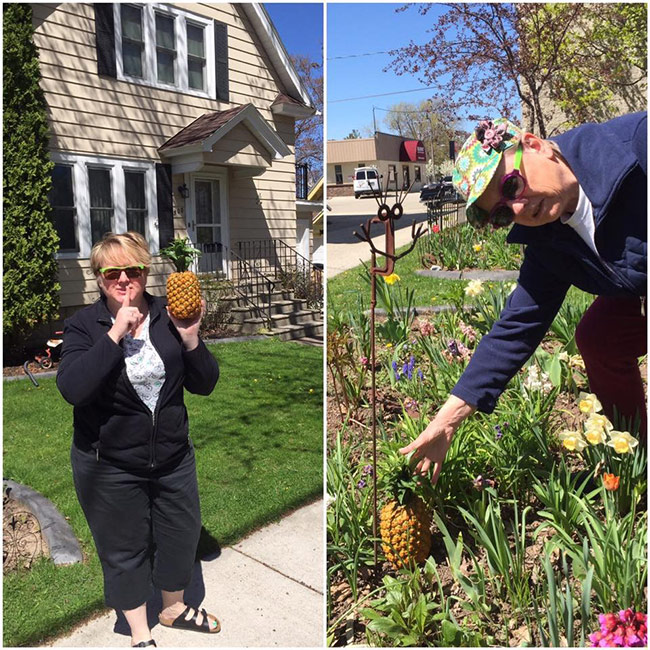 Anyone can go on an adventure, but Kristin has made her whole life an adventure by consistently choosing to annoy Adultitis on a regular basis.
In recognition of their efforts, Adultitis Fighters of the Month receive a special mini-canvas hand-painted by Jason, along with a certificate of honor, a sweet patch, and other Adultitis-Fighting tools. We asked Kristin some questions about how she fights the Big A and what advice she has for others…
* * * * *
What are some of your favorite ways to fight Adultitis?
AUNTIE is the greatest title I was ever given. Earning the title is what helps me think of new and sneaky ways to fight Adultitis. I always have an emergency bubble wand in my car. My workspace will usually have a googly eye peeking out. I like to bring small surprises to people like silly socks or notes with catchy phrases, but not icky creature surprises like a cat would bring.
I volunteer with a mentoring program, Best Friends. It's sort of like Big Brothers/Big Sisters. Sadly, many children are afflicted with Adultitis. Some don't have Mom and Dad both striving to build and protect them from the ugliness that Adultitis can bring. I help wherever I'm most needed. I currently supervise a lunch-time mentoring program. Once a week, high school students come to spend one-on-one time with their matched elementary school child. I'm inspired by their interaction. I also tie on an apron for the cause. For over 15 years I have gathered a team; we cut out and bake 25 pounds of cookie dough for a Christmas-time fundraiser.
I'm known for 'theatre' nights in the cave. It's making movie posters, punching tickets, being an usher. And then that one time the creation of the red velvet VIP rope. As 'theatre' night evolved, we've seen live-commercials and half-time shows and sometimes we even have time to watch the movie.
Who or what has been the greatest influence in your own fight against Adultitis?
Peter Pan and his never-ending childhood. Or maybe Wendy and the stories she imagines of fighting pirates, and conversations with fairies and playing with the Lost Boys.
I think of flabbergasted Granny Wendy, in the movie Hook, when she says to Peter, who has grown up and become a Mergers and Acquisitions Lawyer, "Why Peter, you're a Pirate!" Peter lost his childlike spirit in the need to provide financially for his family. But his children help to remind him of the joy of childhood and the need to remember the stories Wendy told.
Grandma. She had this singing sunflower. When someone was blue or just having a tough day, she would wheel herself over and hand them this (almost creepy) flower which would sing 'You are my sunshine, my only sunshine…'.
A huge influence in my fight against Adultitis is, strangely, my mom being diagnosed with inoperable cancer. The reminder that God has given us this life and we get to live it, so don't forget to live it. Don't let it pass you by.
Mama has a zest for life and thirst for the creative. She's a great fellow Shenanigator, always up for anything!
What is something you loved doing as a child that you still do in some form today?
Glass; it's form and function have changed over time, but the awe I find in glass has steadfastly remained. When I was a baby, it was in the form of prisms and the bended light cast through. As a young girl, it was in the beads used by Indians in intricate traditional beadwork. As a teen, I learned the art of stained glass. I then took to creating jewelry, which lead to fusing glass into pendants for jewelry, which lead to fusing plates and suncatchers and nightlights, OH MY!
What is your strategy for dealing with people who are obviously infected with Adultitis?
Smile.
Be a friend.
Create a random act of kindness, or silliness, whichever the situation calls for. Just thank them for something they didn't realize they'd done for you.
The 'ol 'kill 'em with kindness' is always a good strategy.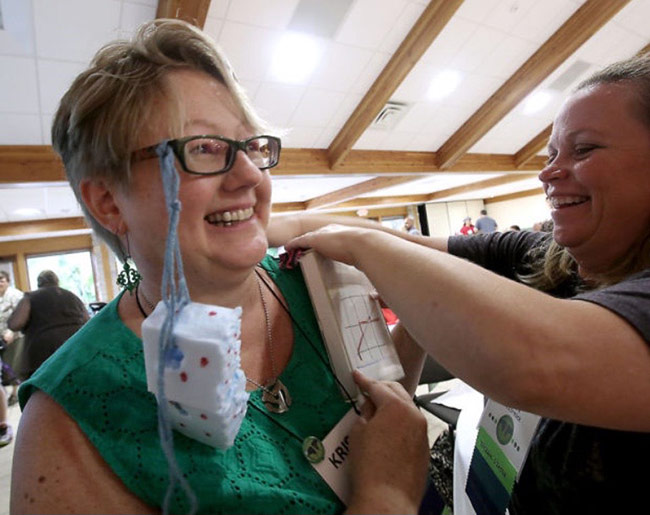 What advice do you have for someone who is feeling overwhelmed by Adultitis?
Break it down. Is it something out of your control? If so, let it go. (Or write to your congressman. That will help a whole lot more than just some angry rant on Facebook.)
Is it something that someone can help with? Ask. Reach out. You're not alone.
Is it someone playing up to your pet peave? Talk to them. Be honest.
Just break it down. Conquer one piece at a time. Oh yeah…and blow bubbles.
Anything else you'd like to share?
Be a tourist in your own back yard. Though I love travel, the most inspiring moments have not been a sold out show at House Of Blues-Las Vegas, nor a painting hanging in the Louvre. Live in the moment…in your town. Read an article about a Run Smelt Run parade in Duluth MN and go check it out. Invest in membership at the Oshkosh Paine Art Museum, because it's in the 'hood. Stop in at Neenah's Bergstrom Mahler Museum of Glass every time your pink scooter, Pip, takes you for a ride through the park. Someone everywhere has a tune to share with you. If Lawrence University students have a performance, you can bet it will be a good one. The Refuge hosts an evening of Storytellers every month. Who knew? And if you are brave enough you can stand up and share your own story.
What does YOUR town have going on?
* * * * *
Congrats to Kristin Hoenhe, November 2016 Adultitis Fighter of the Month. Thank you for making the world more awesome!