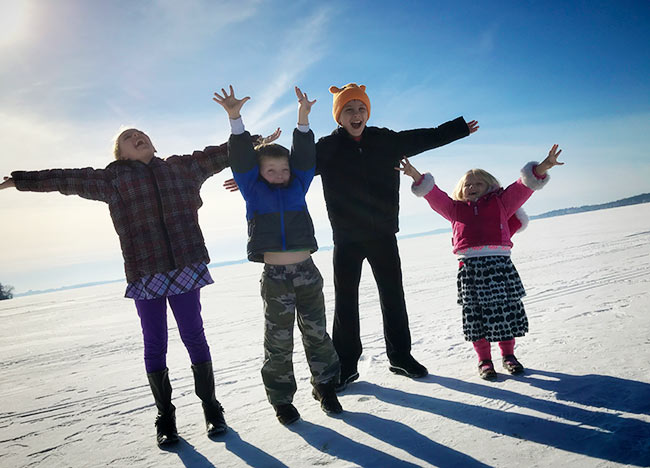 Nature and kids. It's a magical combination.
I treasure memories from my own childhood, ones like rolling down that huge hill at Allen Park next to the Illinois River, and climbing the tree in my front yard on Shady Lane, with grandiose plans to spend the whole afternoon there.
These memories get richer with the years, don't they?
One of my deepest longings as a parent is to provide these magical moments for our kids. I'm finding that with all things in life, when I give, I end up receiving way more than I ever imagined possible. This little story illustrates the gift my kids gave me, when I gave them an hour on the lake.
We are blessed to live a half mile from Lake Mendota, Madison's largest lake. It's a magical land of ice and snow right now. The kids are enthralled by this paradise (and so am I). We had my nephew over for a sleepover recently so we were all proud to show him our lake.
I was radically moved by our unscripted adventure.
Did you know if you scream out on the ice that the sound is absorbed and no one frickin' cares? You can never be too loud and it's pretty darn freeing.
Shadows on the lake are magic. They have a life of their own and beg you to play with them. You must say yes!
There are patches where there is very little snow and it's like a real ice rink. You can slide around like a figure skater, twirling beautifully until you fall on your butt.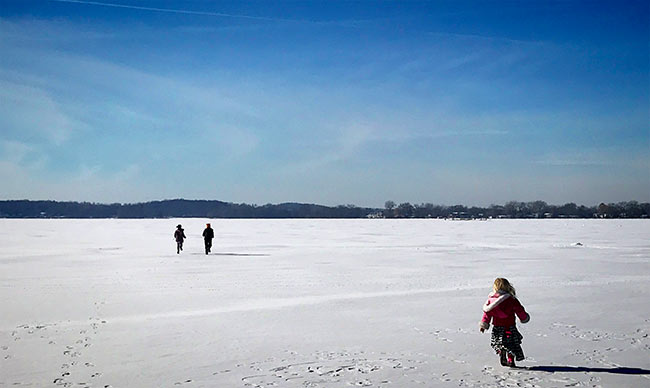 You can see all sorts of tracks on the ice, they tell an amazing story about what happened before you were there. We observed that our own footprints leave a stories for others to read. "Looks like some people had fun here!"
The kids discovered a GINORMOUS set of footprints that were spaced very far apart. We all imagined what kind of giant was out there on the ice. Maybe the Hulk? Big Foot? Wide wonderous eyes gazed into the distance imagining.
When snow drifts over the ice and makes higher sections, it's super fun to crash through these elevated levels of snow with your feet. At first if feels like you're about to fall through the ice, which is super freaky (and exciting). The simple act of walking and stomping became "a thing!"'
There were large sections of ice untouched by tracks and footprints. Without prompting, they began writing and drawing pictures with sticks and footprints. You can draw a whole picture in the snow!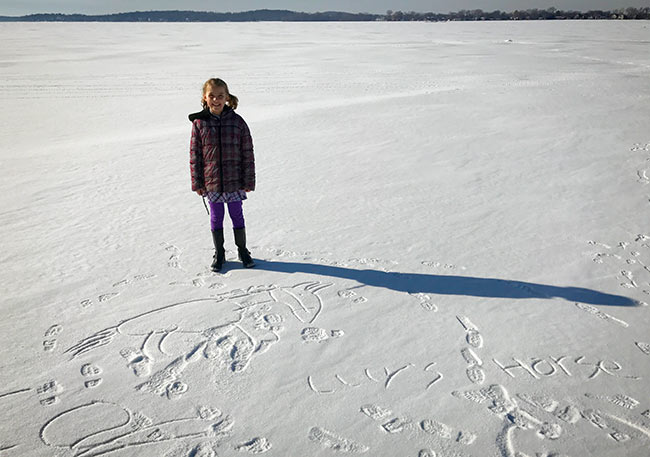 There were dead trees lying sideways, frozen in the lake. The ground that was once beneath them had eroded, and now their large and crazy roots were rising to the sun. A curiosity-fueled conversation began about why and how this had happened, leading to an impromptu lesson on erosion and root systems. Bonus fun, these dead trees provided some nice climbing.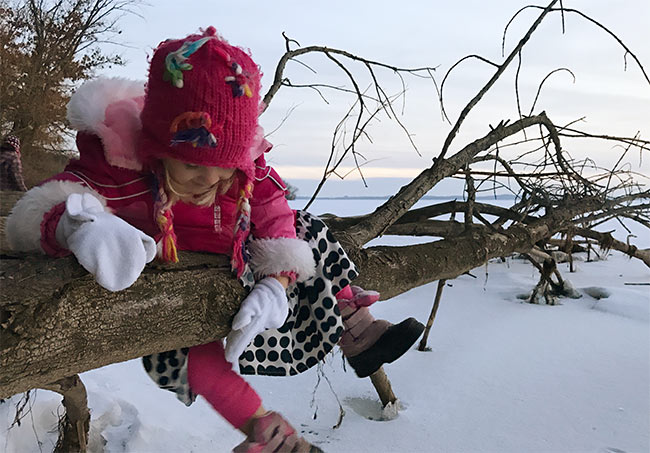 The simple act of picking up HUGE pieces of snow and ice is fun. It makes you feel strong like a giant. You can pretend you are a major league pitcher and throw them and they crash into a bazillion pieces and it makes the most distinct sound. You can do this dozens of times and it doesn't get old.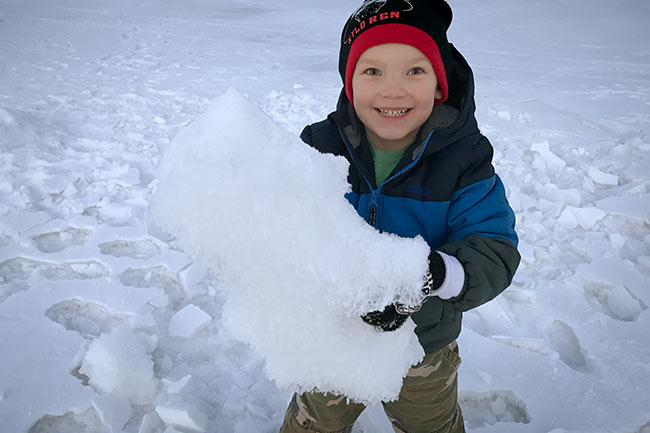 Sometimes chunks of ice remind you of things, like Superman logos and huge slices of pizza.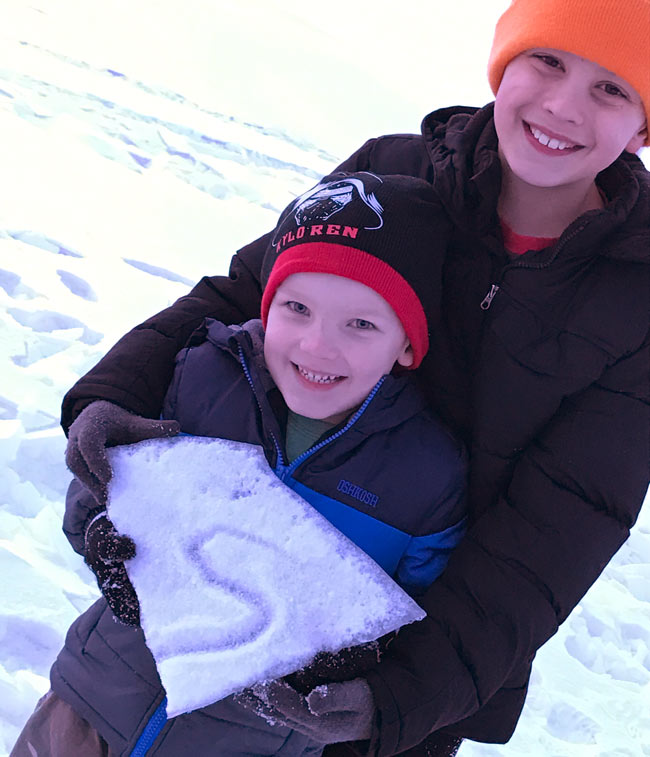 Seeing these kids free, experiencing their truly adventurous hearts uninhibited, hearing their squeals and the excitement in their discoveries, this sound reached into my heart and grabbed my inner-5-year-old by the hand and said, "Come on, let's play."
As an Adultitis-fighting mom of three, I tend to default to scripted fun. A + B = C. If Jason and I have a date night, then we have certain formulas for fun and adventure. If I have a few hours to work, then it must look a certain way.
These unleashed kids reminded me of the value of unscripted adventures and the supernatural power of nature to help set the stage.
What joy-filled experience is around the corner, waiting for you to walk out your front door?
Put on your sneakers or your winter boots.
Come on, let's play.