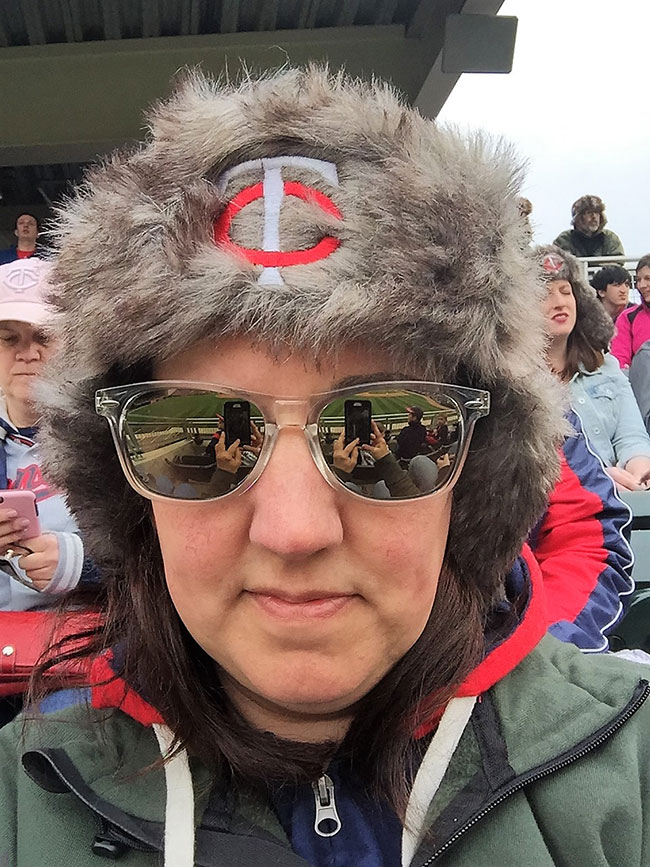 An Adultitis Fighter is someone who rallies against rules that don't exist and engages in ruthless, senseless acts of silliness that undermine Adultitis and its unadventurous version of adulthood. Once a month, we shine a light upon the most remarkable among us, holding them up as a dazzling example of what we should strive for in this epic battle against a formidable enemy.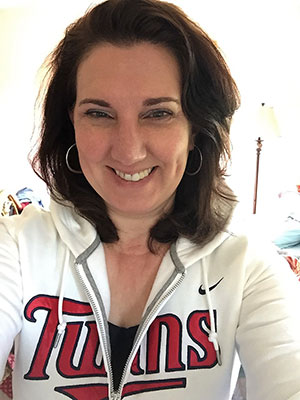 Mary Eickemeyer's entire life is established on the idea that Adultitis can be beaten and she makes it looks easy, even though we all know it's not! She has an amazing gift of creating fun and spreading the joy. She evangelizes by both simple and bold examples and also through very mindful sharing. She spreads the message of Adultitis Fighting near and far, from her co-workers to influencers at events she attends around the world.
A few years ago she took it all to the next level. After hearing Jason speak at a local event, she was inspired to create her own memorial event as a tribute to her friend Deb who had passed away from Ovarian Cancer. Deb was a very generous and joyful person who shared her love, time and talents with countless people in her lifetime. Mary wanted to celebrate the wonderful, positive and lasting memories of her friend.
The event Mary hosted reflected Deb's joy from start to finish! Cheerful greeters welcomed guests, VERY ugly cookies were served (with lots of giggles!), a VERY large Marty penguin attached to an even larger red balloon was there to greet guests, Jason shared a keynote program, and participants walked away with goodie bags filled with fun. Everyone came away with the important reminder that life is short and one must "Live the best Life You Can!" The entire event was Mary's brainchild and it was a wonderful gift to all who attended, including a handful of Deb's close family members. Mary's creativity and leadership continues to be a gift to those who encounter her joyful love of life!
In recognition of their efforts, Adultitis Fighters of the Month receive a special mini-canvas hand-painted by Jason, along with a certificate of honor, a sweet patch, and other Adultitis-Fighting tools. We asked Mary some questions about how she fights the Big A and what advice she has for others…
* * * * *
What are some of your favorite ways to fight Adultitis?
Going to a Twins' baseball game. Just purchasing the tickets makes me happy. They do not often win but its all about the atmosphere and the freebees, especially on Fuzzy Bomber Hat night (see above).
Spending time tending to my rubber chicken collection. The tiny ones are for people who are only a little chicken.
Hanging out with my pets. Beagles are naturally hilarious.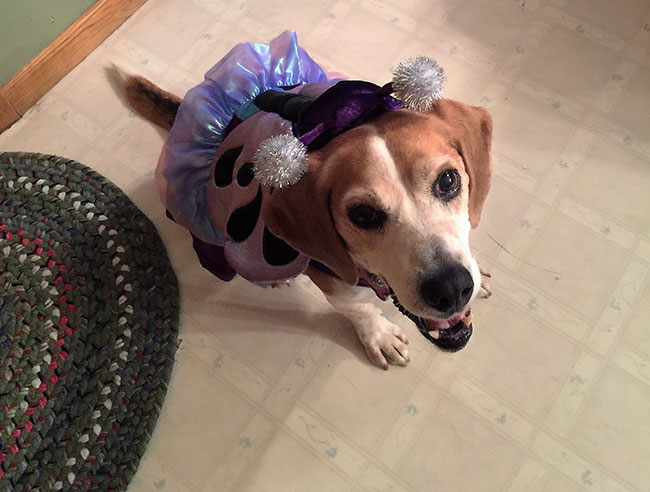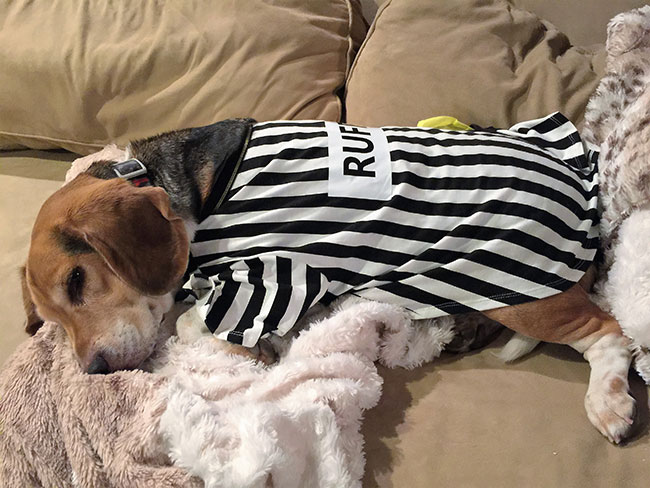 Calling or texting funny friends–I am blessed with a bunch of them!
Playing Angry Birds Blast.
Going shopping for Big Marty's wardrobe. Girls go crazy for a well-dressed penguin! Plus, I give him a hug once in a while as well.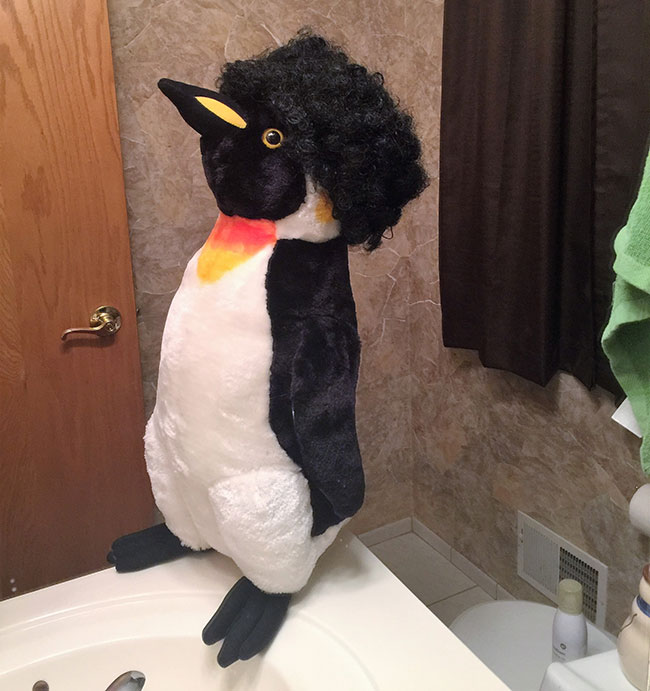 Who or what has been the greatest influence in your own fight against Adultitis?
My greatest influence in my fight with the Big A has been my Aunt Mary. She taught me to dead pan in 3rd grade and I have never looked back. Ironically and sadly, she became extremely crabby as she grew old. I still send her puzzles, joke books, and stuffed chickens in the hope that she will someday come back from the Dark Side.
What is something you loved doing as a child that you still do in some form today?
Too numerous to name, really. A childhood friend once told me that I had grown older but never really changed. I still love stuffed animals, bad puns, pets, oil pastels, and sewing. I still love to tromp around outside in nature in all kinds of weather and having dogs that need to go out helps that tremendously. I have a cat now that sleeps on my head at night and I had one of those as a child as well.
What is your strategy for dealing with people who are obviously infected with Adultitis?
My main strategy for dealing with people infected with Adultitis is to be overwhelmingly kind. For years, my husband had a terrible case of it so I have had a lot of practice in this area. My sub-strategies include being happy all the time, even when I have a headache, telling them funny jokes and stories, showing them photos of my dog smiling, telling them about my younger brother who kept a newt in his locker in high school, etc. You get the idea. Eventually, they will either manage a small smile or avoid you completely.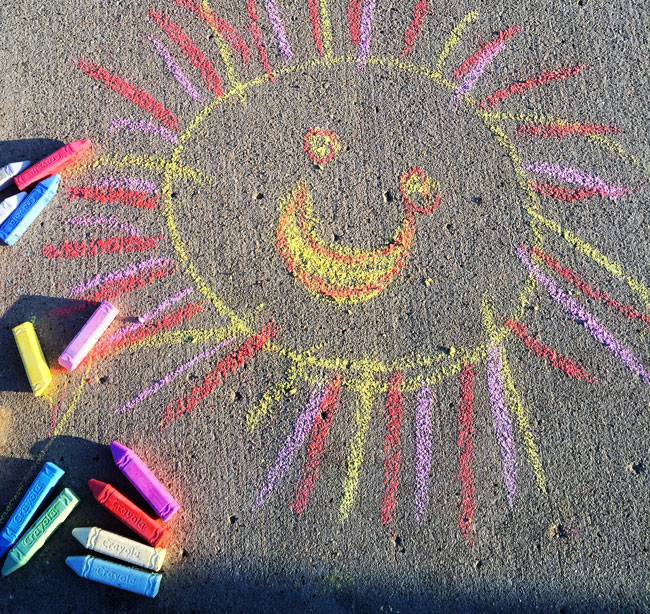 What advice do you have for someone who is feeling overwhelmed by Adultitis?
Decorate your fresh fruit with Escape Face stickers.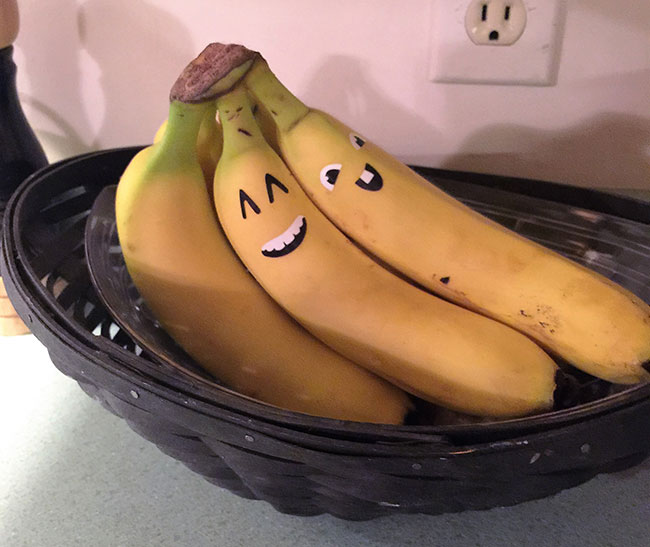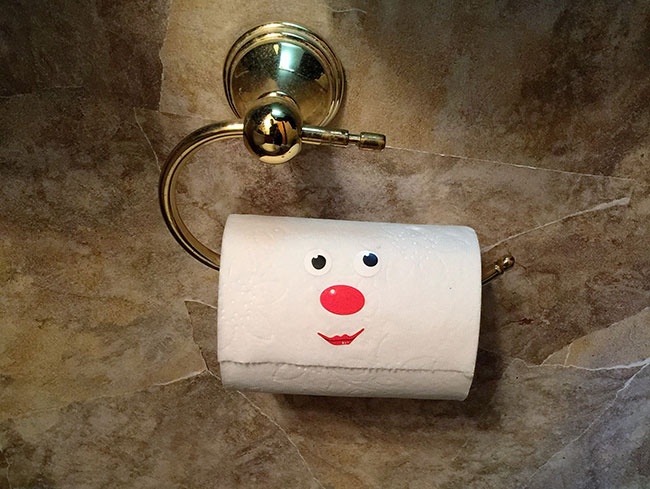 Visit a Lego Store, make your own minifigures, and hide them around the place.
Visit a zoo. Compare this to your life.
Go on a scavenger hunt in thrift stores. Ask the clerk where they keep the stuffed giraffes.
Carry Marty with you or (my fav) wear Marty leggings everywhere.
Buy furry pillows for your couch. Pet them and talk to them if necessary.
Watch Weird Al music videos on YouTube.
Teach your cat/dog tricks–we have both who can do them. Hand out lots of treats. Your pets will love you forever.
Anything else you'd like to share?
I would like to take this opportunity to thank Kim and Jason for having us all along on this madcap adventure of Making the World a Better Place. Adultitis does not stand a chance!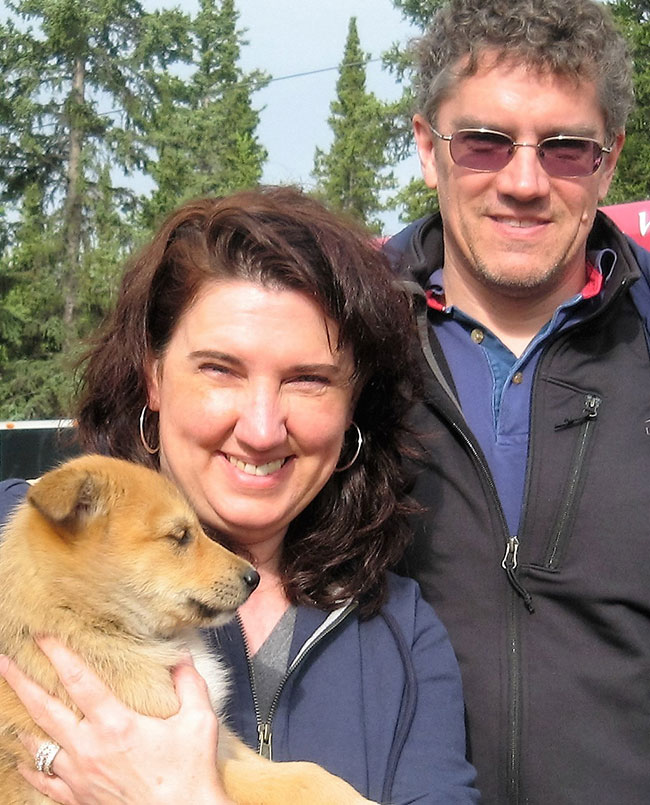 * * * * *
Congrats to Mary Eickemeyer, January 2017 Adultitis Fighter of the Month. Thank you for making the world more awesome!