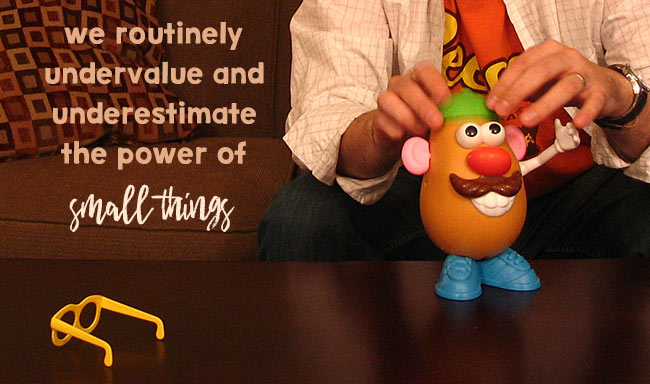 Perhaps a fog of negativity has settled in at work. Maybe everyone's on a hair trigger and trust in each other is at an all-time low. No matter what the details look like, when Adultitis has infiltrated the culture of a workplace, it may seem like the only viable option is to initiate a scorched Earth firing campaign and start from scratch with a new team of fresh, happy faces.
Maybe it is. Or maybe you could experiment with one of these three ideas first.
Mr. Potato Head Goes on Tour.
Get a Mr. (or Mrs.) Potato Head. Write a simple but heartfelt note to an employee or co-worker, put the note in the little butt compartment of your toy spud, and sneak it onto that person's desk while they're away. It could be a note of congratulations for a big sale, or a few sentences complimenting something you admire about the way they do their job. Include instructions to pass it on and do something similar for a fellow colleague.
Space Hacking.
Facebook has been known to give their employees a budget to "hack" their workspace. It isn't encouragement of a company-wide cyberattack, but rather the opportunity to decorate or improve their workplaces creatively. This could include a creative use of objects or color schemes. It might also involve incorporating new technologies to make work easier or more enjoyable, or even buying a few potted plants or terrariums to add some life. Employees might even choose to pool their funds together toward something bigger.
Spring Flinger.
Think Secret Santa but during Spring. Have everyone draw the name of an officemate, and think of something nice to do for them in secret. (Such as leaving a card, chocolates, or flowers.) It's a great way to improve spirits while you're waiting for winter to finally give up the ghost. Speaking of ghosts, you could also adapt this for Halloween, or any other time of year when you need a change of pace.
Some people may consider these ideas to be silly, stupid, or trivial when it comes to making much of a difference.
Perhaps.
If you fall in to that camp, I challenge you to prove me wrong. Try any of them for a week and then get back to me about how it didn't add any life to your team.
The truth is that we routinely undervalue and underestimate the power of small things.