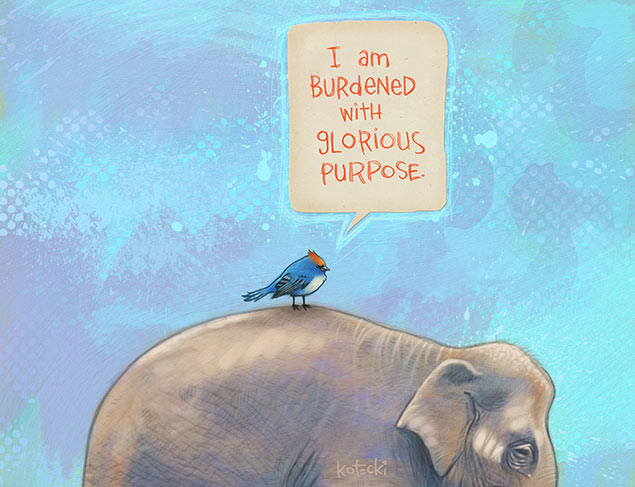 A professional giver.
I'm not sure it's something anyone aspires to when they are a little kid. A professional athlete or musician? Sure. But a professional giver? Is that even a thing?
I first heard the term last year from my mentor, Noah, who was challenging Kim and me to take things to the next level. We've had a pretty good run of success with our business, and he invited us to to take a wider view. He encouraged us to begin looking at ourselves as professional givers. The premise is to start thinking of it as your job to give away as much money as you can, then plan (and act) accordingly.
Now, I started this business for two reasons. I wanted to make a living doing what I loved, and I wanted help as many people as I could while doing it. No one was putting out want ads for artists looking to help people recapture their childlike spirit, so my options were limited. It took an enormous amount of faith to start this business, and we racked up a sizable amount of debt along the way.
Many companies donate a portion of their profits to amazing charitable causes. I wanted us to be one of them. The only problem was that in the early days, we weren't actually profitable. Like, not even close. Refusing to allow that little detail to keep us from making a difference, we decided to ignore the profit part and begin donating a percentage of our top-line revenue, before taxes and expenses were accounted for. That started back in 2002, with 3% of all product sales going to charities helping to improve the lives of children all over the world.
Eventually, the small wins started piling up, the business became debt-free, and we started to build momentum. Enter my mentor and his thoughts on professional giving.
One thing that came from our discussions with Noah was the idea of increasing our tithe from the business to include ALL revenue, not just from the merchandise sales. Like I said, we started our little charitable division early on, before I was even speaking. We continued tithing 3% on the merchandise sales simply because that's what we'd always done. Bringing the speaking revenue into the mix meant that we'd easily triple or quadruple our giving.
Which was a big pill to swallow.
We'd always run a tight ship and I wasn't used to having extra money in the bank. It would have been just fine with me to leave it there. But Kim and I felt called to take another leap of faith, just like when we launched the business in the first place, and just like when we started our initial small tithe. Those leaps had paid off, but now we were on the verge of slipping into a zone of safe comfortability.
Our first step forward began by looking back twenty years.
The year was 1997, back in the dark ages before iPods, iPhones and Amazon Prime. Kim was nineteen, I was twenty-one, and we'd already been dating for about two years. We went to a Third Day concert in Peoria, Illinois. During that show, the band talked about their involvement in the life-changing work of Compassion International, which has the mission of releasing children from poverty in Jesus' name. We'd heard about this remarkable charity before, but that night something really moved our hearts in a profound way. We felt called to step out in faith, even though it didn't make a lot of sense. After all, we were broke college students, with mounting student loan debt and minimum wage jobs. Back then, eating at Pizza Hut was a typical date night, and splurging on concert tickets was a real indulgence. In retrospect, our relative pennilessness was the whole point. God would provide; He was simply asking us to trust him.
"Whoever receives one child such as this in my name receives me." – Matthew 18:5
Hailemarian was the three-year-old from Ethiopia that we decided to sponsor together. Over the next 18 years, we exchanged letters and pictures and saw this innocent preschooler develop into a young man with hopes and dreams and a future. We wrote to tell him when we got married, we shared about our work with Escape Adulthood, and when Lucy was born. On birthdays and Christmas, he received gifts that he needed and wanted with the money we sent. He was able to attend Sunday school and learn about Jesus' love for him. Eventually, after nearly two decades, he graduated out of the program. The experience changed our life just us as much (if not more) than it changed his.
One of the things we love most about Compassion is the close relationship that you are able to forge with your sponsored child. Being able to regularly exchange letters and photos is so cool. We also appreciate how Compassion addresses all of the needs of the child, including physical, social, economic and spiritual, in order to truly transcend a legacy of poverty.
In 2006, we had the opportunity to visit and tour the Compassion International Headquarters in Colorado Springs. It was a truly moving experience and affirmed that what's happening there is truly God's work. We were humbled by the stories shared and our hearts were moved yet again at what is possible when someone says yes to the call of helping someone in need.
"It is not the will of your heavenly Father that one of these little ones be lost." – Matthew 18:14
It was a big sacrifice to sponsor Hailemarian when we began. By the end of our journey with him, the sacrifice was no longer as significant. So last year, we decided to up the ante, beginning with donating 3% off all revenue. Merchandise, original art, speaking, all of it. And we felt called to make Compassion a central part of this new initiative.
We now sponsor three kids (Mitzy, Allan and Rosa) who are the same ages of each of our kids. (Two of them share the same birthdays!) We pray for them daily and they have become like long-distant cousins across the globe. The kids love learning about their home countries and picking out pictures to send them.
In addition, we give the kids final say over where the remainder of the money goes, using a "catalog" that Compassion puts out that highlights specific areas of need. Last year, we donated chickens, goats, fruit trees, health supplies, and wells. Lucy elected for some money to provide for sewing and baking classes, and Ben picked mosquito netting, because he "hates getting bug bites." Ginny, our youngest, almost always authorizes the funds to build more playgrounds.
It was definitely a risk to increase our giving by so much last year. But you know what? We had our best year ever. By a landslide.
So we were emboldened to take another step this year, and for the first time ever, upped our donation from 3% of revenue to 4%. To date, with your help, we've been thrilled to donate over $32,000 to a variety of charities like Compassion, Make-A-Wish, and St. Jude.
To many corporations, this is a tiny drop in a big bucket. It's not for us, but I hope it does feel that way soon.
So we're coming to the end of a VERY long article. (If you're new here, they're not usually this long!) There are a few reasons I wrote this. First of all, it's Compassion Sunday, a movement designed to get more sponsors to help more children in need. I figured this is a good way to help. Check out this short video to learn more about what Compassion does, and please consider the idea of changing the life of a child (you can even find one that shares your birthday!)
Secondly, although I'm not sure anyone ever sets out to be a "professional giver," there are a lot of people who say, "I will be a big giver someday." Too often, someday turns into never because we never get around to starting.
In 2003, our first full year of business tithing, we donated a total of just over $600. Meanwhile, our business actually lost $18,289 that year. But the important thing is that we started the habit. A habit that became so ingrained and automatic that we didn't think much about it until Noah introduced the idea of professional giving.
The lesson here is that no matter what you want to accomplish someday, figure out a way to start moving toward it today, even if the steps are very, very tiny. They may not look like much, but they matter.
The greater lesson, which I'm still learning, is that you can't outgive God.
I am finding that it's a lot of fun to try.