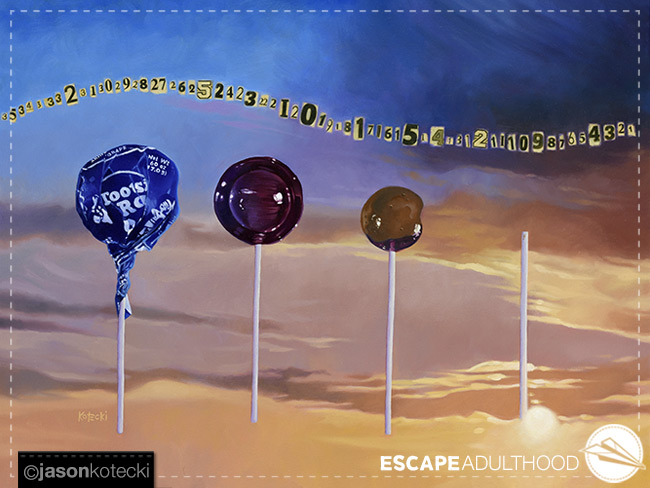 How many licks does it take to get to the Tootsie Roll center of a Tootsie Pop?
A commercial that appeared on TV when I was a child asked that very question. It turns out that a number of folks have tried to get to the bottom of this.
A group of engineering students from Purdue University built a licking machine, modeled after a human tongue, and determined that it took an average of 364 licks to get to the center of a Tootsie Pop.
A chemical engineering student from the University of Michigan built his own licking machine and recorded that his required 411 licks.
And a group of junior high school students ditched machines in favor of human lickers, and reported an average of 144 licks.
Apparently, the world really may never know how many licks it takes to get to the Tootsie Roll center of a Tootsie Pop.
I remember the first time I took my kids to Wrigley Field. It was the year after the Cubs won the World Series, and the kids were excited to see their favorite players in person. It was a beautiful day, the Cubbies won, and we relished singing "Go, Cubs, Go" with 40,000 fellow Cub fans.
We looked forward to that game for months. As we do for many of the firsts in our lives. Your first baseball game. Your first kiss. The first time you get to drive by yourself. The first place of your own. Your first child.
We anticipate the first times and do our best to savor them.
But the last times are different. They have a habit of sneaking up on us. Undoubtedly, there was a last time that I held my youngest daughter in the middle of the night, in a grouchy sleep-deprived state, comforting her – begging her — back to sleep. But I don't remember it, because I didn't realize it was the last time when it happened.
The first times come with a lot of fanfare. But the last times come and go without a whisper.
How many dinners do you have left with your parents?
How many anniversaries do you have left with your spouse?
How many bedtime stories do you have left to read to your kids?
How many fishing trips do you have left with your grandchildren?
How many licks?
There is no machine we can build that will tell us. Not exactly.
We can guess, we can estimate, we can hope for the best.
But I bet that number is a lot smaller than we think it is.
Live accordingly.