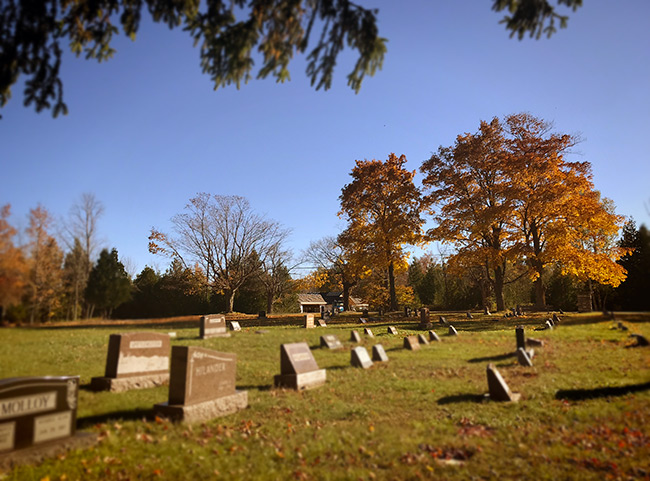 I was in a small country cemetery recently, thinking about autumn and life and the end of another baseball season, when I saw these trees. All of them marching toward the sleep of winter, the one on the right still filled with leaves, another with only a few left to give.
I wondered, "Which one am I?"
As of this writing, I am forty-two years old. No spring sapling, that's for sure. I'm old enough and experienced enough to know that I could be either tree.
I think about death a lot, mostly because it helps me think about my life, and how well I'm spending it. Anniversaries are piling up. Pictures from my early days of marriage looks less and less like the person that greets me in the mirror each morning.
And my kids. They are growing up so fast. Too fast. Memories of their newborn days seem like borrowed photographs from someone else's life.
Life can be hard, but it is good. I'd give anything to slow it all down. I rack my brain for something I can do to help.
How do I appreciate what I have more deeply? How do I savor more? How do I make the most of the time with my wife and my kids? Surely there is something I can, you know, DO?
Spend every waking moment with them? I did that when they were two weeks old and I don't remember most of it.
Hug them a little tighter? That's a cliché you hear a lot. But I tried that, and all I got were mumbled replies that sounded something like, "You're hurting me Dad, I can't breathe…"
I don't know, it was hard to hear.
Unfortunately, I came to the conclusion that there doesn't seem to be anything I can DO to appreciate more, savor more, live more. But it dawns on me that the insight I'm looking for actually lies in a list of DONT's:
Don't wait for your to do list to be cleared before living your life. It never will be.
Don't let your attention get stolen by a screen when you're in the presence of a loved one.
Don't waste time worrying about things that don't matter. (More things than you think fall into this category.)
Don't worry so much about messes. Sometimes that's where the best memories are made.
Don't spend so much time looking though a viewfinder that you miss experiencing the real thing.
Don't abide by rules that don't exist.
Don't toil away in a job you hate.
Don't wait for tomorrow to forgive, or ask for forgiveness.
Don't wait for a reason to tell someone you love them. Today is as good a day as any.
Don't expect that you'll be any happier tomorrow than you decided to be today.
Don't put off memories for tomorrow that can be made today.
Don't usually has a negative connotation, especially for a non-conformist such as me. But I've found that a list like this is as helpful as anything I've found to ensure that regardless of how many leaves I have left, when the last one falls, it will not be in regret.