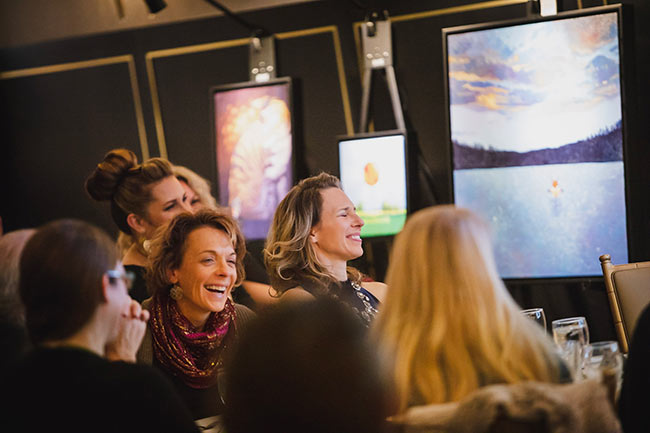 Wondernite is an exclusive art collecting event where I premiere never-before-seen originals and limited edition artwork.
This year, guests got all gussied up and joined us at the beautiful Park Hotel, Madison's only Capitol Square hotel, for an unforgettable evening.
And it sure was. Here are a few notes (and a bunch of photos!) from the second annual Wondernite…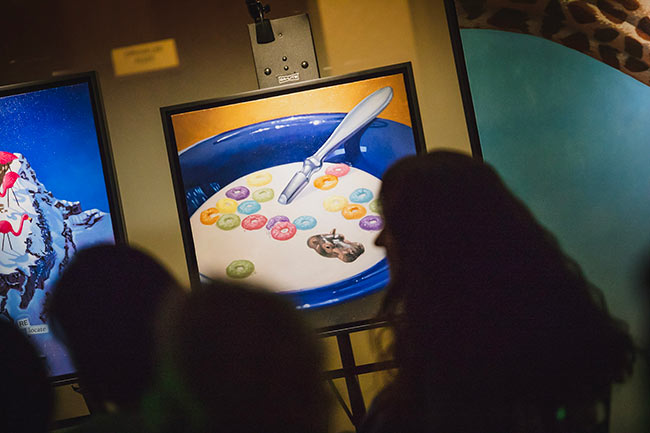 "Thank you! I took a chance on a night not knowing what to expect and attended solo. I really had a blast and would absolutely attend more events! Thanks so much ❤️❤️" –Carrie Ouradnik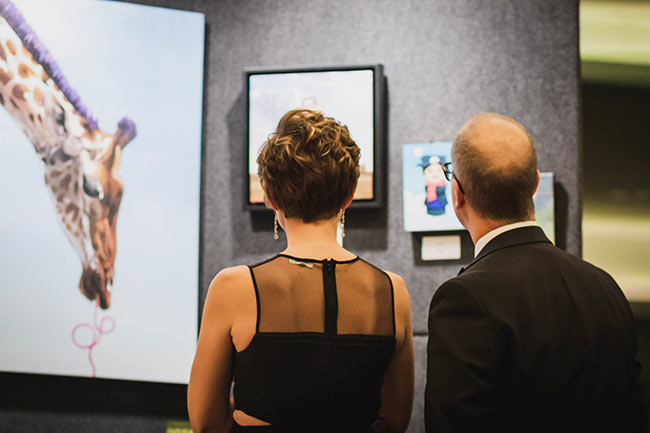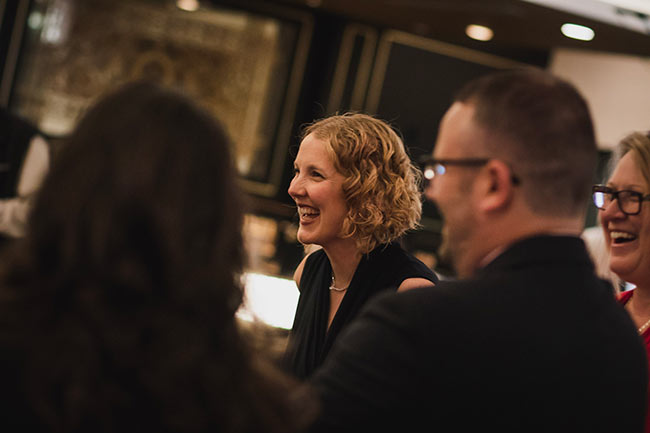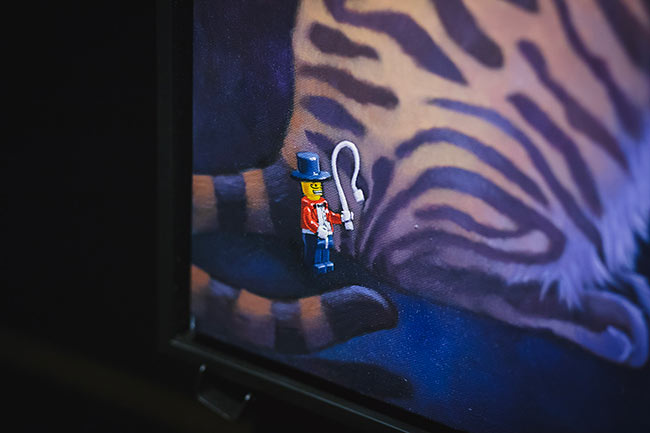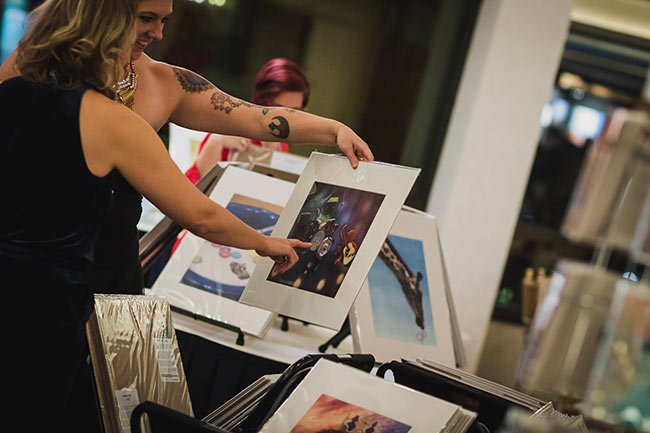 My brother Doug served as emcee for the night, and delighted people with his jokes and semi-true stories.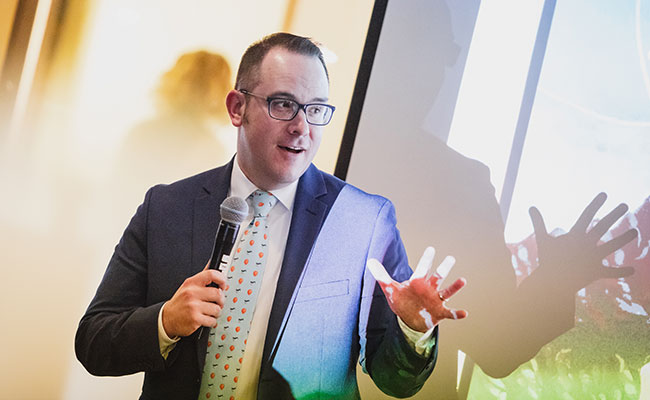 After dinner, as I revealed my new pieces, I told the stories behind the work.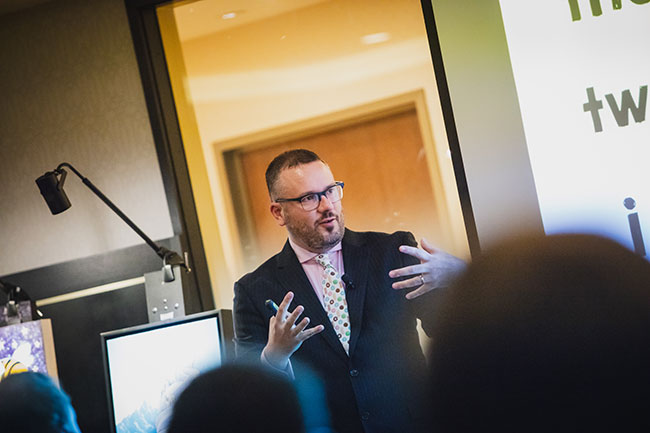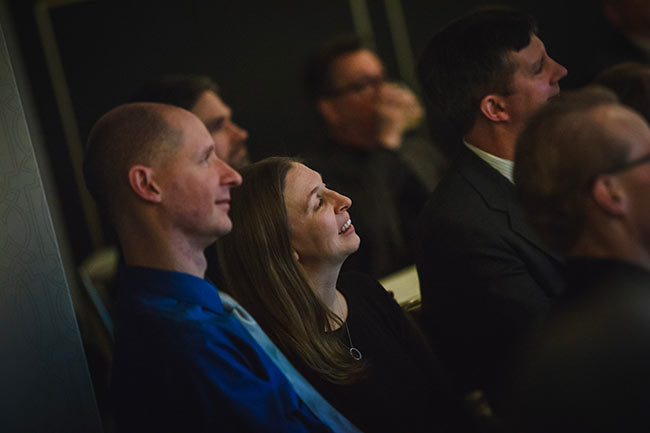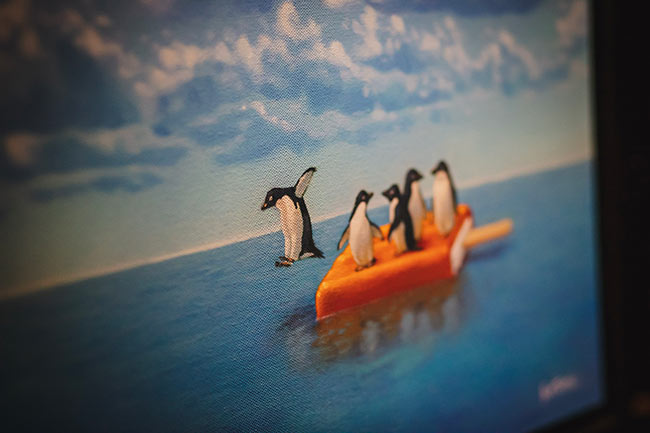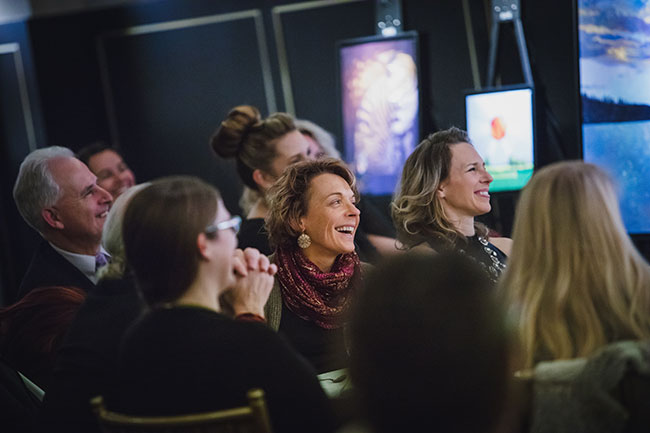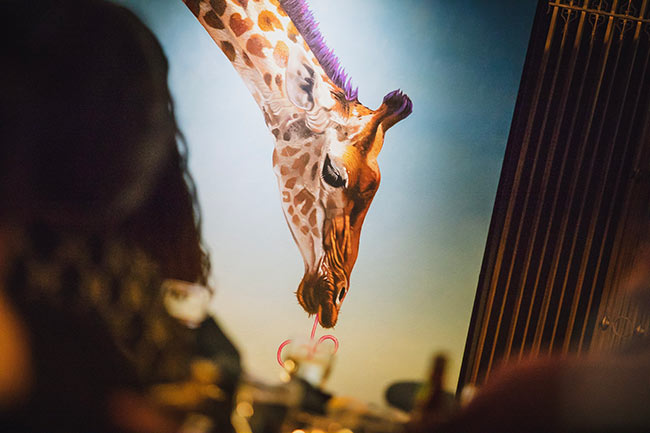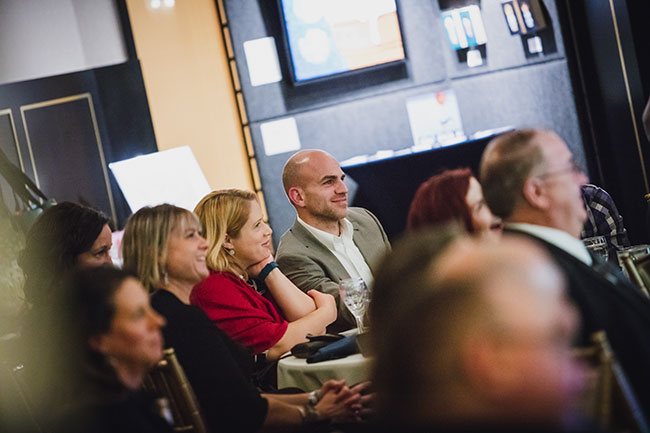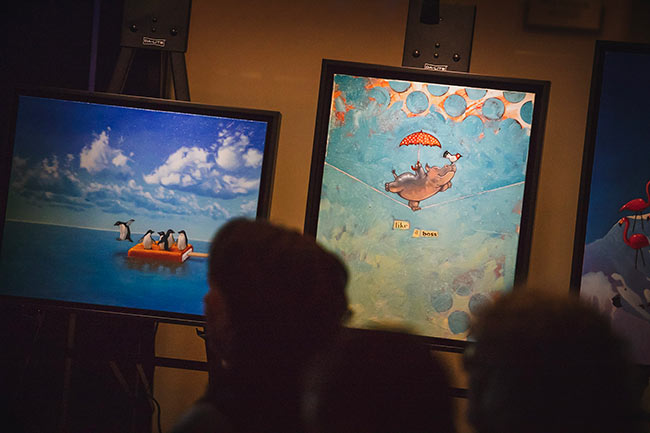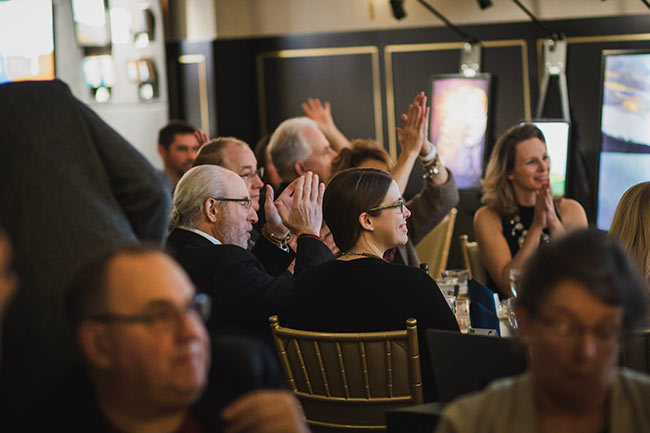 All of the originals were made available by silent auction, although some people lamented the loss of the live auction and the witty banter of Doug. (We already have plans to remedy that next year with a fun new twist!)
We had a number of "pods" set-up around the room (which had a glorious view of the illuminated state capital building). Each pod featured clusters of originals, auction items, and other gifts.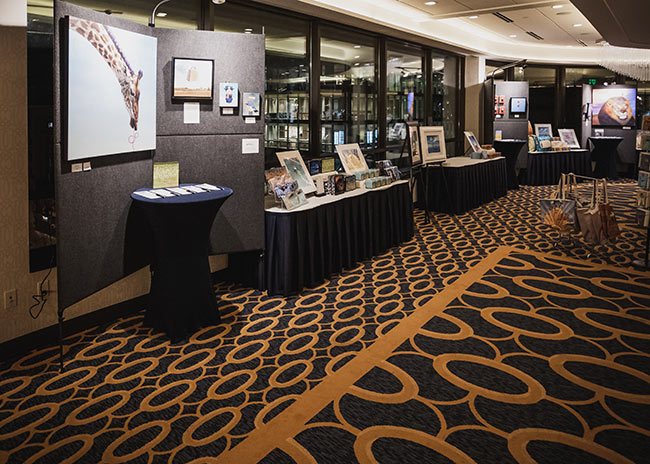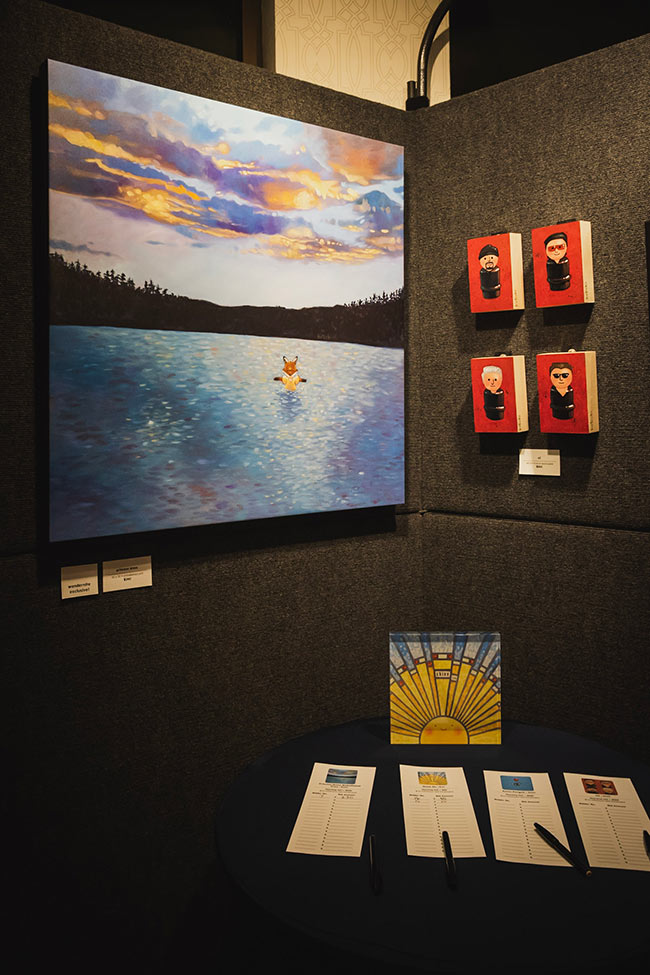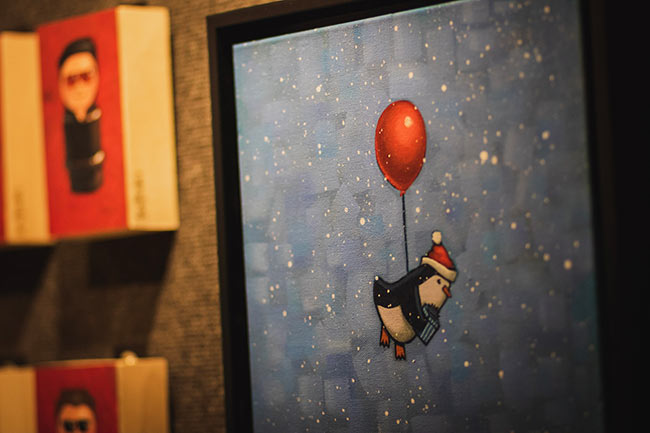 "The setting with the view of the Capitol Square was breathtaking. The dinner was delicious and cake, too! I always enjoy the stories from Jason, even if we've heard them before because we need that shot in the arm to avoid over-adulting. Whimsy is everything and your approach is from the heart."
–Donna Ciolek
This year, we had on hand things like greeting cards and pillows…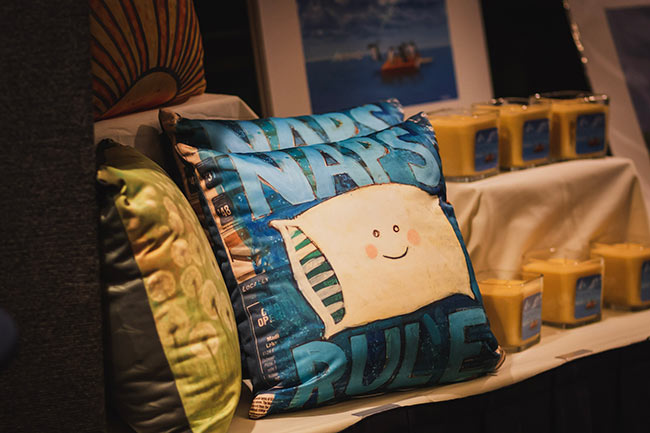 …and also debuted some brand new products, such as candles, puzzles, neckties, and more!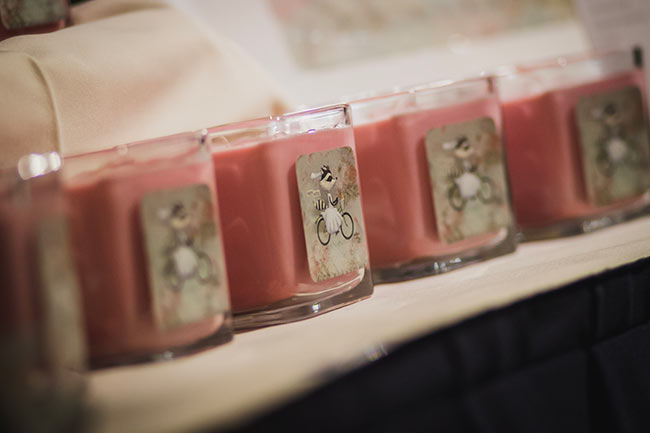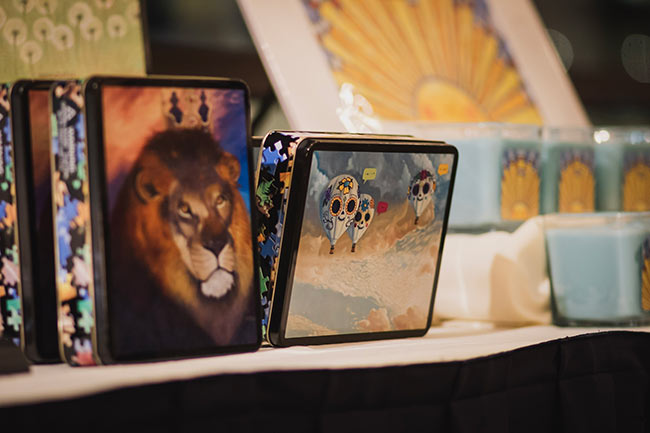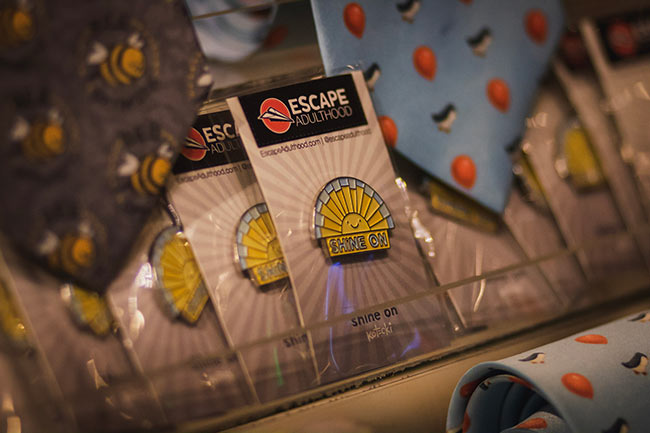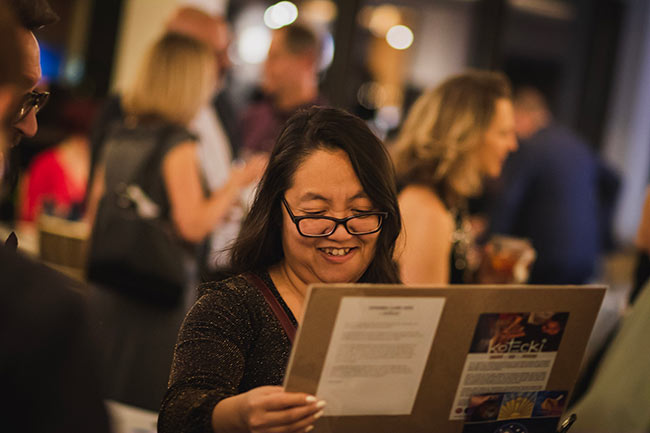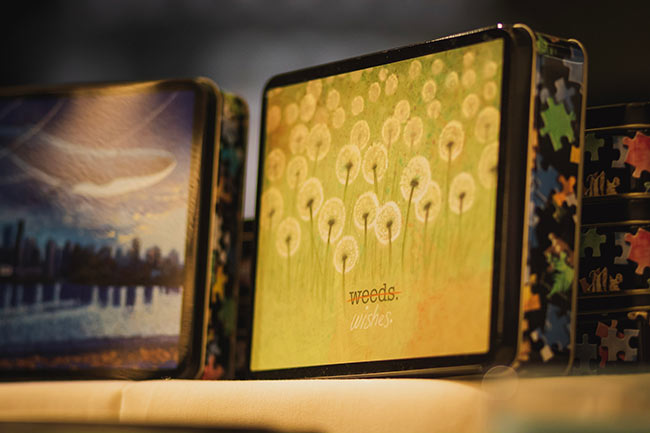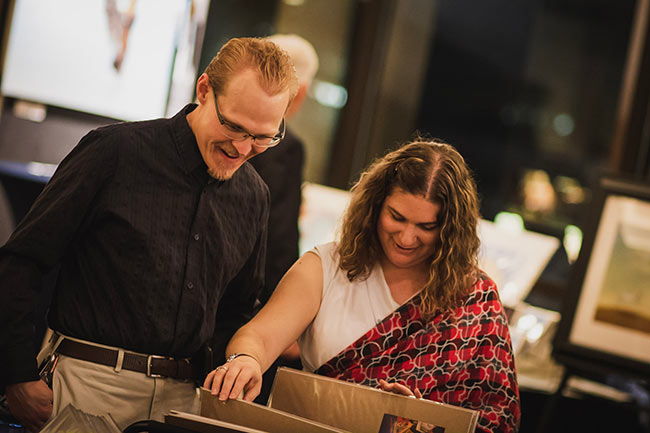 The auction included a number of exclusive, one-of-a-kind items, which all sold out. The acrylic blocks and embellished canvases were a big hit, but my favorite may have been this woven blanket, created from a painting inspired by a family trip to the Pacific Northwest earlier this year!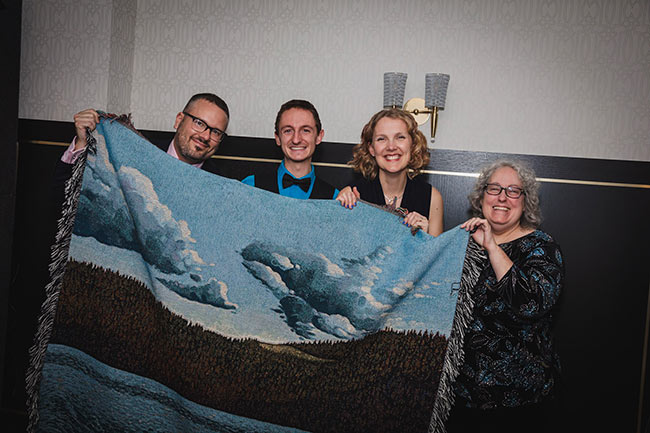 I got to tell the story about the time my Dad dressed like a bee to tell us he had cancer, and one of the highlights was inviting him to share a few stories about what he's been up to since then.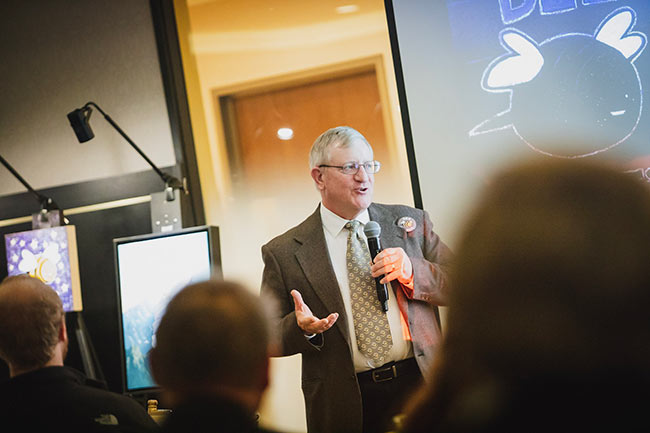 He even brought the original painting I made for him before his surgery.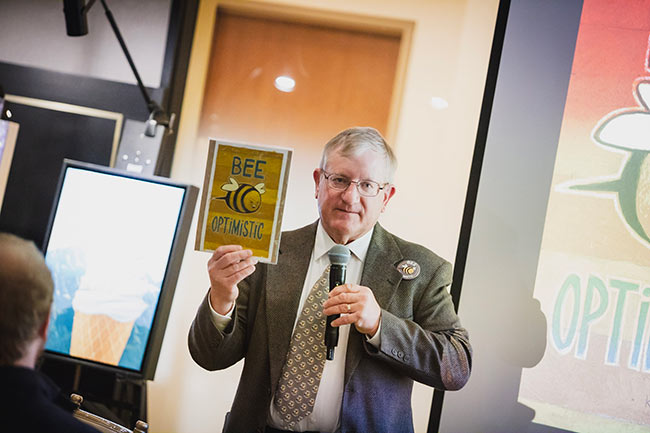 "I always think your events are amazing but every year you step it up and make it better. Hearing Jason's dad talk about BEEing optimistic, truly wonderful. I love coming and being a part of the stories and great company :)"
–Terry McMillan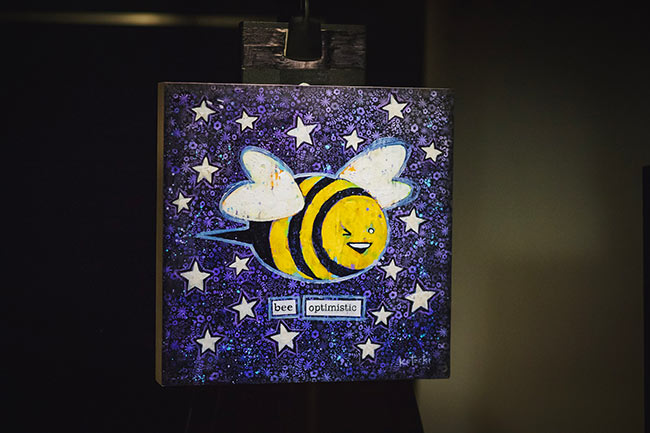 Because I knew I was going to tell the story, I made a special painting just for the evening. And Lea was the one who got to take it home!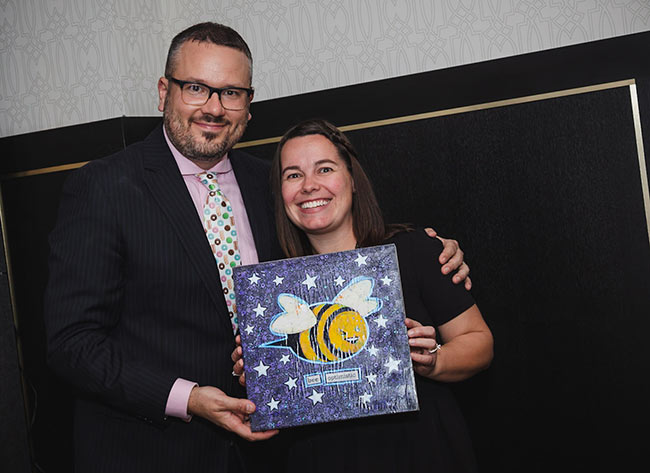 And as a special treat and final bit of magic, we made special Wondernite-exclusive Bee Optimistic pins and gave them to every guest.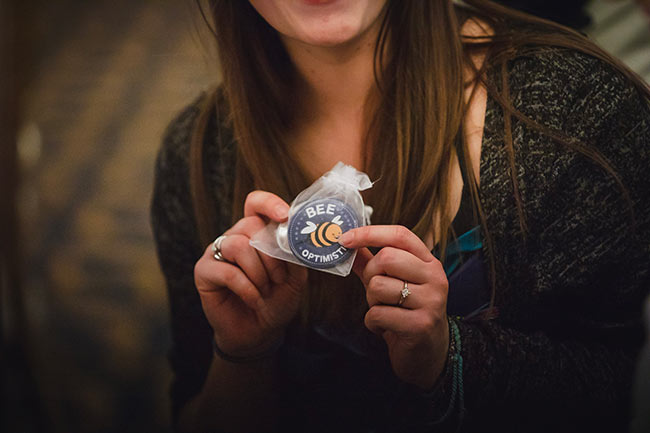 "I love hearing Jason's stories. Loved when his dad shared the Bee Optimistic story as well. Such a warm, cozy, beautiful evening. You guys are amazing! I love everything you do. You truly practice what you preach and I am in awe."
–Courtney Cantwell
I sold every single new piece that I brought (except for A Little Whimsy, which I held back for my private collection.) It is a great joy to see my work go home with some amazing people. It makes me happy to see how happy they are to own an original, whether it was their first piece, or the latest in a growing collection.
Here are a few of the pieces that found new homes…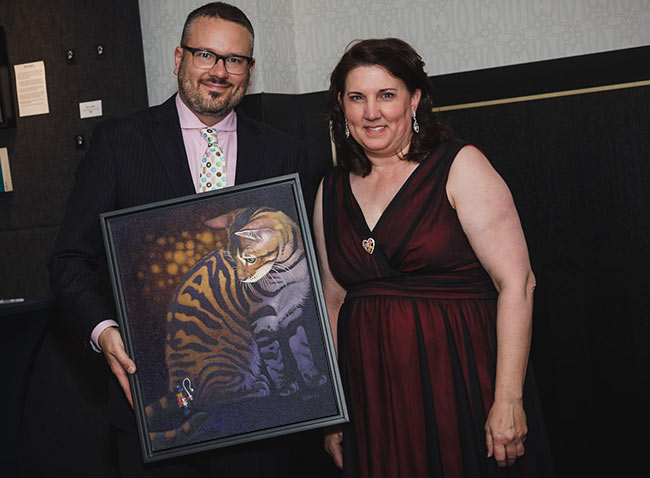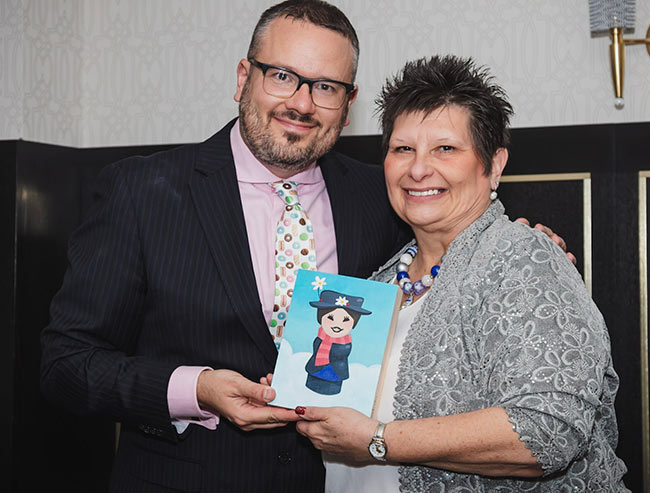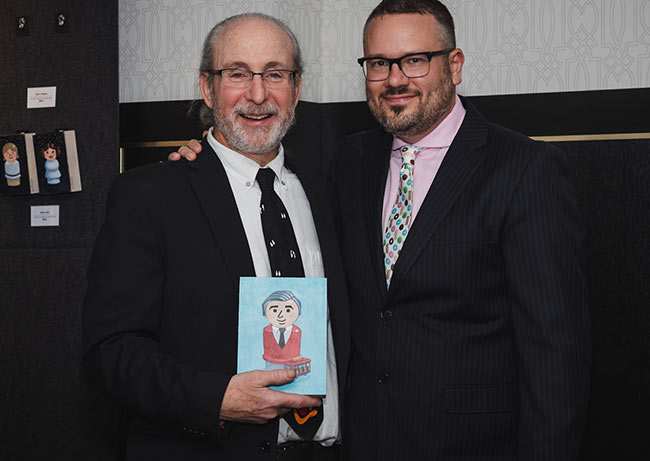 "It was a wonderful evening full of connections (new and old), inspiration, and whimsy. I love you guys and feel blessed to have crossed paths with you and your inspiring lives & lessons!"
–Jim Kramer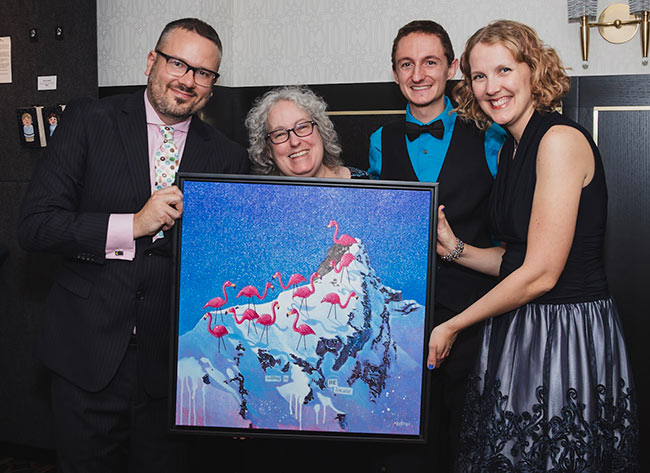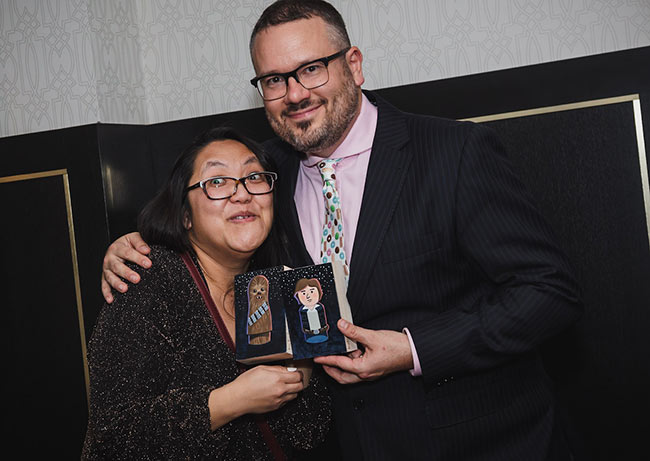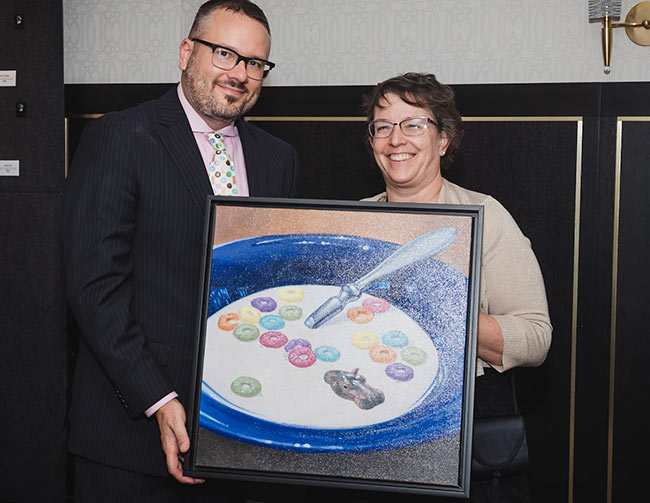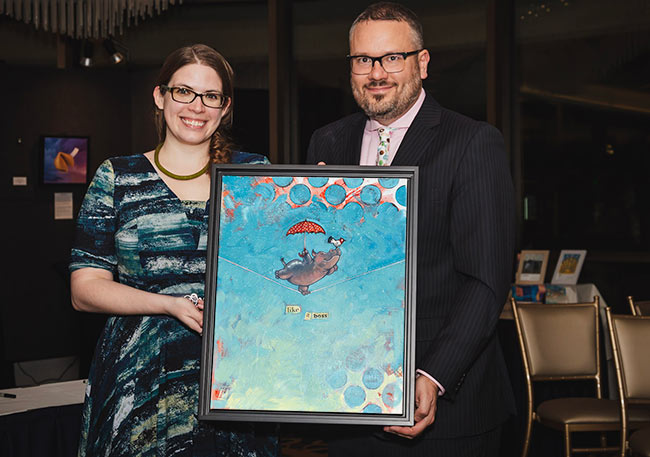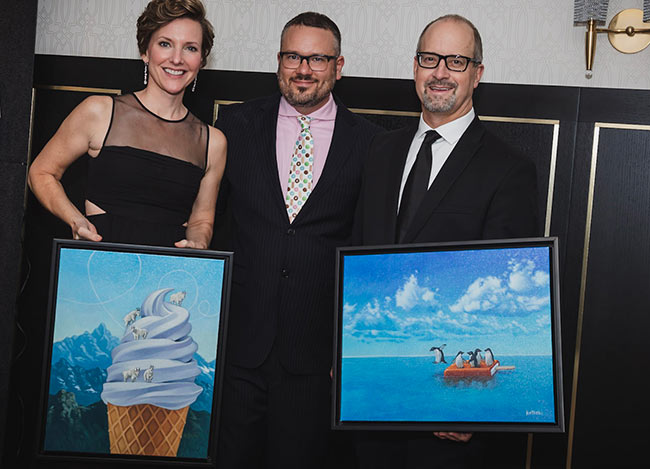 Of course, an event like Wondernite requires lots of helping hands, and Kim and I had an all-star team. Thanks to Sue, Megan, Doug, and Jenna for all of their help!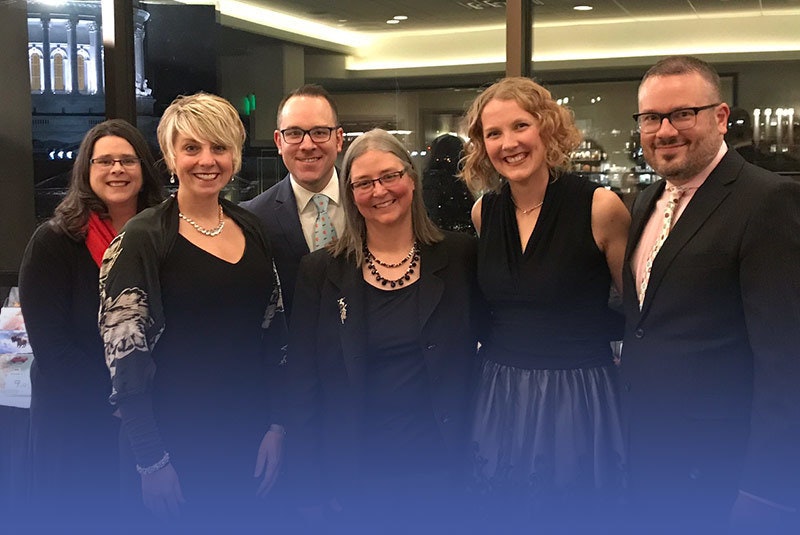 And thanks to everyone who got all fancy and joined us for a magical evening. I am immensely grateful for your support and encouragement!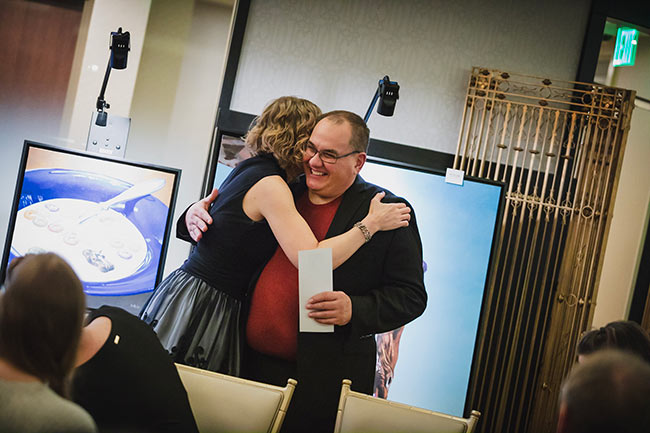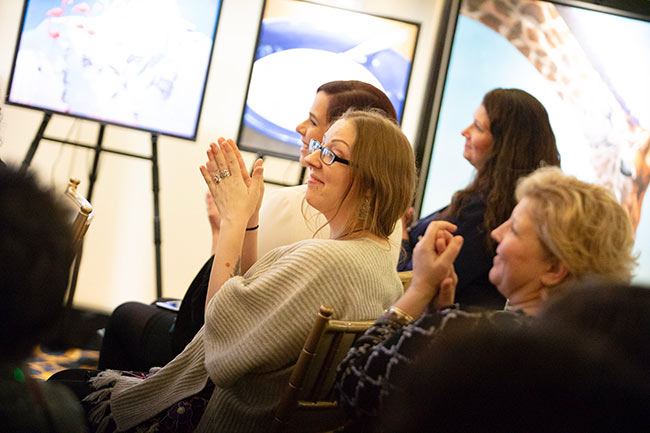 "I feel like this event has changed me. This event brought inspiration back in to my thoughts and feelings. I do not want to lose that and hope I can hold on to this whole experience and everything I learned at Wondernite. Thank you!!"
–Ariane Hooker
Please enjoy some other photos from the event, all taken by our favorite photographer, Quinn Paskus…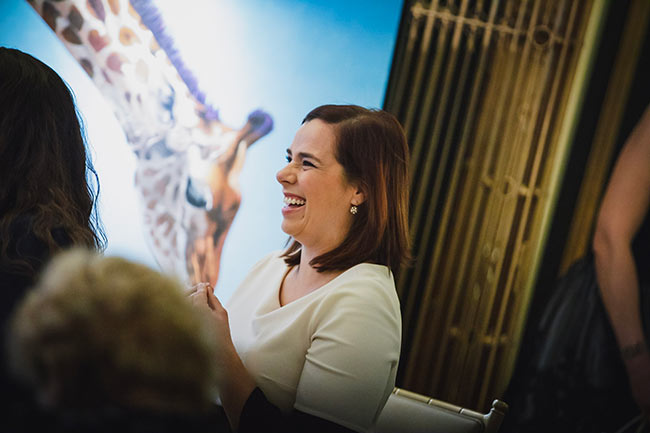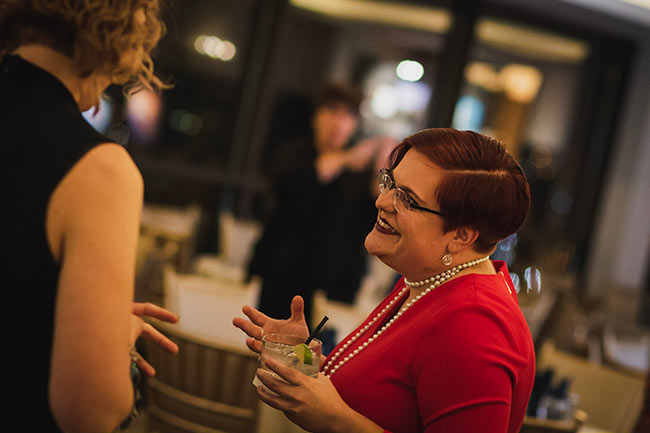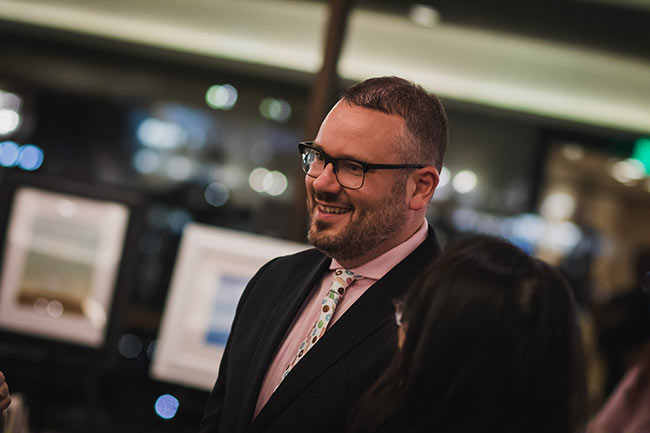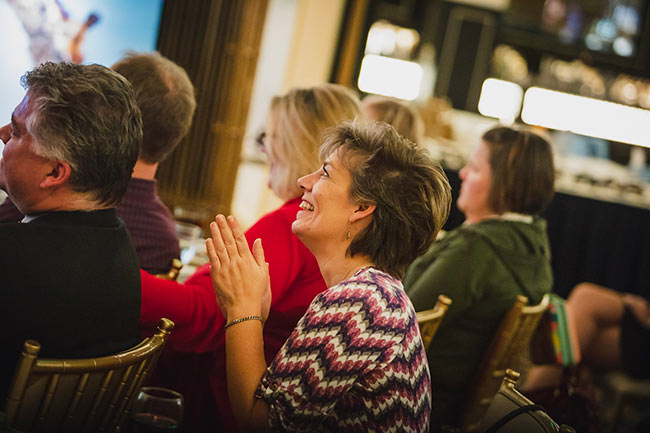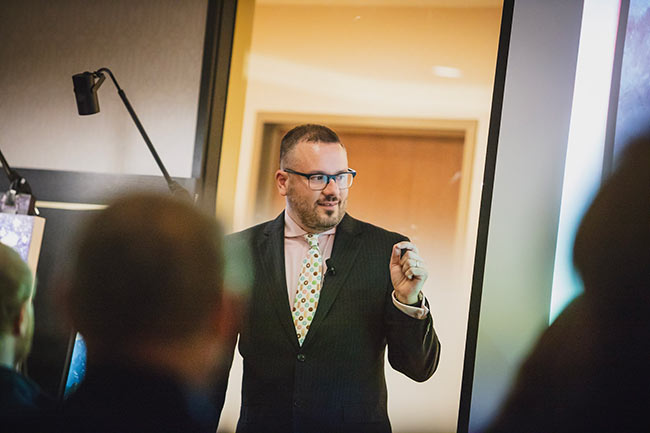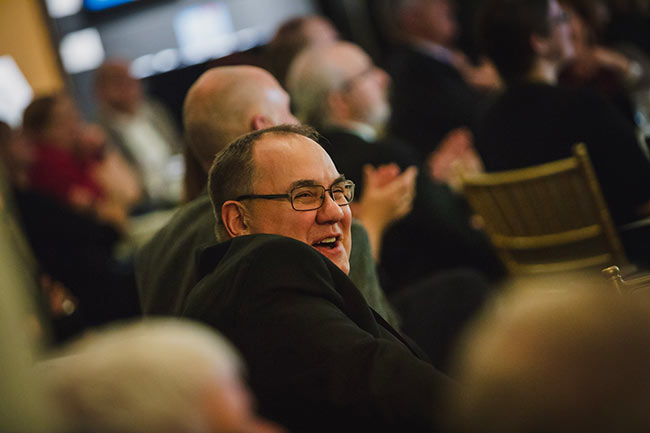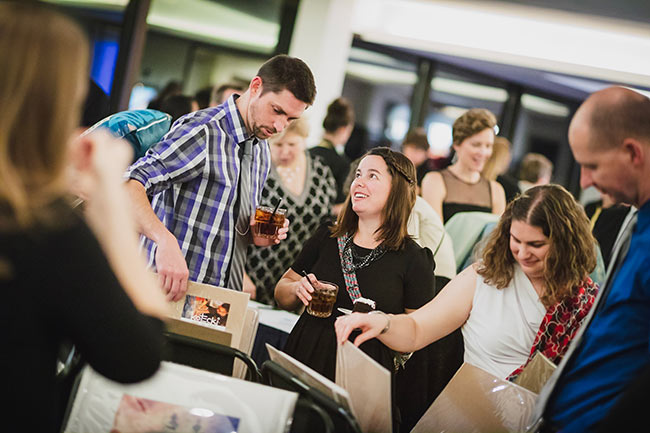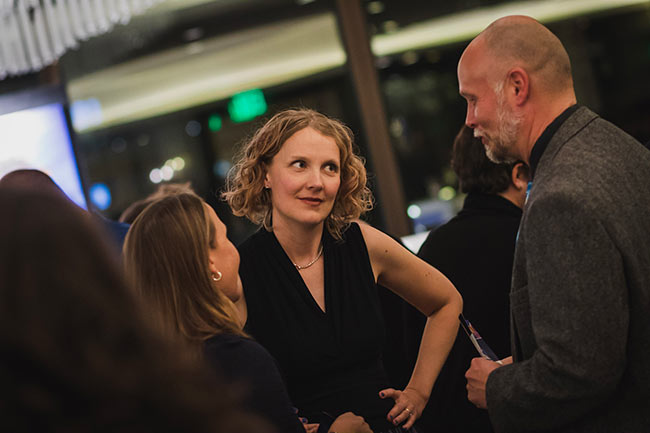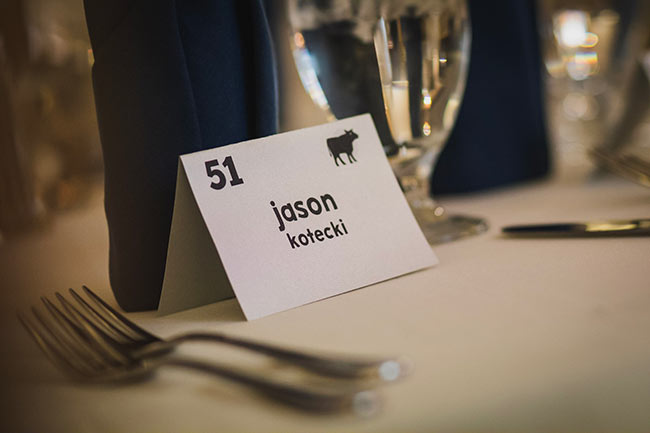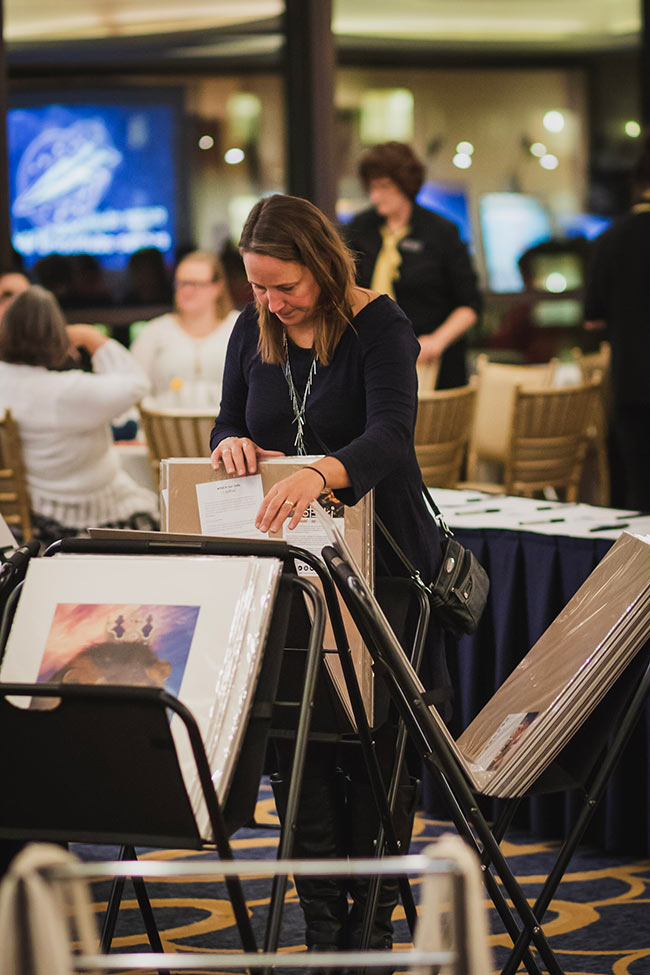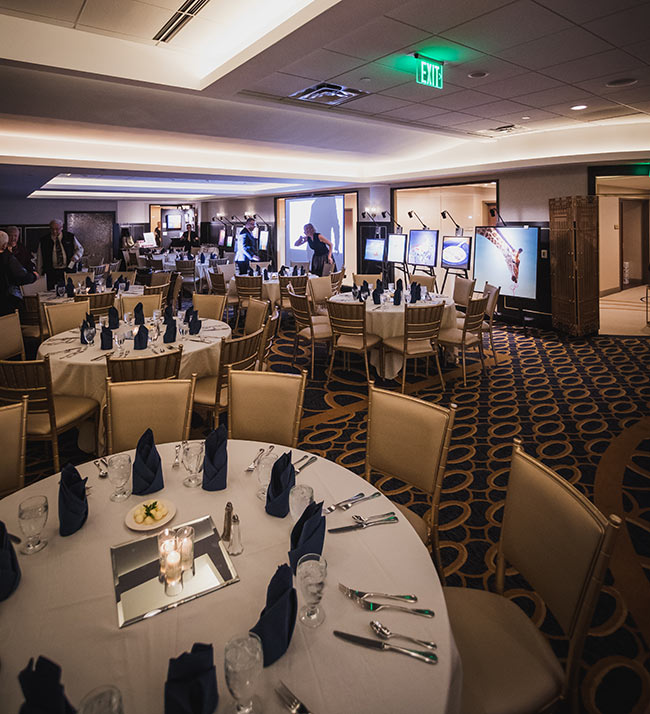 "It was absolutely fantastic. Such a magical night, surrounded by stunning pieces of art and wonderful people. I had no idea what to expect, and I left feeling inspired and happy to be surrounded by people who are strong advocates of being positive! The stories made the paintings alive and magical. I ended up wanting to buy every single painting because they all each represented a specific magical concept that we all should include in our daily lives. I already look forward to next year!"
–Hollie Barnes Spink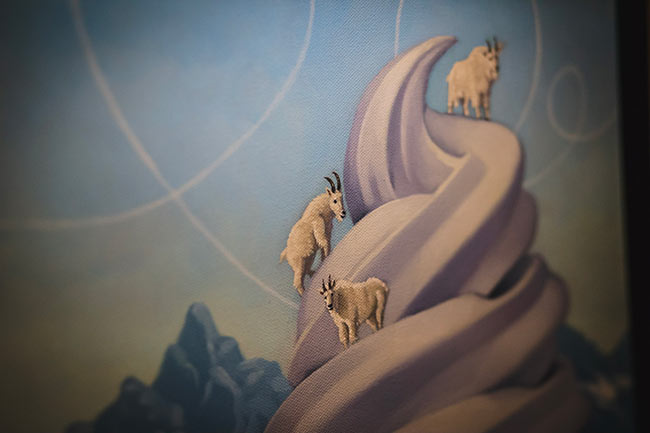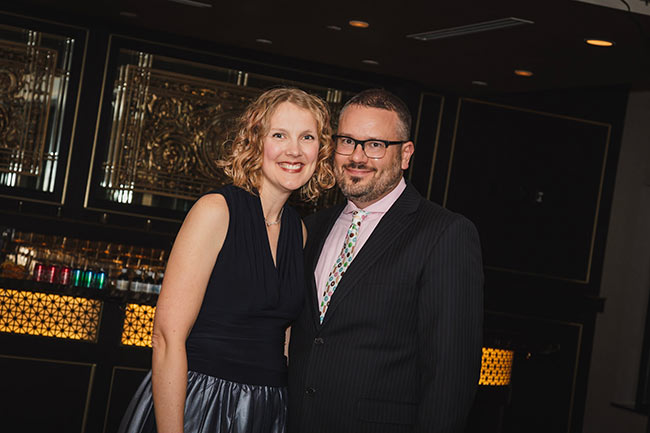 P.S. I wrote up a behind-the-scenes article and shared it in the Escape Adulthood League. If you're not a member, we'd love to have you join us!