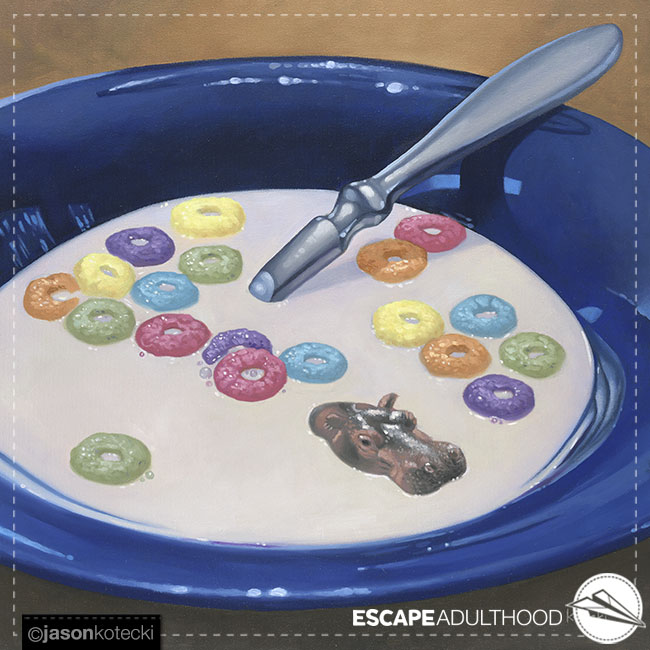 This is a tiny hippo in a bowl of Froot Loops. Or is it a normal-sized hippo in a giant bowl of Froot Loops?
I don't remember.
Either way, it's preposterous.
Most serious people don't have time for the preposterous. They have much more important things to concern themselves with. Of course, there's a good chance that these people are also riddled with Adultitis, make terrible leaders, and will never change the world.
Consider the smartphone. It is a device on which you can look up any fact in the world or talk to your friend on the other side of the planet via video. And you can use it to order a hundred melon ballers that will arrive at your door by tomorrow. Just think of all the elements at play that make this thing work: microchips. The internet. Wi-Fi. Facial recognition. Speech recognition. Rechargeable battery. Unbreakable glass. (Oh, wait…)
Now, imagine having to explain all this stuff to your great-grandparents.
Preposterous!
For those of you old enough to remember TV shows from the twentieth century, it's something out of The Jetsons or Star Trek. But now it's just an ordinary, normal thing.
Okay, now let's compare this to a pocket calculator. The calculator seems simple by comparison, right?
What if I told you that the first handheld pocket calculator would not be invented until five years AFTER President John F. Kennedy declared, in 1961, that America would send a man to the moon by the end of the decade?
Preposterous!
Now let's look at some of the challenges you might be dealing with.
Finding a better job.
Paying off that credit card.
Landing that account.
Finishing your degree.
Potty-training your kid.
Do any of these issues seem all that hard by contrast?
Will success require creativity? Hard work? Sacrifice? Teamwork? Of course. But let's not label it as preposterous. It's amazing how many things that started out as preposterous eventually become rather obvious.
Remember, there once was a time when a stapler was a fancy piece of office equipment.