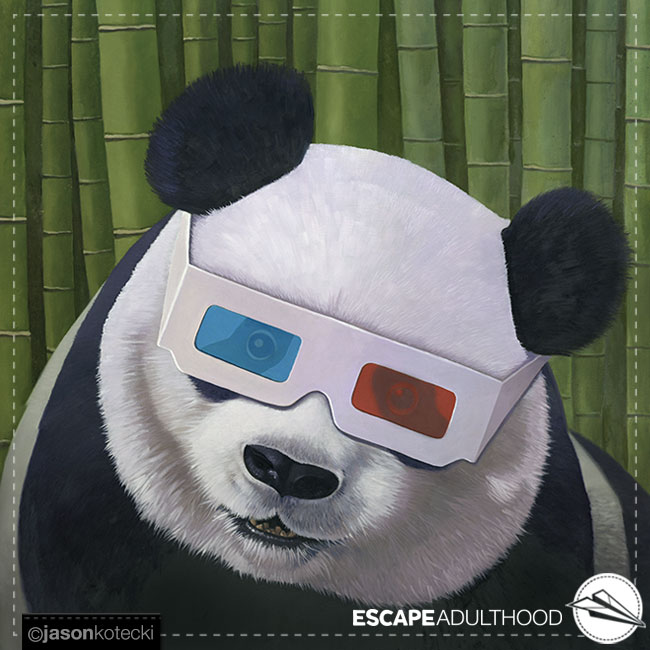 Too often, we look at our plans and big dreams with rose-colored glasses. We only see the upside, the pros, the best-case scenarios.
But if our dream – whatever it is – actually comes true, there will be downsides as well.
As author and entrepreneur Mark Manson has pointed out, everything sucks, some of the time. Every dream – no matter how wonderful or glamorous it first appears – comes with some flavor of what he calls a shit sandwich, a lousy side effect that you have to deal with.

That's not to say we shouldn't dream.
We just need to do it with 3D glasses.
When we look at something with 3D glasses, we see it from all sides: the good, sexy, photogenic slide, and the ugly, unfavorable, hideously-lit side. This allows us to behold a more realistic appraisal of the situation.
In the early days of our business, I dreamed of creating a giant online retail store that carried all kinds of "cool stuff for the young at heart." It was easy to imagine us rolling in dough once we established ourselves in the marketplace and traffic started flowing. We'd be selling fun products on a fun website to people who liked to have fun. Not a downside in sight!
Well, as moved forward and started to grow, I began to encounter the drawbacks I hadn't envisioned when I was looking at my plans with rose-colored glasses. I realized I hated trying to figure out what people would be interested in buying. I didn't like managing inventory. Most importantly, I didn't get any joy in selling other people's stuff when I wanted to create my own. I saw that if we continued to grow, I would be doing MORE inventory, MORE managing, and MORE selling of other people's stuff.
It was a shit sandwich that I didn't want to eat.
My current role as a professional speaker involves a lot of travel, which includes no small measure of loneliness, delayed flights, and missed family events. But it's a sandwich I'm willing to eat because it affords me the opportunity to visit cool places with my family and a lot of freedom to spend time in the studio when I'm not traveling.
As Manson notes, "Your favorite shit sandwich is your competitive advantage. By definition, anything that you're willing to do (that you enjoy doing) that most people are not willing to do gives you a huge leg-up."
The good news is that you can save a lot of time, money, and effort with a decent pair of 3D glasses.
When an amazing retail location became available in downtown Madison, Kim and I considered securing it as a combination studio / store / event space.
We spent two whole days looking at the possibilities with our trusty 3D glasses. The first day focused on imagining all the good parts: The great exposure our brand would get being steps away from the state capitol. The flexible space would allow us to host a lot of different events. The chance to sell my products directly to people, in person, in a space we created.
Then we spent the next day on the downsides: The high cost of rent. The need to hire and manage staff. The reality is that if I wanted to paint, my introverted self would rather spend it alone in my studio than in front of a crowd.
Ultimately, we decided to pass.
The point is not about finding the perfect scenario that doesn't include a shit sandwich, because there isn't one. It's to spend some time upfront finding out what it is, by realistically examining the good, the bad, AND the ugly before you sink a ton of resources into an endeavor that won't end up being your cup of tea. 
No, you won't be able to foresee everything but know this: Whatever you choose, your passion needs to be strong enough to withstand the most unpalatable parts of the work.
Rose-colored glasses are tempting, but a good pair of 3D glasses are the key to making smart decisions.
---