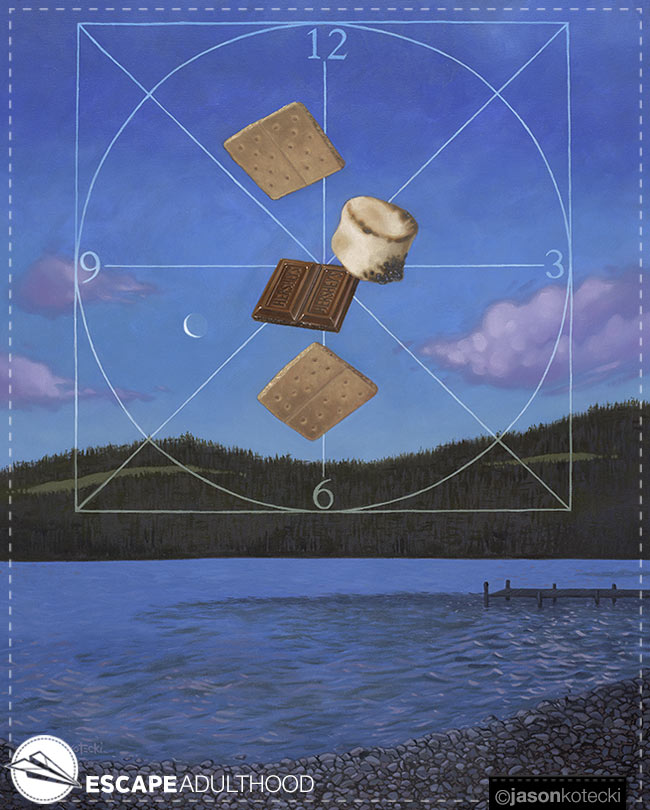 The background of this painting comes from a photograph I took during a family trip to the Pacific Northwest. It captured a holy moment.
You see, in our family, when the sun has taken its final bow for the day, and the moon is set to take the stage, it's time for s'mores.
I suppose you could have s'mores during afternoon tea, and of course there's no rule against having them for breakfast, but it just doesn't seem right.
You may disagree with me on the proper time for s'mores, one thing is certain: making s'mores demands that you make time for s'mores.
It's not something you just throw together. You have to gather the chocolate, graham crackers, and marshmallows, which aren't as conveniently handy as eggs and milk. You have to build a fire, which requires wood and kindling and matches, and the patience required to nurse a spark into a full-blown fire, especially if the wind is conspiring against you. You have to get the sticks for roasting said marshmallows. And most importantly, you have to set aside the space to make all of this happen, because it won't schedule itself and there's no rushing it if you want it done right. I'm first in line for a burnt marshmallow, but a perfectly toasted one takes no small amount of time and patience. 
Time and patience.
Two rare and very limited resources in our fast food, drive-thru society, where we pack our vacations so full that upon our return home, we exclaim our need for another vacation.
In order to make time for s'mores, you must be willing to put down the mobile devices. You have to turn down invitations to partake in other, more thrilling activities. You must set aside time for what seems like nothing.
And once you do all that, the real magic happens. Your heartbeat slows. You notice just how many stars are in the sky (have they been there this whole time?!). The smoke from the fire seeps into your clothes and your bones, making you feel like you lived this day well. Stories begin to emerge from the past, followed by laughter, and content smiles savoring good memories. New legends are born, while old legends grow mighty in stature. Talking about the olden days often leads to dreams for the future, and those stars suddenly become pretty handy for wish-making. 
This to say nothing of the s'mores themselves, which are deliciously gooey and sticky sweet, but nothing compared to the benefits they brought forth, in the form of conversation, contemplation, and connection.
In a world that feels like it's bursting at the seams, too rushed, too noisy, and too demanding, it's always time for s'mores.