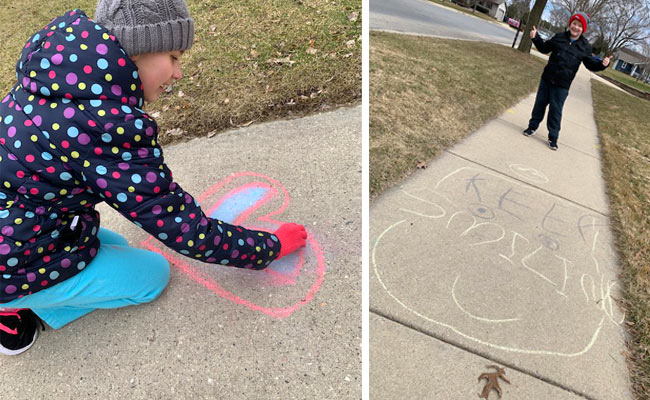 As we navigate this journey through dark days, my heart wavers between heaviness and feelings of gratitude for all of our blessings. The sadness and despair can be very heavy. But it's been neat to see the internet exploding with people sharing their gifts in small but powerful ways to bring light – like the musicians singing and playing instruments on balconies and in courtyards, living room concerts, and even beloved Disney characters reading bedtime stories to kids.

Here are a few small rebellions the kids and I did this week to bring light into our little neighborhood here in Madison…
Special Op Sidewalk Chalk
Armed with colorful chalk and inspiring phrases, we canvassed the sidewalks spreading messages of hope. "Shine on!" "Be not afraid!" "The sun will come out tomorrow." and "Don't Stop Believin'" were a few of our picks. It brought each of us joy to create this opportunity for hope and encouragement.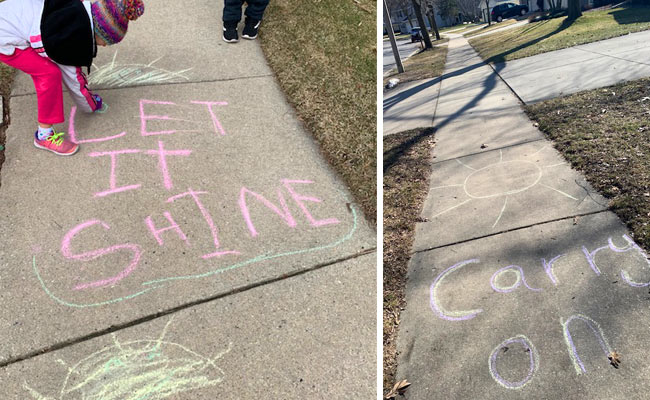 ---
Hearts Aplenty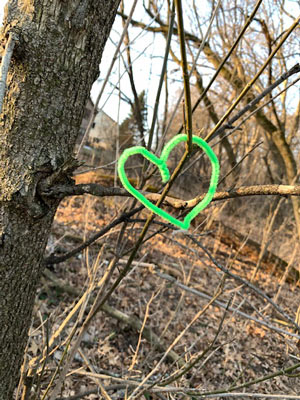 On St. Patty's day I walked through the woods early in the morning placing green hearts I had made out of pipe cleaners on branches along the path.
I was hopeful that these simple surprises would inspire a curious smile to future passersby.
Here's a quick video:
---
Simple & Heartfelt:
Combining the two ideas above, I did this, carrying chalk on my walk and adding about 30 hearts randomly throughout the neighborhood sidewalks: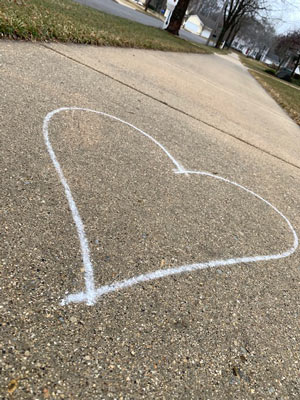 I used to be so good at seeing hearts in nature, but all of this added overwhelm has made this more challenging. It's important to give ourselves permission to do what you can and to remember that making these small efforts to share your gifts does in fact make a big difference.

I received this sweet message from a neighbor afterwards: "I love and look forward to listening to your posts. It got me out twice yesterday and one with my granddaughter. It was wonderful and now we know where the hearts came from!"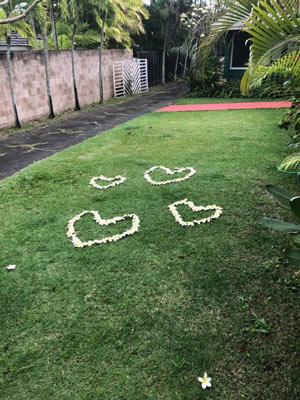 We even received the Hawaiian version of this from our friend Damien from Oahu, sharing his simple hearts made out of fallen plumeria blossoms.
"Doing good must become an addiction, an addiction that you must not recover from."

Pope Francis
What small ways are you shining light into the darkness?