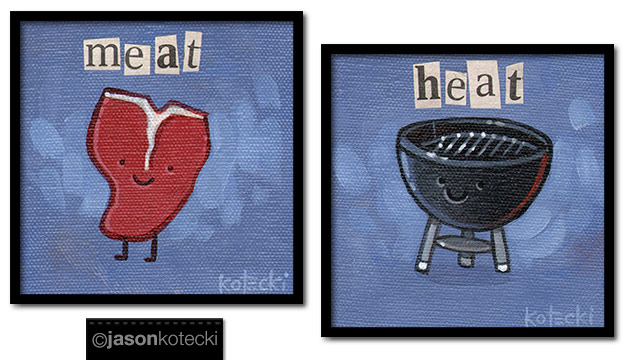 I love a good steak. Especially on the grill.

One of my favorite tips for getting great flavor and tenderness is marinating the meat beforehand. (I like a mixture of soy sauce with a splash of Worcestershire.) And one of the best accompaniments to a perfectly-grilled medium rare steak is a big ol' Idaho potato, loaded with butter, sour cream, and cheddar cheese.

Speaking of Idaho, that's where Kim and I celebrated our twentieth wedding anniversary. We booked a gorgeous, secluded home surrounded by pine trees complete with an infinity deck and spectacular view of Lake Pend Oreille and the nearby mountain ranges. It was a true gift to escape the chaos of the last four months.

We suspected that the only way to ruin that gift was to remain tethered to the outside world by way of our phones. And so the best decision we made was taking a fast from all news and social media. We used our phones for snapping photos, finding our way, and looking up the answers to important life questions (i.e. what does moose poop look like?). But we totally stayed clear of the news and the daily outrages on social media.
Let me tell you, it was glorious. Pure bliss! ☺️
During our return home, we talked about what re-entry should look like. We were eager to be reunited with our kids, but weren't thrilled about returning to the soul poison brought forth by following current events. At the same time, burying our heads in the sand didn't seem like the wisest move either.

I thought about how destructive my old ways were to my peace, creativity, and productivity. I mulled over various strategies for staying informed while not drowning myself in dread. I settled on the idea of allowing just 10 minutes a day –– enforced by the timer on my phone –– for checking in on the important headlines from trusted sources. It seemed like a solid plan. Still, I feared even that limited amount of time spent checking in would destroy my sense of peace. Then it occurred to me that "checking in" wasn't my problem.

Before the trip, I used big chunks of my free time waiting in line, waiting for the frying pan to get hot, waiting for Kim to get ready… "checking in" on the "important" events of the day.
I realized I wasn't checking in, I was marinating.
I was soaking myself in bad news, fear-fueled headlines, and the outrage of the mob. Is it any wonder that I ended each day saturated in hopelessness, anger, and anxiety?

Meanwhile, in Idaho, Kim and I marinated in nature, good food, positive vibes, enlightening conversations, and prayer-fueled dreams for the future. Should I be surprised that I ended the week hopeful, optimistic, and re-energized to bring light to the world? And – fun fact – all the so-called important things I missed out on in that weeklong fast turned out to be not so important after all.

When it comes to grilling steaks, marinating can work wonders, but it's all dependent on what you're using as a marinade.

Marinating ribeyes in motor oil is going to lead to an unappetizing and downright dangerous result.

We must be intentional about how we proceed, because clever, smart minds are crafting headlines and building social media platforms with the sole purpose of drawing us in, to keep us watching, scrolling, and clicking. The media we consume, the people we spend time with, and the environments we put ourselves in are the marinade of life. Like the air we breathe, we can't help but be affected by it.

It can be negative or positive, but it can't be left up to chance.
If you are unhappy with how you usually feel at the end of each day, it might be worth considering what you spent most of your time soaking in.
---