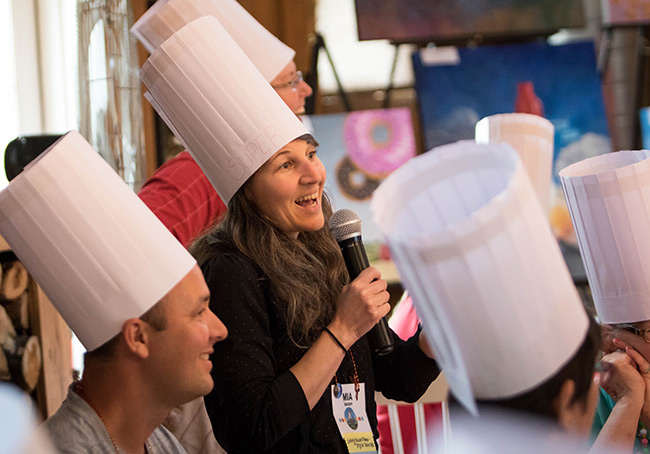 An Adultitis Fighter is someone who rallies against rules that don't exist and engages in ruthless, senseless acts of silliness that undermine Adultitis and its unadventurous version of adulthood. Once a month, we shine a light upon the most remarkable among us, holding them up as a dazzling example of what we should strive for in this epic battle against a formidable enemy.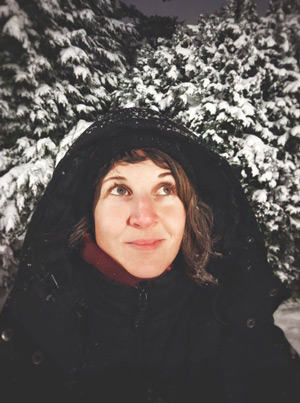 We are BIG fans of Mia Lauzon!!! She has a beautiful spirit of playfulness, honestly, and curiosity. You can often find her in nature, savoring and photographing the wonder that feeds her, or dancing wildly inviting others to join her. She is a storyteller with her life, as she intentionally writes a wonderful tail with her adventures and everyday happenings. She is also gifted at observing these stories and sharing them through her pictures and videos. We are blessed to have met Mia in person a few years back at an Escape Adulthood Summit. Mia's childlike spirit inspires those who are blessed to experience firsthand the power and freedom it brings to her life.
In recognition of their efforts, Adultitis Fighters of the Month receive a special mini-canvas hand-painted by Jason, along with a certificate of honor, a sweet patch, and other Adultitis-Fighting tools. We asked Mia some questions about how she fights the Big A and what advice she has for others…
---
What are some of your favorite ways to fight Adultitis?
I love to catch myself when I have a case of Adultitis and break free from it, and dancing is definitely one of them. Making space to acknowledge and welcome the Adultitis present in me is also very important. Moving it, screaming it, crying it, shaking it, whatever it takes to let it come to the surface and out of my body.  The car can be a good place for that. Being in nature with my camera is another way to. I've also started making silly videos, allowing my expressive self to fight the seriousness of Adultitis. (Check out one of Mia's fun videos.)
Who or what has been the greatest influence in your own fight against Adultitis?
The work you do has been inspiring for sure, reminding me to give myself permission to be playful. Doing the trip to Wisconsin from British-Columbia a few years back just to partake in the Escape Adulthood Summit was one strong display of giving myself permission.
What is something you loved doing as a child that you still do in some form today?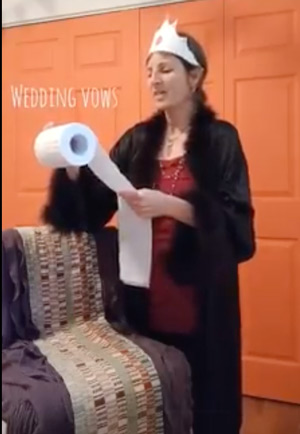 I love sliding in the snow with a crazy carpet or anything that rhymes with playing in the snow. I went to a public snowball fight 2 years ago when we had a rare snowstorm in Victoria! Went on my own with 30 minutes' notice. I simply wouldn't miss it!
What is your strategy for dealing with people who are obviously infected with Adultitis?
That's a big question! I try to lead by example, hoping it will inspire them to be more connected to their humanity. I can't make anyone change, I can only try to show how it feels to be connected to your essence, which is a sure way to drastically reduce Adultitis.
What advice do you have for someone who is feeling overwhelmed by Adultitis?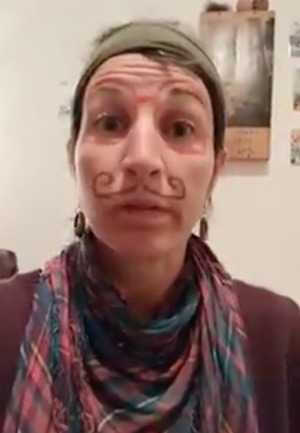 The energy of Adultitis needs to be moved to the surface and out. From going for a walk to cleaning the house to tapping the ground, movement (and also sounds) are very beneficial. Remind yourself that this is not who you are, it's a feeling that shall pass if you offer it compassion. See how you can play with it and how you can connect with pleasure. Do something that feels good and that is enjoyable to you. If you dare, challenge yourself to do something completely silly and make yourself laugh. You will feel unsure at first because it won't be comfortable and then you will truly laugh for allowing yourself to be silly. It's quite freeing. Extremely vulnerable, but that's the only way out if you ask me.
---
Congrats to Mia Lauzon, July 2020 Adultitis Fighter of the Month. Thank you for making the world more awesome!