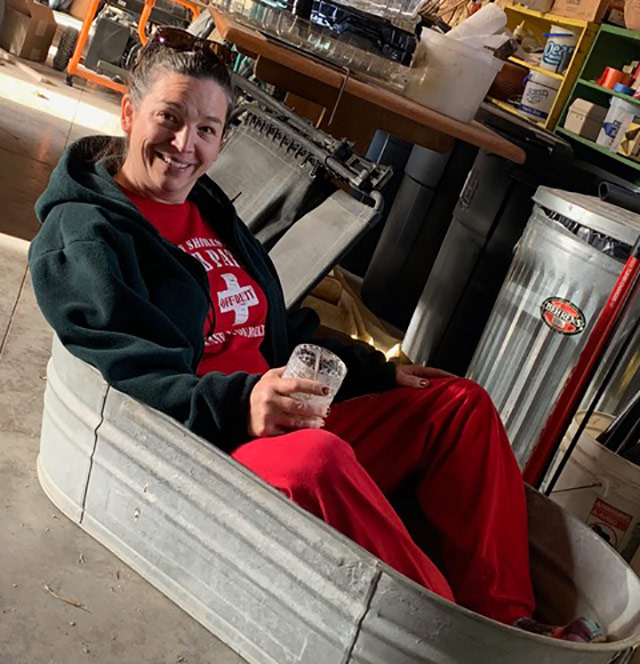 An Adultitis Fighter is someone who rallies against rules that don't exist and engages in ruthless, senseless acts of silliness that undermine Adultitis and its unadventurous version of adulthood. Once a month, we shine a light upon the most remarkable among us, holding them up as a dazzling example of what we should strive for in this epic battle against a formidable enemy.
Wendy Whitney-Scherer's approach to life is so refreshing! She is unapologetically fun… she's "the fun Mom," "the favorite teacher," and "the awesome daughter" all wrapped up in one bundle of energetic awesomeness. One of her secrets to success is that she knows a thing or two about self-care and filling her cup, whether through nature, spending time with her beloved kids, or making time for her hobbies. It's inspiring to see how Wendy's playfulness and upbeat perspective impacts so many people on the daily!
In recognition of their efforts, Adultitis Fighters of the Month receive a special mini-canvas hand-painted by Jason, along with a certificate of honor, a sweet patch, and other Adultitis-Fighting tools. We asked Wendy some questions about how she fights the Big A and what advice she has for others…
---
What are some of your favorite ways to fight Adultitis?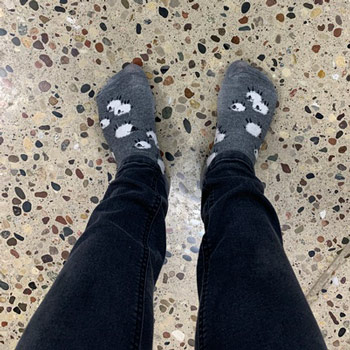 I like dressing up for spirit weeks at school and of course Halloween, and I almost always have on silly socks. I even wore silly socks while wearing a tuxedo as an usher in a wedding. I try to make fun theme-based meals (all mini foods, use watermelon dishes, having mannered tea parties, or all foods that start with "P"). I try to make learning fun for my own children and of course my students. I love stories including listening to my friend's tales and I try to put a positive funny spin on my stories. My son says I am an "overgrown teenager" and I do "silly everything." When I do something crazy he just states, "Mom happened."  
Who or what has been the greatest influence in your own fight against Adultitis?
I have lots of partners in crime because I surround myself with lots of fun-loving caring people. That way we can build off each other's ideas and create laughs.
What is something you loved doing as a child that you still do in some form today?
I love to be outside. I am not above building a fort, having a cookout or picnic. We even have a hideaway in a hollow tree that we enjoy in the winter.
What is your strategy for dealing with people who are obviously infected with Adultitis?
Just keep being me! It's contagious, they can lighten up or can just continue to be a curmudgeon.
What advice do you have for someone who is feeling overwhelmed by Adultitis?
Just breathe and be in the moment. Give yourself permission to take care of yourself and get rested up. Sometimes it helps to write or draw or walk or do something that is more meditative. 
Anything else you'd like to share?
In this time of pandemic, I want everyone to take up a hobby. Create something with your own hands. Make a gift for yourself or someone you know. My daughter and mother are learning to play the piano, much to their delight. My son is out in the woods practicing survival skills and building forts and even a haunted forest (since Trick or Treating didn't happen). I am continuing to sew and make quilts, make cards, and run my embroidery machine. Hobbies give you focus and it can be productive fun. 
---
Congrats to Wendy Whitney-Scherer, December 2020 Adultitis Fighter of the Month. Thank you for making the world more awesome!