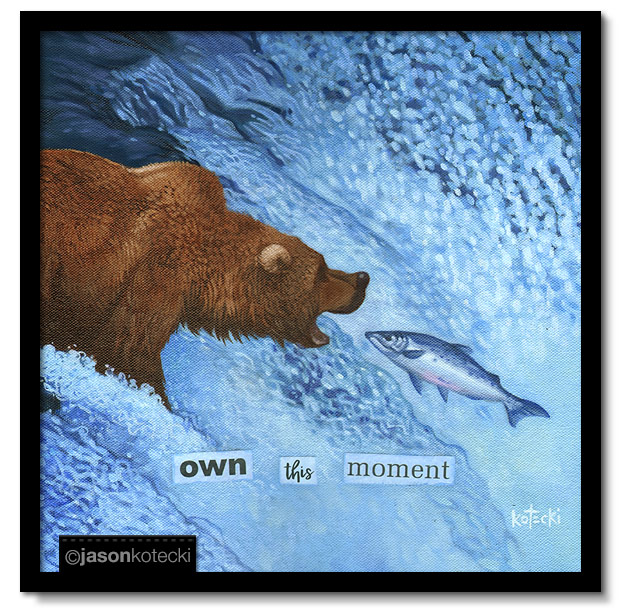 I created this painting last year, as the pandemic was just getting warmed up. With this art came the message to make the most of the hidden opportunities we were given.

There were numerous new challenges in this uncharted territory, of course, not the least of which was figuring out how to secure a few rolls of toilet paper. Although we all endured the same storm, we experienced it from different ships, some being more seaworthy than others. But amidst all the upheaval, I encouraged everyone who would listen to see with new eyes and grab the golden opportunity right in front of them. "Unprecedented times are rich with unprecedented opportunities," I wrote.

(Yes, I just quoted myself. Maybe next year I will quote myself quoting myself.)

That golden opportunity looked different for everyone. It may have been a chance to slow down, to re-evaluate the direction your story was headed. Or maybe rekindle some relationships. Start that business. Write that screenplay. Paint those pictures. Get that degree. Add delivery to the business model.

I'm happy to report I ate my own dog food. At the start of the pandemic, it felt like our vessel was made of balsa wood and I wondered how long we'd survive. But Kim and I asked ourselves, what does this seemingly terrible turn of events make possible? We tinkered. By the end of the year, over half of our revenue came from brand new initiatives. By the grace of God, we bought our dream home on a lake. Believe me, I did NOT see that plot twist coming.

On the flip side, I did spend more time than I would have liked following the news, which gave me a steady stream of anxiety, but didn't do me or my family any real good. I am saddened to think what else I could have accomplished had I eliminated that negative time suck from my day sooner. 🤦🏻‍♂️

Some gold stars mingled with room for improvement, as it is for all of us. 
What about you? What did you accomplish? How are you better off this January than you were last year?
Before you answer, don't you just love how the pandemic is over and all the bad things that happened in 2020 have finally been resolved now that we've put up our shiny new calendars?

Wait, what? Everything didn't magically get fixed on January 1?!

Well shoot, that's a bummer.

At least there's an upside. The opportunity to own this moment didn't die when 2020 did, either. Maybe you didn't perform as well as you would have liked last year. Maybe you blew some big chances. Maybe you wasted too much time being afraid.

That's ok. You see, it was never about the year printed on the calendar. It's always been about the overlooked gift of waking up to a fresh new day with a chance to start again.

Yes, it could be that 2020 provided the best time to do that thing you probably should've done.
But the second-best time to do it is right now.
When it comes to owning the moment, late is better than never. Just start before your moments run out.