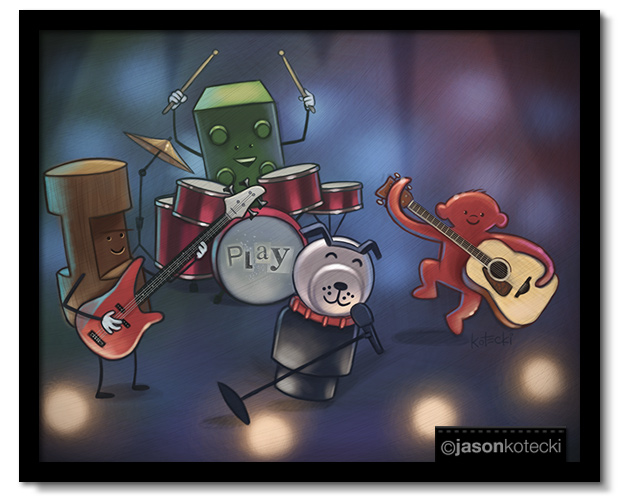 I am friends with clowns.

I don't mean in the proverbial sense. I mean people who paint their faces, wear red noses, and ride in Volkswagon Beetles with thirty-seven of their closest friends.

I guess that's an occupational hazard when you decide to fight Adultitis for a living.

I know some folks have a thing against clowns, but the ones I know – the real ones – are true Adultitis Fighters. They are compassionate souls who are all about bringing more light and empathy into the world. I can get behind a mission like that.

Although our missions are in lock-step, clowns go about accomplishing it differently than I might. I have a friend who once organized a group of people to assemble at an airport, don red clown noses, and jubilantly welcome strangers fresh off their flight. I love the idea of it, and I'm sure the passengers appreciated the unexpected fanfare, but it's not something I could ever see myself doing.

And that's totally ok.

I know people who would like to be more playful. They recognize that maybe they take themselves a bit too seriously and feel like the spark for life they once had has burned out. (Maybe this sounds a bit like you.)

They come to us for help, sheepishly admitting that they are not "experts" at playfulness like us. They hang their heads in shame, apologetic for their beginner status. Even people in the Wonder & Whimsy Society sometimes lament that they feel out of place compared to other members.

Hogwash. First of all, none of us are really "beginners." We may be out of practice and a bit rusty, but let's face it: we are all experts at this. At least we used to be. After all, when you were a kid, no one had to teach you how to play. You were a born natural. The problem arises when we think our form of playfulness needs to look like someone else's
Playfulness is about chasing your natural curiosity; it's about being lost in something that gives you joy, with no regard for the outcome.
And that looks different for different people.

So maybe you're not the type to dress up in a clown nose and greet people at the airport. That's ok.

My wife Kim loves being in nature. On her walks, she enjoys looking for hearts and capturing them with her camera phone. It's a scavenger hunt. It's not an assignment from a client. It's not a chore to find a certain number on each walk. It's just for fun. But it has the side effect of helping her see with new eyes, connect more deeply with beauty she may have otherwise missed, and refreshes her soul.
The worst form of Adultitis is when we completely disregard our need for and the importance of play.

The second worst strain might be when we compare the way we play to others.
Playfulness is not about performance. It's not about doing it "right." And it's certainly doesn't require a red nose and comically large shoes.

Being more playful is not usually about discovery, but rediscovery.
You might begin by asking yourself what you loved doing as a kid. When you were seven years old, how did you spend your summers when school let out? What could you be found doing indoors on rainy days? How might those activities from yesteryear transfer to your grown-up life in the here and now? (And the "grown-up" moniker is not necessarily a negative in this case. For example, the 64-box of Crayola crayons feels way more affordable now than it did when I was seven.)

Realizing you could stand to be a bit more playful is a huge step. And although dancing just on the outside of our comfort zone in playful curiosity is good, you are not required to be somebody else.
When it comes to play (as with most things in life), the best results come when you do you.