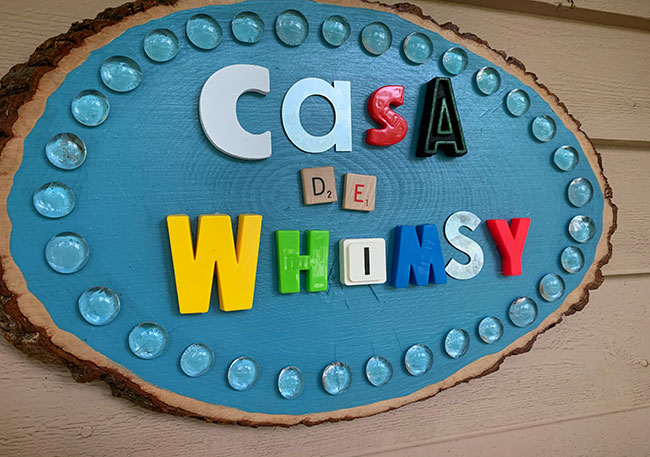 Does your home have a name?

There are so many things to love about Mexico, from the culture to the bright colors and the delicious food. We've twice been there as a family (Tulum and Cabo) and were delighted to discover that many of the homes had signs denoting their name.

It's a charming little detail we like very much, and so when we bought our new home, we decided it needed a name, too.
We settled on Casa de Whimsy.
And just as when you give a mouse a cookie, he's going to ask for a glass of milk, if you give your house a name, you're going to need a sign to go with it.

Ours hangs proudly near our front door, lovingly assembled with knickknacks foraged from a secondhand art supply store in town. It gives visitors a pretty good idea of what they'll encounter inside.

The word "whimsy" represents our family well. We don't take ourselves seriously. We love color. We regularly partake in kitchen dance parties, embark on epic Pajama Runs, and hold Barbarian Spaghetti dinners. And as far as decor goes, it is basically an art gallery specializing in whimsy.

Clearly, our home is appropriately named. But why is whimsy so important to us?

Although often viewed as superfluous, whimsy is a spark of delight with the supernatural power to uplift the human spirit. Whimsy can fill a heart with happiness and a head with new ideas. It brings a playful unpredictability to our days. It puts the heavy things we carry in perspective. The delicious ridiculousness of whimsy helps lighten our loads and brings joy to others.

Casa de Whimsy is not just a description of our home, it's an aspiration, too. Every time we walk through the front door, we are reminded to have fun, take ourselves lightly, and celebrate the gift of life. It gives us permission to live playfully.

Now more than ever, the world feels dark and cumbersome. We need more wonder and more whimsy, not because we are in danger of forgetting the terrible stuff, but because the terrible stuff weighs so heavily on us.

There's a lot of value in naming your home.
What would yours be named?
---