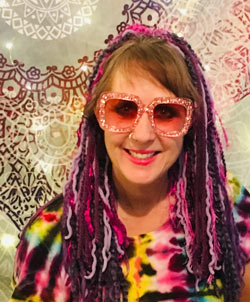 An Adultitis Fighter is someone who rallies against rules that don't exist and engages in ruthless, senseless acts of silliness that undermine Adultitis and its unadventurous version of adulthood. Once a month, we shine a light upon the most remarkable among us, holding them up as a dazzling example of what we should strive for in this epic battle against a formidable enemy.
This month's worthy recipient of this prestigious honor is Sharon Niman Lundgren!
In recognition of their efforts, Adultitis Fighters of the Month receive a special mini-canvas hand-painted by Jason, along with a certificate of honor, a sweet patch, and other Adultitis-Fighting tools. We asked Sharon some questions about how she fights the Big A and what advice she has for others…
---
What are some of your favorite ways to fight Adultitis?
When I suffer from Adultitis it's usually because I'm too much into my head and I need to get back into my body. So I do one of three things.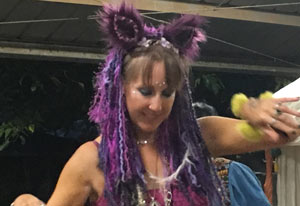 First, I put on music and dance away the Adultitis. I prefer psytrance, 60's & 70's hippie music, and, most of all, Duran Duran! Dancing is a form of prayer in many cultures because it elevates our consciousness to rise above earthly challenges.

Second, I go for a walk on our farm. We have dirt drainage canals that are home to frogs, turtles, and muskrats. I love to walk along the canals and say hello to all the critters which also include snakes, hawks, cranes, squirrels, rabbits, and crows. I also enjoy walking through our neighbor's almond orchard, especially when it's in full bloom and buzzing with bees. 

And third, I jump in the pool and allow the waters to wash away Adultitis.

Another way my husband and I fight Adultitis (one we've not gotten to do for the past 18 months because of the pandemic) is by attending transformational music festivals. These festivals create a separate universe away from the outside world where we can engage in fun, merriment, and dancing as well as fully express our unique, creative selves. That's why a lot of attendees call these festivals "home." We will be attending the Virtual Burning Man again this year so we are looking forward to that.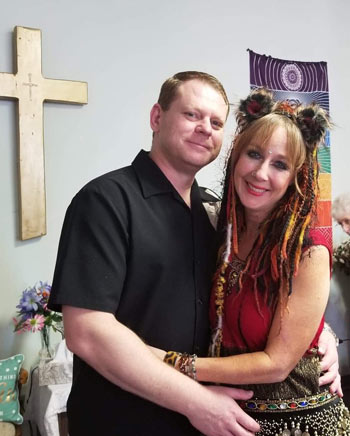 Who or what has been the greatest influence in your own fight against Adultitis?
Obviously, Kim & Jason and all the others in the EA League. I also have a couple of playfulness coaches who help and inspire me with their online workshops and play festivals: Saras Feijoo and Anthony Trehair.
What is something you loved doing as a child that you still do in some form today?
I spent hours as a kid and teen wearing out all the stereos playing music that I danced to for hours. I still dance any chance I get. Oh, and I still sleep with my sock monkey.
What is your strategy for dealing with people who are obviously infected with Adultitis?
Encourage them to play. Take them on a fun adventure. And yes, sometimes that may need to involve a couple of alcoholic beverages!
What advice do you have for someone who is feeling overwhelmed by Adultitis?
No matter what is happening or what you are facing, rather than asking, "How can I handle this?"  or "How am I going to get through this?" ask instead, "How can I PLAY THROUGH this?"
Anything else you'd like to share?
To me, play and spirituality are closely linked. Playfulness is a spiritual path. Ken Carey said, "When you remember the play that lifted your heart as a child, then you will know the heart of God." God is Joy and to be joyful is to be God-full. I believe play is an expression of the Divine Joy.
People are welcome to friend me on Facebook under Sharon Niman Lundgren or on Instagram under Siannan_Macaoidh. I also enjoy snail mail pals if someone would like to message me for my address.
---
Congrats to Sharon, August 2021 Adultitis Fighter of the Month. Thank you for making the world more awesome!