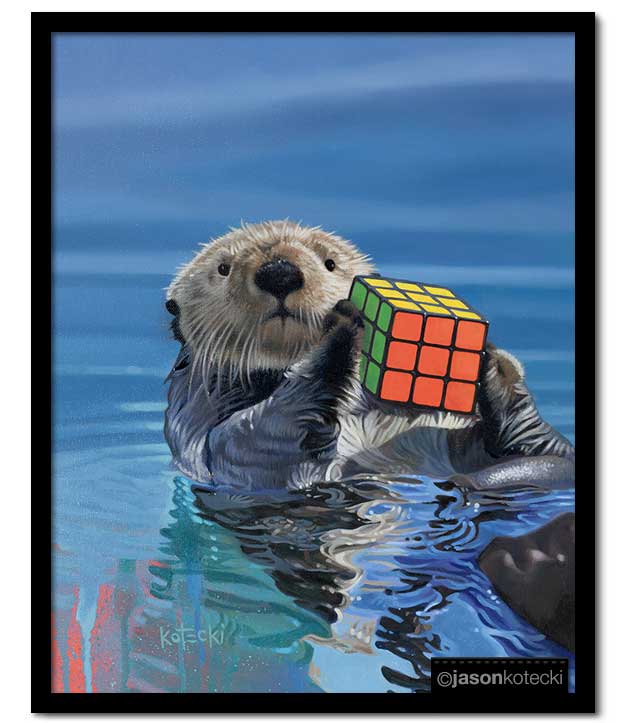 What if your biggest problem isn't a problem at all?
---
I love watching otters do meal prep.

They float on their back as they work to open an oyster for lunch. They put off a nonchalant vibe, like they're nursing a margarita on an inflatable raft in a pool at an all-inclusive resort. They have the cool confidence of Vanilla Ice, who famously rapped, "If there was a problem yo, I'll solve it."

The situation is actually a matter of life and death because if they don't eat, they don't last long. But of course, they are well suited for the task, so their body language gives away the fact there's not much drama involved.

I wonder how our lives would look if we went about our challenges the same way, looking at our problems more like…brain teasers. What if we saw them as fun puzzles to solve, like oysters that just take a bit of patience and persistence to crack open. Too often, we (and when I say we, I mean me, but perhaps you can relate), run around in a frenzied state, lamenting the sorry state of our affairs and worried that we've already eaten our last meal.

I, for one, have perfected the craft of rejoicing over all the times God has blessed me and provided for me, while feeling absolutely certain that He's forgotten about me this time. Sure, there was that time I never thought I'd be brave enough to make it through freshman year. That time we had less than $100 in the checking account. That time the mechanic left a rag in the engine that prevented us from decelerating on the highway. And the time we came home from vacation to find bullet holes and glass in our living room.

Sure, those all worked out ok. But this time…?

Sometimes I look back at old journal entries and come across my account of a five-alarm dumpster fire written as if it were the sign of the pending apocalypse. With a few years of hindsight, I often have to work to even remember the event.

Like just today, I stumbled across an old photo of a car that had been in an accident. The hood was crumpled like a Shar-Pei and it reminded me a lot of a silver Grand Am we used to have. Upon further inspection, it was our Grand Am, and memories flooded back of a fender-bender that happened after a family outing at the zoo. That, too, seemed like a disaster at the time. It was apparently so disruptive to my life I'd forgotten all about it until I saw the photo in my photostream.

We encountered a problem, we solved it, and life went on.

Most problems in life are like that.

I'm not suggesting we ignore our problems or pretend they don't exist, but merely to reframe them as cosmic crossword puzzles to decipher; a Rubik's cube to solve.

It's realizing that problems are a part of life, and the only people without them are taking up residence in those extended stay resorts called cemeteries.
It's about acknowledging that most problems are not as catastrophic as they feel.
It's about maintaining an attitude that problems are solvable while refusing to underestimate our ability to solve them.

And it's about accepting that even if you don't solve the problem right away, even if you're still trying to crack that baby open, that's ok, too.

What if we adopted the frame that these problems are not sent to destroy us, but to keep our minds sharp? Novelist and poet Wendell Berry reminds us that, "The mind that is not baffled is not employed. The impeded stream is the one that sings."

Perhaps the next time we encounter a problem – especially the kind that leaves us hysterical – we can try a little harder to adopt the posture of an otter with an oyster. Yes, it's important. But it's figureoutable and nothing to panic over. Maybe the calm would give us the clarity we need. Maybe an air of nonchalance would invite the playful spirit we need to crack the case.

We are more creative than we give ourselves credit for. We are stronger than we feel. And we are loved by a God who is stronger still.

Like the otter, we are well-suited to overcome any problem we encounter.
Yo, we got this.
---