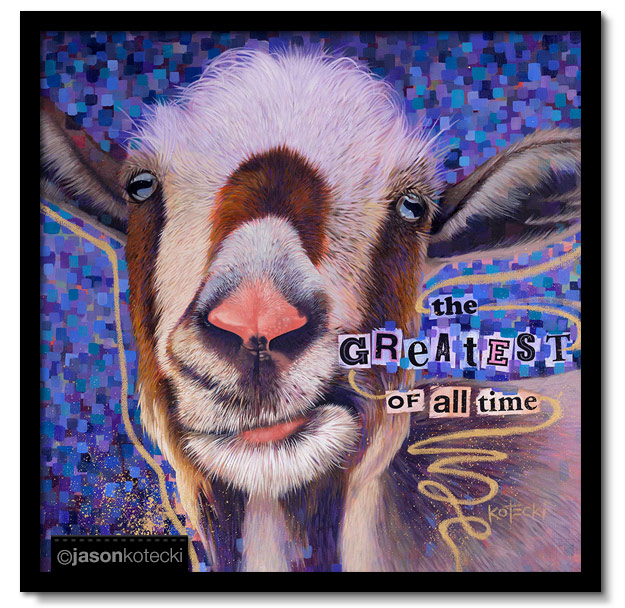 How many Super Bowl rings does it take to become a goat?
I am not referring to those four-legged cheese-making mammals with a taste for tin cans.

I'm talking about the label of "GOAT" – the Greatest Of All Time.

As I write this, Tom Brady recently retired after twenty-two seasons in the NFL. He was the 199th pick in the draft, yet ended up with seven Super Bowl rings and threw more touchdown passes than anyone in history. He never played on a losing team. He is widely regarded as the GOAT, at least when it comes to quarterbacks.

Frankly, I'm still getting used to being labeled a "goat" as a good thing. In 1986, Bill Buckner was called a goat for letting an easy ground ball roll past him in a World Series game, and it definitely wasn't meant as a compliment. (Ah, the ever-present thin line between hero and villain.)

Debating the greatest of all time is a juicy topic for sports talk radio, but what makes the discussion so compelling? Why such an obsession with greatness?

Besides the fact that we like comparing things (and arguing!), greatness stirs something within us. We are inspired when we see it manifested, be it in the long and decorated career of Tom Brady or in the gold medal performance of figure skater Nathan Chen.

But greatness stretches far beyond the sports world:

🥘We see it in a delicious dish prepared with ease by Gordon Ramsay.
✈️We saw it in the remarkable daring and bravery of Amelia Earhart.
🐯We saw it in the spellbinding gentleness and kindness of Fred Rogers.
🙏We saw it in the compelling selflessness and compassion of Mother Teresa.

The greatness of these individuals is so profound and self-evident, it's easy to assume they are rare geniuses who possess mystical talents. Their level of excellence appears unattainable for us mere mortals. Their talent is unmistakable, but the individuals we place on the pedestal of greatness are merely human beings whose extraordinary results came from the consistent practice of ordinary things.
Our preoccupation with debating the greatest of all time is a trap that prevents us from striving for greatness ourselves.
It's easier to argue about the top five saints of all time than aim to become one.

Am I suggesting you are GOAT material?

Actually, yes.

Hear me out. Usually, the title of GOAT is bestowed on someone famous, known for their professional accomplishments, and often in a domain conducive to measurable outcomes…

But what about people who aren't famous? Isn't it possible that some Incan woman possessed unmatched skill as a potter with her only flaw being born at a time when she couldn't have her own YouTube channel?

And what if your skill is not as esteemed or public as that of a professional athlete or celebrity chef? Could an unknown Amish grandmother technically be the greatest bread maker of all time? And tell me, who is the greatest school custodian of all time? The greatest dental hygienist of all time? The greatest administrative assistant of all time?

What about domains lacking metrics that are easy to quantify? When it comes to football, we can compare wins, passing yards, touchdowns, longevity, playoff appearances, awards, and Super Bowl rings, all while debating the relative importance of each. But how would one go about naming the Greatest Mother of All Time? The Greatest Father of All Time? The Greatest Wife or Husband or Friend or Next Door Neighbor of All Time?

Most of us don't have trading cards with our pictures on them, and if we did, they wouldn't have stats on the back totaling Boo-Boos Kissed, Lunches Prepared, Loads of Laundry Completed, Encouraging Words Spoken, or Hugs Delivered.

Without these metrics a Google search away, what would it take for you to become the GOAT?

If you're normal, you might be thinking, slow your roll, buddy. I already feel like I'm falling short, day after day. I barely qualify as a good parent, let alone the greatest of all time.

I hear you. Sometimes I feel like I'm leading the league in dropped balls.
The good news is that the seeds of greatness are in our DNA because we each have a spark of the divine within us.
Simply put, you were born for greatness.
Don't let my famous examples fool you. The dictionary defines great as "remarkable in magnitude, quality, skill, or effectiveness." The steps to achieve greatness are accessible to everyone. Including me. And you. The steps are simple, but not easy.

🔎Identify Your Gifts. What talents have you been given? If they don't immediately come to mind, settle into a quiet place. Take stock of the things you do well. Where do you shine? What comes easily to you? What do you love doing? What do people compliment you for? These are your gifts. Remember, "better than everyone else in the world" at anything is not a requirement for greatness.

🎁Honor Your Gifts. If you treasure a gift, you don't take it for granted or throw it in a corner. To give your gifts the respect they deserve, use them, share them, and work to improve them. Shoring up weaknesses can be helpful, but keep in mind that Mister Rogers wasn't as bold and gregarious as Gordon Ramsay, who was not as gentle or vulnerable as Mister Rogers. Greatness lies in maximizing your strengths.

🔒Be Committed. Greatness requires the willingness to do what no one else will. Not many are willing to stick to the diet and workout routine that helped Tom Brady stay so productive for so long. Even less are clamoring to comfort the sick and clean the sores of people living in the slums of Calcutta, as Mother Teresa did. Amelia Earhart was willing to attempt things no one else had ever done, consequences be damned. Greatness requires immense courage and bravery. You have to be willing to challenge conventional wisdom, buck the status quo, and take a stand without any guarantee that anyone will follow you.

🧗Keep Going. Nathan Chen's debut Olympic performance was a disaster, riddled with falls. Gordon Ramsay didn't make a perfect omelet on his first try. Tom Brady didn't win every playoff game he was in. The great ones aren't people who never get knocked down. They're the ones who keep getting up when they do. Anybody can have a good day, a good week, or even a good year. The greats show up year after year. They are persistent, consistent, and stand the test of time.

🚀Empower Others. Through his example alone, Fred Rogers inspired millions of people – most who never met him – to treat others with more respect and kindness than they might have otherwise. Tom Brady's drive, high standards, and work ethic empowered his teammates to be better. Mother Teresa built a community of sisters who followed her lead and carried on her work after she was gone. Your own humble journey toward greatness may be your most enduring legacy.
We can't count on being considered the greatest. But that doesn't mean we shouldn't strive to be great.
It's unlikely that you or I will ever be publicly regarded as the "GOAT" of anything. Unless you're Muhammad Ali – "I am the greatest!" – the title is bestowed on you by others. We can't control it. Who cares?

When it comes to greatness, everyone else is irrelevant. I agree with Hemingway, who said, "There is nothing noble to being superior to your fellow man; true nobility is being superior to your former self."

There is one category you can be assured of being the GOAT, and that's the category of YOU.
Your job is to be the Greatest You of All Time.
If you learned a new thing today or did something to improve your craft or make yourself better than you were yesterday, congrats. You are officially the greatest YOU of all time.

If you got up today after being knocked down yesterday, your legend just gained a new comeback story and you're officially the greatest YOU of all time.

If you used one of your gifts to make someone's day or lessen the burden of another soul, your scoreboard of contributions to the world just increased by one, officially making you the greatest YOU of all time.

Instead of wasting our time arguing over who is the GOAT, may we use their example as inspiration to cultivate our own greatness within us.

Identify your gifts. Honor them by honing them and sharing them with others. Be committed. Keep going. And empower others along the way.

Regardless of whether or not you play in the NFL or make soufflés on TV, those principles are controllable. If you practice them, I can't guarantee you'll ever be deemed the GOAT by pundits, historians, or late-night callers on talk radio.

But I will guarantee that people will be inspired by the greatness they see within you.
No Super Bowl rings required.
---