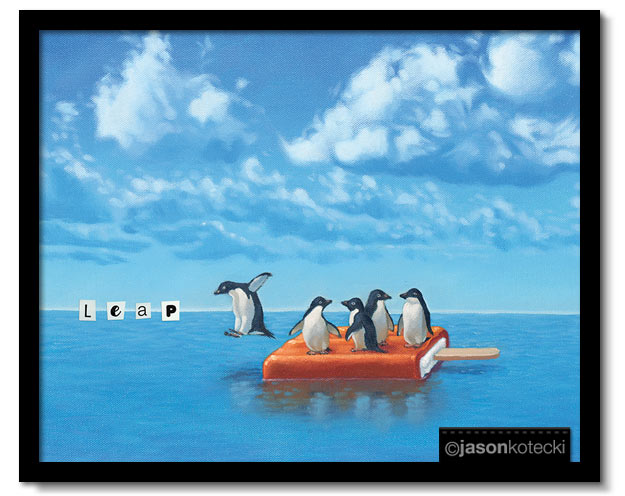 Is it weird that I don't remember my first kiss?
That's weird, right?

Another fun fact is that my first few kisses were instigated by the girl, not me. And that's not because I had so many of them chasing me; it's because I was waiting for the timing to be perfect.

Was I waiting for a red, Jamaican-accented crab holding a big neon sign blinking, "Kiss the girl!"?

No, of course not. That's ridiculous.

I was waiting for the billboard after that to assure me that the first sign was the sign I was waiting for.

Truthfully, I was afraid. I was lost in questions: Is this the one? How can I tell if she wants me to kiss her? How am I supposed to do this, anyway? How is my breath? What if I do it wrong? Will she laugh at me? Will she tell all her friends? Will I die alone, single and unloved? Yep, I'm totally going to die alone, single and unloved.

While I was swimming in the fog of self-doubt and existential dread, I guess the girl got tired of me missing the neon sign, the billboard, AND the marching band and leaned in and went for it. And then, caught off guard, I may or may not have blacked out, which might explain why although there are a few contenders, I can't remember which one was technically my first kiss.

As you can see, I can be a bit of an over-thinker, lost in the weeds as I wait for the timing to be right. Fortunately, as I've gotten older, I have also gotten better at making the first move and worrying less about perfect timing.
I've learned that it's a fool's game trying to determine the right time to do anything.
When is the right time to kiss the girl?
When is the right time to start a family?
When is the right time to go back to school?
When is the right time to start that business?
When is the right time to sell that stock?
When is the right time to retire?
When is the right time to take that leap your heart is begging for?

I don't know. No one does.
Perfect timing is only obvious in retrospect.
If you're wondering about the right time to do the thing you've been mulling over, I do know this: it's probably a lot closer to NOW than later.

I am a planner. I believe wisdom is important when making decisions. These are good things. But there is a certain wisdom in the adage that advises jumping off the cliff and building the parachute on the way down.

Because that's what happens anyway.

In life and in business, there are no perfect plans. As noted philosopher Mike Tyson once proclaimed, "Everyone has a plan until they get punched in the mouth."

But the good news is, as Marie Forleo reminds us, "Everything is figureoutable."
Meanwhile, as we wait for the stars to align, we miss out on opportunities right in front of us.
One of my favorite things is getting to take one of my kids with me when I travel for a speaking engagement. We've made a point to make the first one with each child kind of epic. At a gig in San Diego, I took Lucy to the zoo and we got to see a cheetah run. Ben joined me on a trip to Orlando where we rented a convertible and visited Legoland.

Finally, it was my youngest's turn. I secured tickets to the Magic Kingdom for me and Ginny after an organization booked me for their national conference in Orlando last December. The timing was perfect.

Then COVID.

The event switched to virtual and our epic trip was put on hold. It was excruciating telling her the trip was canceled after we'd spent so much time looking forward to it. Since the Disney tickets are transferrable, I've been waiting for another opportunity in the area to present itself. So far, nothing has. I didn't want to "settle" on a "lesser" first trip with Ginny, but I recently decided to move beyond this self-imposed restriction.

Our first trip together will now be, drumroll, please…

…Chattanooga, Tennessee! I know, exciting, right?! It may not be the sexiest destination, but I also know that for Ginny, it's more about spending time with me than where we go. I also know that life offers no guarantees, and if I keep waiting, I may miss my chance to take her on a trip altogether. Or, less dramatically, we'll end up taking far less of them than we could have. (Of course, the next gig anywhere near Orlando has her name on it, no questions asked.)
One of the best tricks Adultitis has at its disposal is convincing us to wait for the timing to be perfect. It's a trap that allows us to hide, fear to win, and the clock to run out.
The clock runs out for all of us. The end is sooner than you think.

Most people wish they'd gotten started on that thing they now love earlier, not later.

Most people wish they'd had more kids, not less.

Most people on their deathbed are more regretful about the things they didn't do than the things they did.

You're never "ready" enough. You never have enough saved up. You're never cool enough, strong enough, smart enough, confident enough, worthy enough, or lovable enough.

From your first kiss to your first business trip with your kid, the timing is never perfect.
Sometimes you have to quit overthinking it and just jump.
---