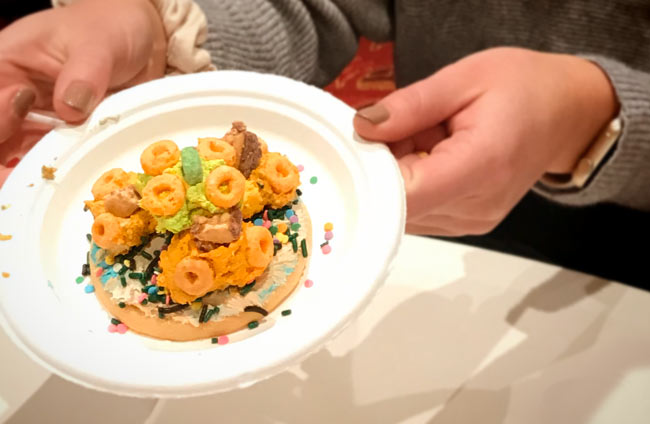 QUESTION: Is it possible to create a working Volkswagon Beetle out of rice cereal treats and fondant?
I don't think so, but I wouldn't be surprised to fire up Netflix one day and see it happen. I am awed by the mind-bending confections people create on those baking competition shows. It's entertaining television. But watching them make their beautiful creations don't teach us as much as the ugly stuff we create ourselves.

A few years ago, I led an unusual workshop. Instead of whiteboards, charts, and slides, we rolled out frosting, sprinkles, and sugar cookies. There was only one objective: decorate your cookie to be as ugly as possible, Martha Stewart's disapproving scowl be damned.

There were about eighty people, each of whom successfully accomplished the objective.

Eighty correct answers, and yet every cookie was different.

In life, as opposed to what we learned in school, there's often more than one right answer. There are many ways to solve a problem and our unique perspective and talents aid us and flavor our solution.

As I interviewed participants about their creations afterward, one guy said, "I started out making mine, and someone commented that it looked like a spaceship. So I added licorice as exhaust to make it look more like one."

I asked him, "Were you offended by their suggestion?"

"No, of course not, " he replied.

Which makes me wonder why we are so defensive when someone suggests a way for us to improve something? Maybe it was the seriousness – or lack thereof – of the situation? Or the intent of the messenger? Perhaps the shared spirit around the task at hand set the tone for teamwork over competition.
QUESTION: What would happen if we decided to take ALL advice with gracious open-mindedness, regardless of the intent or tone of the messenger?
This related to another thing I witnessed: the power of plussing. People at each table contributed small ideas to up the ugly factor. One guy had the idea of incorporating items from the breakfast spread to add diversity to the available materials. Others followed suit, then added their own tweaks. Each minor "improvement" worked together to achieve a wide array of remarkable results.

This "yes, and" approach popularized by the art of improvisational comedy engenders a supportive environment for risk-taking, by making the process a shared one. It also makes innovation more accessible by encouraging small, doable experiments that build on one another.
QUESTION: What would our organizations – and families!? – look like if we supported risk-taking rather than stifling it by punishing failure?
As I acknowledged the unusual results brought forth by another group, they shared, "We started out trying to make them ugly, but then they didn't look so ugly, so we settled on calling them odd."

I loved their willingness to pivot. We can't always think or theorize our way to progress. It's not always possible to know every step before we begin. Sometimes we just have to tinker our way there.

And sometimes we end up in a much different place on an undertaking than we thought we would when we began. It's easy to grow frustrated and discouraged as we struggle to force our current circumstances to match our initial vision. But a careful review of the situation might reveal that we're in a better place than we originally envisioned.
QUESTION: What if we embraced the potential and beauty of where we are now instead of comparing it to where we thought we'd be instead?
The mission was accomplished that day. Complete culinary ugliness was achieved. The only thing delicious that came from this lighthearted activity was the life-changing questions that emerged. Beautiful questions I offer to you, today. They might take some time to unpack, but I encourage you to do so and guarantee it's worth the effort.

Which is more than I can say about trying to make an edible automobile out of cereal and sugar.
But then again, don't underestimate the insight that can be gained in seemingly trivial pursuits.
---