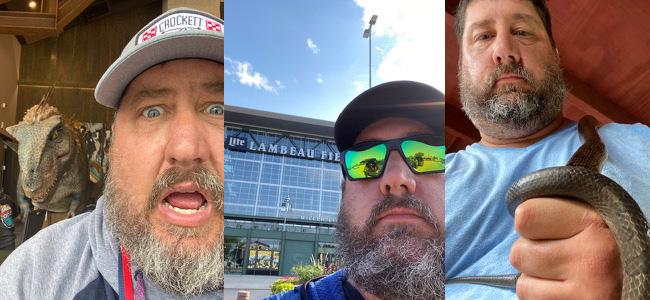 An Adultitis Fighter is someone who rallies against rules that don't exist and engages in ruthless, senseless acts of silliness that undermine Adultitis and its unadventurous version of adulthood. Once a month, we shine a light upon the most remarkable among us, holding them up as a dazzling example of what we should strive for in this epic battle against a formidable enemy.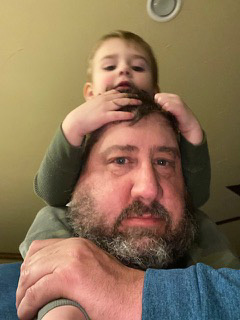 This month's worthy recipient of this prestigious honor is Nick Wesson!
In recognition of their efforts, Adultitis Fighters of the Month receive a special mini-canvas hand-painted by Jason, along with a certificate of honor, a sweet patch, and other Adultitis-Fighting tools. We asked Nick some questions about how he fights the Big A and what advice he has for others…
---
What are some of your favorite ways to fight Adultitis?
Getting into anything that could be considered fun. Like video games. Or just going for a walk out on the ranch and seeing what kind of critters I can catch. Or being the rootinist-tootinist prankster I can be.
Who or what has been the greatest influence in your own fight against Adultitis?
One of the greatest influences to fight Adultitis has been a couple of cartoonists. Bill Watterson, with his timeless strip "Calvin and Hobbes." What better way to thumb your nose at Adultitis than going into your personal collection, reading your personal copy "Homicidal Psycho Jungle Cat" that you purchased at the Scholastic book fair in elementary school? The second is Michael Fry, half of the creative team that gave us 'Over the Hedge', whom I actually had the pleasure of meeting back in the day. And not because it would be the trendy choice, but Jason Kotecki has really helped rekindle the fight over the past two years and is clearly a new influence.
What is something you loved doing as a child that you still do in some form today?
Speaking of a great influence, this past year getting to do "Let's Draw" (segment on EA LIVE) with Jason and the rest of the Adultitis Fighters has reminded me of getting to do something that I loved to do, but being an adult had tricked me into forgetting, and that was drawing. I find myself sketching like I'm 9 years old again. Still suffer from poor technique, but who cares, it's fun! Another thing that I have always enjoyed doing was just seeing random critters and picking them up. I do have a problem there…
What is your strategy for dealing with people who are obviously infected with Adultitis?
What are whoopie cushions? I can speak first hand, you know it was an amazing joke when HR calls and wants you to tell them too! But the advice I would share with others would be to just not take yourself too seriously. Others will, and that is perfectly ok. We set our boundaries to Adultitis, and just refuse to break them.
What advice do you have for someone who is feeling overwhelmed by Adultitis?
Embrace spontaneity. That is the Kryptonite to Adultitis. Just do something on a whim. It could be as simple as having dessert before the meal, or going to the toy store and playing with the toys until employees ask you to leave (for the record, they are usually pretty nice when they ask you to go, but if you buy something, they will let you stay longer!)
Anything else you'd like to share?
Will they cut my mic if I keep talking while the orchestra plays? It is a bad idea to give me an open mic, I don't know how to keep it short.
The biggest thing to remember what made being a kid so great was not fully knowing what the fear of tomorrow is. As adults, we have to plan ahead, but that doesn't mean we have to dread or be held captive by "tomorrow". We are the authors of our own life comic strip. We can jump into it like Calvin (from "Calvin and Hobbes", casting all fear to the side, or we can be Verne (from Over the Hedge), wondering if we have enough stored to get through the wi… win…. hello? Is my mic still on? Through the winter. Wait no one told me security would be escorting me off the sta………
---
Congrats to Nick, August 2022 Adultitis Fighter of the Month. Thank you for making the world more awesome!