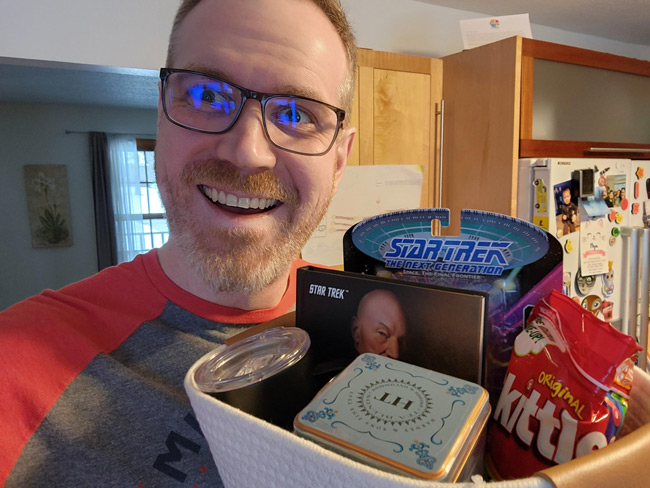 An Adultitis Fighter is someone who rallies against rules that don't exist and engages in ruthless, senseless acts of silliness that undermine Adultitis and its unadventurous version of adulthood. Once a month, we shine a light upon the most remarkable among us, holding them up as a dazzling example of what we should strive for in this epic battle against a formidable enemy.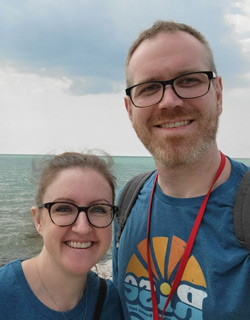 This month's worthy recipient of this prestigious honor is Bill Pfalzgraf!
In recognition of their efforts, Adultitis Fighters of the Month receive a special limited edition print created by Jason, along with a certificate of honor, a sweet patch, and other Adultitis-Fighting tools. We asked Bill some questions about how he fights the Big A and what advice he has for others…
---
What are some of your favorite ways to fight Adultitis?
I'm a notorious rule breaker. For most of my life, it has gotten me into trouble. EA has helped me reframe my penchant for rule-breaking in a positive way. I recently ate my entire birthday cake in one day. Who says I can't? There's nothing better, and makes you feel younger, than breaking an old boring rule. Just need to be careful it's not a law! I also have a healthy relationship with candy. I eat a lot of it! I get just as excited as my kids when Grandpa shows up with a bag of skittles or M&Ms. I don't feel guilty about it one bit. Candy is so fun and delicious.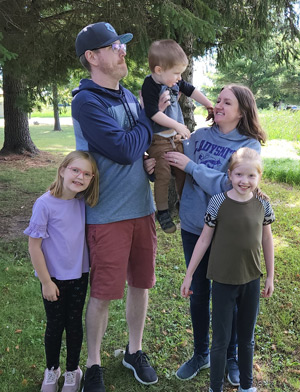 Who or what has been the greatest influence in your own fight against Adultitis?
I've been very blessed with the leaders of the companies I have worked for. Rick, the president of the company at my last job was a Wharton graduate and top brass at a big company, but he was so approachable and kind of silly all the time. He broke every convention about how people are supposed to act around the "big boss" and how ideas should be "run up the ladder." He despised the hierarchy, and so do I. My current CEO is also very approachable. He's super easy to talk to and just a really nice person. He gives me the confidence to challenge the status quo and just be myself. I'm allowed to fight Adultitis pretty much full-time.
What is something you loved doing as a child that you still do in some form today?
A few things have stood the test of time: Star Wars, Sonic the Hedgehog, and LEGO. I will still drop everything for a new Star Wars show or movie, and I don't see that changing with Disney's recent stuff. I had abandoned video games for many years when we first had kids of our own. About two years ago, I just spontaneously bought the new Xbox and a baseball game. It's been wonderful. My heart just pounds when I'm up to bat in the bottom of the ninth with the game on the line. I also just finished the newest Sonic game – just a classic for the Blue Blur! I like to go fast!
What is your strategy for dealing with people who are obviously infected with Adultitis?
I'll never forget a gentleman I met in Tallahassee, FL many years ago while working on the road. He was a state inspector – coming to check the final few boxes on a site where I had been working for a few weeks. I greeted him with a "Good Morning" as he exited his car. He blew his nose, shrugged his shoulders, and audibly groaned at me. That was it, that was his response to me greeting him with kindness. That was a bad day for all of us. His Adultitis was too far gone, but I remember it as an example of how bad it can get! I typically face Adultitis with humor and cool-headedness. I try to be a calming presence when people are losing it. I also have a pretty dry sense of humor that can throw a person off their game. When their game is Adultitis, it works like a charm. I just think there are very few places/times where laughter is inappropriate.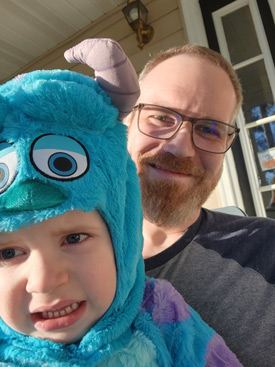 What advice do you have for someone who is feeling overwhelmed by Adultitis?
Adultitis is the result of your head drowning out your heart. So find something to make you laugh, smile, or cry, if only for a moment. A burst of emotion can help to get your head and your heart back in the same place. Sometimes it only takes one short moment of clarity for you to realize what's going on.
Anything else you'd like to share?
I'd like to share that I appreciate all of you in this community. I always have a blast chatting with you during EA Live. I'm also often humbled during Wonder & Whimsy Society Masterminds and reading posts on the EA thread. You've taught me a lot about caring and perseverance and made me a better listener.
P.S. Yes, grab that candy bar at the checkout line.
P.P.S. I wrote this on my birthday! Pretty cool huh!
---
Congrats to Bill, January 2023 Adultitis Fighter of the Month. Thank you for making the world more awesome!