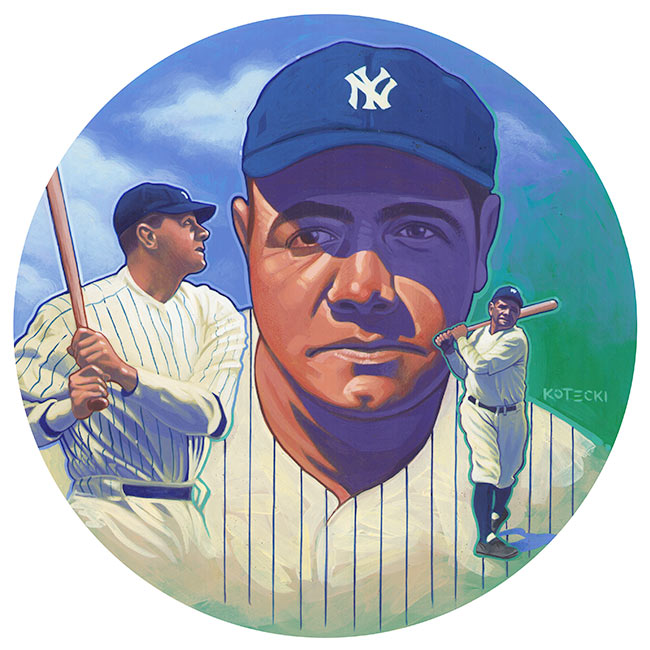 Babe Ruth hit 714 home runs in his 22-year career. He also struck out 1,330 times. When he swung the bat, not even he knew exactly what would happen.
Sometimes I create art that feels like a grand slam home run. I am convinced that everyone everywhere will love it. Awards will be won, museums will come calling, and grown men will weep.
Instead, the ball glances off the end of my bat and dribbles weakly down the first base line. The world responds to my brilliant work of art with a deafening, "Meh."
Then there are other times when something I created as an afterthought, with scant care and attention, grips someone and changes them in a profound way.
This is the mystery of creativity. 
A few weeks ago, I wrote about my childhood art hero, Ed Emberley. I adored his step-by-step drawing books, which he was most known for. After finding a book about his career, I was surprised to see that he had created over a hundred books, and most of them were not in the style I was familiar with.
He won a Caldecott award for one of his early works, illustrated with woodcuts, which are very time intensive. But the publishing industry is a hungry beast. When you feed it a success, it craves more and more.
It turns out the popular drawing books started out as a stopgap. It was simply an idea he knew he could complete quickly to get the publisher off his back so he could spend more time on another woodcut project that required more time.
Of course, the drawing books took off, which led to many follow-ups in that series (because you know, the hungry beast.)  
That's the thing about all creative endeavors. You never know what people will like or what will strike a chord. It's best not to try to figure it out but rather to keep taking swings.
And by creative endeavors, I don't necessarily mean those which are inherently "artistic." A creative endeavor could be searching for a small business idea to provide a new source of income, working to find solutions for transforming a negative workplace culture, or experimenting with ways to get your kid to eat her veggies.
If you are a parent with grown children, you might be able to relate to a scenario in which the adult child is asked to share the most memorable advice you ever shared with them. And their answer is some line you barely remember saying. And you wonder, "Really? You remember that more than all the other stuff I spent so much more time on?"
In all these cases, you just never know what will take off.
Too often we sabotage ourselves by waiting for the right idea. The perfect solution. The foolproof plan. But sometimes the best idea never seems to materialize. Or maybe it's hidden somewhere in the discard pile.
So the answer is to keep swinging. Keep tinkering. If you don't know what idea will work, the best approach is to have lots of them. Then try as many as possible. Just don't get stuck in the trap of holding out for the "right" one.
At work. In your marriage. With your family. And yes, in art. Don't be discouraged when something you were certain would work fails. Another idea might surprise you with its effectiveness. That's the mystery of the creative process.
Take it from the Babe. Not everything you do is a home run. Just keep swinging.