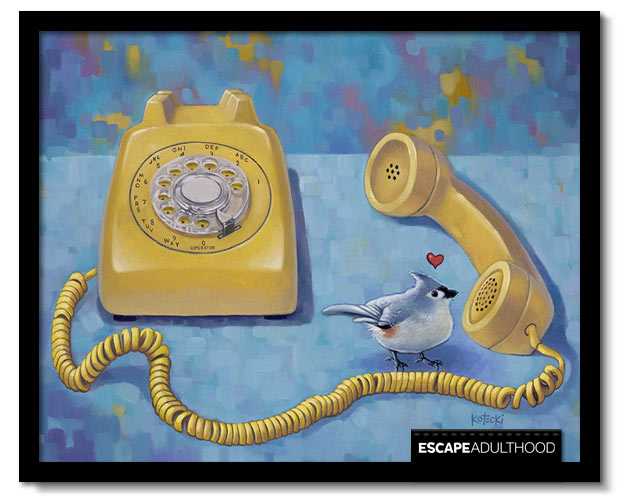 "I Just Called to Say I Love You" is a famous Stevie Wonder song. It's also the title of this painting.
One word in that title might be more important than all the others. We'll get to that in a sec.
When my wife Kim and I were dating, we'd spend hours and hours on the phone, talking late into the night, racking up phone bills that if bound together, would make the longest Harry Potter book look like a pamphlet. This was in the days when phones were attached to walls and the "call waiting" feature was a source of civil war for any siblings also angling for phone rights.
My personal phone habits with Kim were the exception, not the rule. To this day, I hate being on the phone, for reasons both justified and irrational, but too numerous to bore you with. I let almost everything go straight to voicemail. I am certain the quality of my life would increase exponentially if I never had to talk on the phone ever again. 
Of course, the phone is a handy tool for maintaining relationships, which is another weakness of mine. Fortunately, my wife helps with that, as she does the little things that help keep relationships alive for both of us. I am an introvert, a Type 5w4 on the Enneagram (if you know, you know), and as previously mentioned, hate the phone. A generous assessment is that I spend a lot of time in my own head and it's easy to get lost in there. Which is good for allowing me to create wonderful things, but not so good for maintaining friendships.
Either way, it's a perfect storm for a scenario in which if Kim dies before me, I'll end up living alone in a home that neighborhood kids will describe as haunted and invent all sorts of urban legends about the old guy who supposedly lives there.
Part of my problem is that I overthink relationships. In our own ways, maybe we all do.
Friendships can stall if we make them too complicated or set expectations too high. Failing to meet them finds us buried in an ever-mounting pile of "shoulds." The more time that passes, the more time we assume is required for catching up. And of course, life rarely drops oceans of uninterrupted time into our laps, so… the relationship slowly grows stale and eventually dies.
A recent conversation convinced me of that being a flawed approach.
Andy Gullahorn is a songwriter in Nashville who started an interesting routine with his friend Gabe several years ago. Every week, Andy goes for a walk. Gabe, who lives a mile-and-a-half away, does the same thing, at the same time. They walk toward each other, and when they meet, they give each other a high five. Sometimes they stop to play badminton. Oftentimes, no words are exchanged and they simply head back home.
Kim and I had a chance to interview Andy, and he shared another routine he has with a friend who lives in Houston. Since an in-person high-five is out of the question, every Monday for six years, they simply exchange fist bump emojis. That's it. And yet the connection has deepened to such an extent that Andy says he trusts that friend with his life.
Andy's advice is to start small. And ridiculous. "It doesn't have to be dead serious to make a deep connection," he says. "In fact, if that's where it starts, it's hard to maintain that. The high five is just a stupid foundation to hold real relationship."
Of course, not every relationship needs to be maintained for all time. Some people come into our lives for a reason or a season. But Andy's right. Maybe we should focus on uncomplicating the friendships we want to fertilize.
In the interview, he challenged viewers to just commit to not having a deep conversation but to just exchange winks, or honk at each other as they pass one another on the road, even without saying another word. 
That's why maybe the most important word in Stevie's classic song is…"just."
I JUST called to say I love you. That's it. No fanfare. No guilt trips. No phone bills weighty enough to kill a small mammal.
We don't always need to have an hour-long conversation for our relationships to thrive. 
A high five or a fist bump emoji might just do the trick. 👊
---