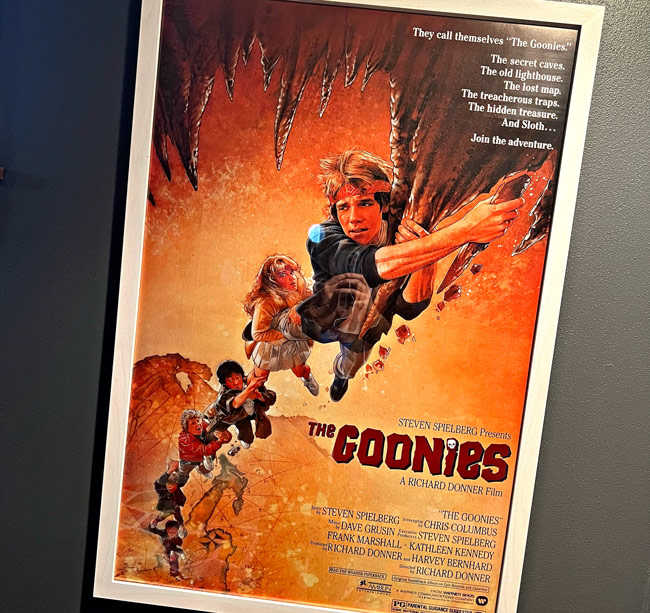 My family watched The Goonies recently. I've probably seen it a dozen times, as it was a favorite from my childhood. 
If you haven't seen it, Wikipedia offers this summary:
"The Goonies is a 1985 American adventure comedy film co-produced and directed by Richard Donner from a screenplay by Chris Columbus, and based on a story by Steven Spielberg. In the film, a group of kids who live in the 'Goon Docks' neighborhood of Astoria, Oregon, attempt to save their homes from foreclosure and, in doing so, they discover an old treasure map that takes them on an adventure to unearth the long-lost fortune of One-Eyed Willy, a legendary 17th-century pirate. During the adventure, they are chased by a family of criminals who want the treasure for themselves."
To put it simply, it's just fun. 
Watching it again now, as an adult, I marvel at how Spielberg had a knack for knowing what kids love. For instance, early in the movie, we see an elaborate Rube Goldberg-type contraption the kids built incorporating a bowling ball, a sprinkler, and a chicken laying an egg. It served the sole purpose of opening the front gate for visitors. I don't think the plot would have fallen apart without that scene; all I know is that I loved it as a kid. 
And I suspect Spielberg knew I would.  
And that's just one example. The movie has pirates and treasures and a pretty girl. A monster. A cool kid who is able to flummox authority with his mouth. There's a mysterious riddle-filled treasure map, and of course, danger and adventure. 
Epic.
I wanted to be a Goonie when I grew up. I bet you did, too, if you saw the movie as a child. (Or would have if you didn't.)
So…how are we doing?
For example, Goonies never say die. How often do we give up at the first sign of resistance? Or decide not to begin at all because we deem it "impractical" or don't want to look foolish if we fail?
Is our life filled with adventure, or is it always the same; one slow, predictable workweek at a time?
Does it have a measure of danger, or are we striving instead for comfort and ease?
How quick are we to abandon the mystery of a treasure map for the certainty of turn-by-turn directions?
Are we searching for real treasure, or are we chasing shiny objects and settling for the wrong things?
When we encounter a "monster" who is different from us, do we judge them quickly and write them off before we've had the chance to encounter a real friend hidden within?
Finally, back to the gate opening contraption in the movie's first act. Machines like that are wildly inefficient in their assigned objective, but exceptionally proficient at delivering delight and wonder. It's really a metaphor for anything that adds fun and whimsy to life.  Are we too focused on trying to make everything in our purview as efficient as possible, removing all the fun in the process?
With Goonies, Spielberg made a movie he knew kids would love, one in which the kids are heroes and the adults are either villains or clueless.
But maybe he also made it for adults, to stir that long-lost child within us, to remind us that we once saw life as a great adventure and that it can be again.
When we were kids, we were all Goonies.
Adultitis may have the upper hand in your life right now, but Goonies never say die.